A new analysis has revealed that a record 35 MW of residential storage was deployed in the US in Q2 of 2019, more than in any other quarter on record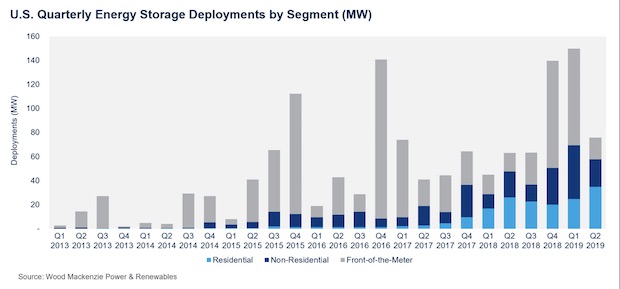 A new analysis has revealed that a record 35 megawatts (MW) of residential storage was deployed in the US in the second quarter (Q2) of 2019 as a result of rising customer interest and support incentives in more state markets.
The country's solar sector deployed more residential storage in Q2 2019 than in any other quarter on record, adding more than 30 MW for the first time, according to the new US Energy Storage Monitor from Wood Mackenzie Power & Renewables and the US Energy Storage Association (ESA). In a 20 percent increase from Q2 2018, 75.9 MW of front-of-the-meter (FTM) and behind-the-meter (BTM) storage was deployed in the second quarter of 2019.
At 35 MW deployed in Q2, the residential storage market was up 41 percent quarter-over-quarter in megawatt terms. The previous megawatt record for residential storage was set in Q2 2018 with 26 MW deployed.
The FTM storage market had a relatively quiet Q2, with 18 MW deployed after two consecutive quarters when the FTM market topped 80 MW. The FTM pipeline, however, grew by 66 percent in Q2, driven by continued large-scale utility procurements and developer interest in ISO markets shown by surging interconnection requests.
The long-term growth trends of energy storage deployment nationwide are encouraging and consequential for stakeholders, and for all electricity users who want and deserve a more resilient, efficient, sustainable and affordable electricity grid, said Kelly Speakes-Backman, CEO of ESA.
"Federal lawmakers should take note that they can help to build upon this growth, and indeed result in a 16 percent upside for the US storage market, by providing a long term policy direction for every region of the country by making energy storage an explicit, standalone criteria in the federal Investment Tax Credit (ITC)." As written, Federal ITC qualifications include energy storage solely when coupled with solar power.
The quarter saw 165 MWh of storage brought online, with BTM storage (including non-residential) contributing 83 percent of the megawatt-hours. California led the residential and non-residential markets in MWh terms, with Hawaii in second place on the residential side and Massachusetts coming in second for non-residential BTM storage. Texas and Maine were the quarter's top states for FTM storage at 10 MWh each.
The nascent energy storage market in the US continues to grow in fits and starts, said Dan Finn-Foley, head of energy storage for Wood Mackenzie, "but signposts such as the record residential storage quarter, massive FTM pipeline growth, and innovative policies such as the Massachusetts clean peak standard point towards an industry that is maturing and should stabilise at scale over the next two years."
FTM project delays and a weaker-than-expected H1 in some BTM markets caused the US energy storage outlook for 2019 to fall to 478 MW, which represents an increase of 54 percent over the 311 MW deployed in 2018.
The report concludes with the prediction that the storage market will grow roughly tenfold between 2019 and 2024, bolstered by supportive policy structures and new opportunities for storage to provide wholesale market services.