Siemens Gamesa closed 2019 in Spain with the installation of a new record of 1.2 GW or 375 wind turbines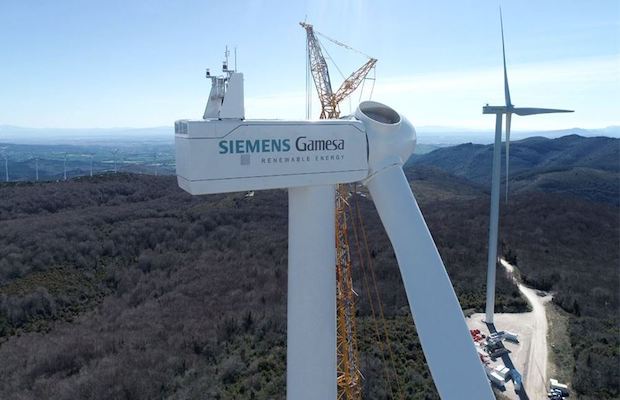 Siemens Gamesa closed its Spanish business with a successful year in 2019 with the installation of a new record of 1.2 GW, or 375 turbines, the highest amount of any year in the last decade.
This was equal to 75 percent of the total installed wind capacity in the country. The milestone represented a five-fold increase in the installation figure from the previous year (217 MW) and was up from just 29 MW installed in Spain in 2017. 
Showing its commitment to the Spanish market, most of the turbines were designed and manufactured in plants within the country, which helped to create local employment and boost the supply chain. In total, turbines were supplied to 15 customers in 30 wind farms located in the Spanish regions of Aragon, Andalucia, Galicia, Castille and León, and Navarre.  
"We start the year with some very good news! Achieving this record in Spain was made possible thanks to the daily work and commitment of our staff. Their engagement is fundamental to achieving such important milestones as this," affirmed Enrique Pedrosa, Onshore Chief Regions Officer.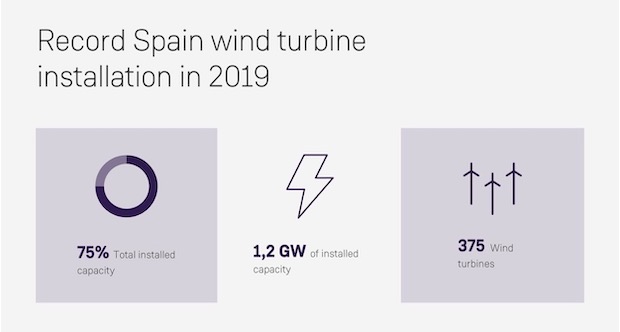 Of all of the turbines supplied, over 80 percent were the SG 3.4-132 model, one of the company's most efficient, with a rotor diameter of 132 meters and a nominal power of more than 3 MW. Siemens Gamesa is supplying machines with increasingly larger rotors as it transitions to its 4.X platform. 
The aim is to contribute to a future powered by clean, affordable, reliable, and infinite electricity. These wind turbines combined make it possible to cover the energy needs of nearly one million homes. In addition, they prevent the emission of 3 million tons of CO2 into the atmosphere, and offset the same amount of emissions as 50 million trees, the firm stated.
"I think we are not yet aware of the incredible record we have achieved in Spain: the installation of 1.2 GW in one year, with a high degree of customer satisfaction, is something very few companies can do," said Roberto Sabalza, CEO Onshore SE&A. "Three out of four turbines installed in Spain in 2019 were Siemens Gamesa turbines, which shows how we are consolidating our leadership in Spain," he affirmed.