Magenta Power has tied up with Lodha Group to provide complete end to end EV charging solutions in their upcoming projects at Dombivli and Thane, Mumbai.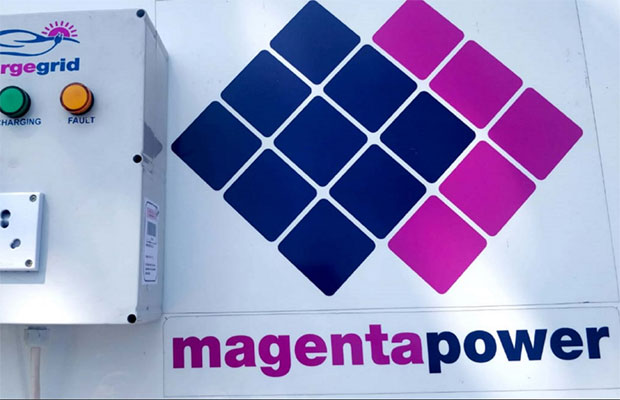 Magenta Power, a leading electric vehicle (EV) charging solutions provider in India has announced that it has tied up with Lodha Group, listed amongst the coveted real estate developer, encouraging Green building Solutions, with complete end to end electric mobility charging solutions in their upcoming projects at Dombivli and Thane, Mumbai.
Under the partnership, ChargeGrid will install it's Electric Vehicle Charging Solution – ChargeGrid Pro Chargers delivering installation to charging support, round the clock service, maintenance support and remote vehicle charging monitoring & e-payments through the ChargeGrid Mobile application based on iOS & Android platforms. The Chargers shall be designed and installed for all kinds of two-wheelers & three-wheeler, that comply with the Global Charging Standard.
"We are pleased to join hands with Lodha Group, on our Zero Emission Mission. This is in line with our goal to provide accessible EV solutions to Indian customers and create a complete EV ecosystem, that further bolsters the EV adoption. With this step, address the major roadblock to EV update in India" said, Maxson Lewis, managing director, Magenta – ChargeGrid.
The projects will commence at Palava iThink in Dombivli & Clariant Tower in Thane.
In September, the company was bestowed the 'Indian EV Charging enabling Technology Leadership award', at the 2019 Frost & Sullivan India Intelligent Mobility Award, held at Delhi. The award acknowledged the Brands' outstanding contribution to establishing the complete EV Ecosystem for the Indian Markets.
In July, we had reported that in a bid to support the government's National eMobility program, solar power systems provider Magenta Power has launched its electric vehicle (EV) charging stations called the 'ChargeGrid' series. The company said in a statement that this new series is the country's first fully integrated, unmanned and payment-enabled open network of smart charging solutions that can turn any location into a vehicle charging station.