Uttar Pradesh(UP) isn't just known to be a political game changer in the Indian history, but the state with a hefty population of 204.2 million on a vast land area of 243,286 km², is the most potentially budding yet the least exploitative solar hotspot in the country. It has a brilliant solar radiation of an average 1,800KW/h per m² which in its own way creates immense possibilities in the sector. The state has promising potential for power generation based on Solar Energy. Abundant sunshine available throughout the year can be harnessed for electricity generation.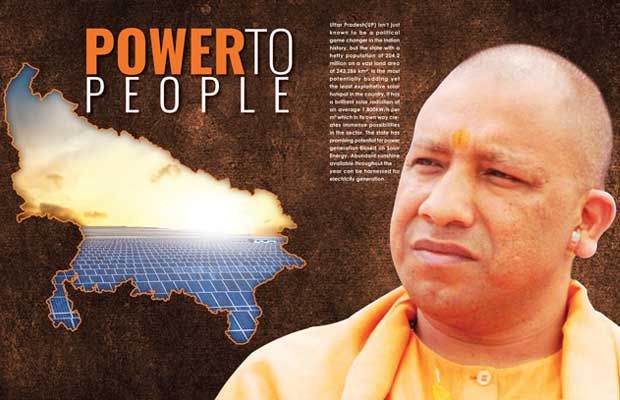 The state is embarking upon a significant journey in the direction of power generation based on solar energy. Over the last two decades, there has been a constant 10-15% gap in state's power supply and demand, so much so that UP has purchased power from other states. Lack of power caused industrial development to shift to other states while financial losses to the state incurred through power purchase adversely affected government's budget for public health and education. With heavy reliance on coal for power generation- and escalating prices and depletion of coal, UP was clearly asking for more alternate sources of energy to fulfill its high-ranging demand while being self-sufficient. Always lagging behind other states in terms of solar activation, UP had previously failed to deliver its promised 5% solar target under State Electricity Act, 2003, with a meager 0.5% only. In fact, its slow progress is detrimental from the very fact that its first solar plant became activated in 2013. The major hurdle had been the lack of government's interest and high tariffs. However, in 2015, Akhileshled-government announced 'Make in UP' by wavering off VAT on solar equipments. And the sun shined when his newly vested interest has made UP the first state to implement mini-grid policy through solar and non-conventional sources.
UP's SOLAR AMBITIONS BEFORE BJP
The last government invited all stakeholders to make efforts for setting up small capacity solar power plants in rural areas at economical rates. With this motive, he has already linked two villages with minigrid power supply. Under the rural housing scheme, each village unit was to be preequipped with solar pack. Around 70,000 street solar street lights were in proposal. An increasing number of solar plants are in implementation. The then state government also signed agreements with companies to set up renewable energy projects. Through such agreements, a total investment of over $6 billion was expected. Moreover, the previous government expected to add around 10.6GW of solar power by 2022. This will lead to an increase in scale and subsequent cheaper rates. Supporting minigrid policies have the potential to light up many homes waiting for power. Being one of the largest states in India with immense demand and power source within it, solar energy in Uttar Pradesh seems to have a bright future, at last. Slow and steady, UP has started showing some delightful progress. But UP can be a tough place to do business as proven yet again by the state renewable nodal agency, UP New & Renewable Energy Development Agency (UPNEDA), asking developers to reduce tariffs for a 215 MW state tender closed in 2015.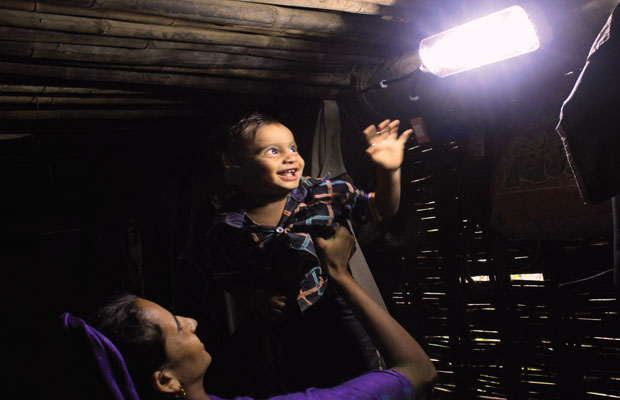 UPNEDA claims to be acting on behest of the state electricity regulator (UPERC), which is refused to approve power procurement at tariffs ranging between INR 7.02 – 8.60/kWh even though the benchmark regulated tariff for the tender was INR 9.33/ kWh. Only 130 MW of projects have been completed under this UP tender so far and several projects have been granted adhoc extension. UPNEDA may feel that it is justified in seeking lower tariffs when CAPEX costs/ tariffs have been falling across the sector. But such a move is short-sighted as the harm to the state's credibility and the negative impact of this step on future tenders will far outweigh the benefit of any tariff reduction. Project developers already attach a very high risk premium to UP. The state is notorious for poor law and order situation and has a low 'Ease of doing business' ranking, 14th among Indian states. According to recent report, assessment of utility scale tender results in India, showed that UP tariffs have been higher than other state tariffs by up to 50% after adjustment for radiation, timing and other factors.
But UP is also the most populous state in India with a population of 220 million (17% of India's population) and per capita electricity consumption of only 532 kWh as against 1,537 kWh for Gujarat and 1,192 kWh for Maharashtra. The new BJP government has a huge economic opportunity to turn around the state's economy by exploiting cheap renewable power and reforming the local power transmission and distribution system. It has indeed made reliable power supply as one of its core policies. UP has already cancelled over 7 GW of planned thermal projects and is believed to be planning to procure another 1,500 MW of solar power in the near future. In such a scenario, it makes no sense for the state to renegotiate tariffs for a mere 165 MW of capacity.
Moreover, any unilateral, postfacto move by any state to renegotiate tariffs detracts from the overall national growth story and Indian government's attempts to attract more private capital in energy and infrastructure sector. The national and state governments, together with the regulators, need to clamp down on such regressive short-term measures. Bridge to India believes that as one of the few large states with high power deficit, Uttar Pradesh (UP) could be a major demand driver for solar power in the coming years. The state has the largest peak demand-supply gap in the country and rural electrification rate is as low as 60%. Even though UP has historically been a tough state for private businesses because of poor law and order situation and highly erratic power supply, the state started making steady progress. Taking steps towards a more environment friendly inclusive growth of the state, the Uttar Pradesh government has taken several measures towards solar development.
Installing power generation capacity of about 15722 MW as on July 2015
Signing 2 MOU for solar park and an ultra-mega solar power project
Solar energy and rooftop solar photovoltaic power plant policy have also been applied
More than 160 solar RO water plant (capacity of 1 KW each) have already been installed in various primary schools
Letter of intent has been issued to developers to establish 105 MW grid connected solar power projects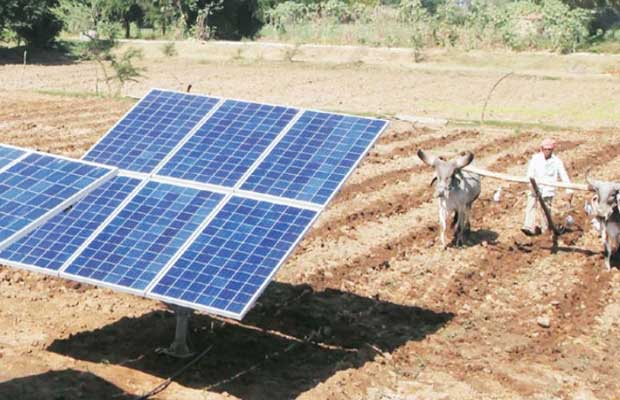 900 solar PV Pumps have installed in 2013-14 and 5000 more are being installed in the state
Solar water heating systems of total capacity 2.5 million liters per day installed for industrial and domestic purposes
Solar steam cooking systems installed at Dayal Bagh Institute, Agra and Rama educational society, Hapur
3 X 10 MW, 10 MW, and 5 MW capacity solar power plant started operations at Lalitpur, Mahoba and Naini (Allahabad) respectively
7 MW solar power plants installed in district Barabanki, Jhansi, and BareillySolar power policy made for projects of minimum 1 MW capacity
Under Lohiya Samagra Gram Vikas Yojna, 18,444 solar streetlights have also been installed in 1598 villages, industries, Tehsils and block development offices
96,151 villages electrified, 36,842 solar power home lighting and 66,585 biomass power solar streetlights have been installed as per the government report
More than 2 lakh solar home lighting systems along with 1, 21,000 solar street lighting system have been installed in the rural areas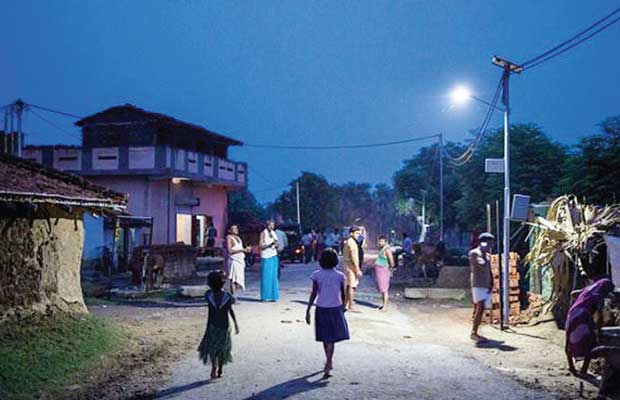 26,715 solar street lights were also installed in 2014-15 in 2098 villages the previous state government also worked towards setting up a solar park of 600MW capacity in Jalaun, Mirzapur, and Allahabad and a Grid-connected rooftop solar power plants of 600kW has already been installed. An inclination towards generating more solar power has helped the state in breaking the historic barriers by getting renewable power distributed in poor villages and neighborhoods. These steps have also helped Uttar Pradesh to embark itself on the journey of becoming a power-surplus state by the end of 12th fi ve-year plan, as about 13000 MW additional capacities are to be made available, in addition to existing availability of about 10000 MW. The ambition of attaining solar development struck well, but government's lame approach did affect the overall progress and execution process, making some of the solar projects unaccomplished.
YOGI STEPS IN
On 26 March 2017, Yogi Adityanath took charge of Uttar Pradesh's Chief Minister office after BJP's historical win with 325 seats in UP. And with few months in the chair, The Yogi Adityanath-led Uttar Pradesh government has cancelled the long-term power purchase agreements (PPAs) for 3800 MW. According to the reports, the decision was taken after the central power ministry and Uttar Pradesh Power Corporation (UPPCL) observed that adequate electricity will be available in the state between FY18 and FY22, and the cost of power under these pacts was higher than the spot market prices. In August 2016, 18 power companies were shortlisted in a bid conducted by the UPPCL to supply electricity under 15-year contracts at a weighted average tariff of Rs 4.16 per unit. JSW Energy, Jindal Power, GMR and Adani Power were among the companies shortlisted.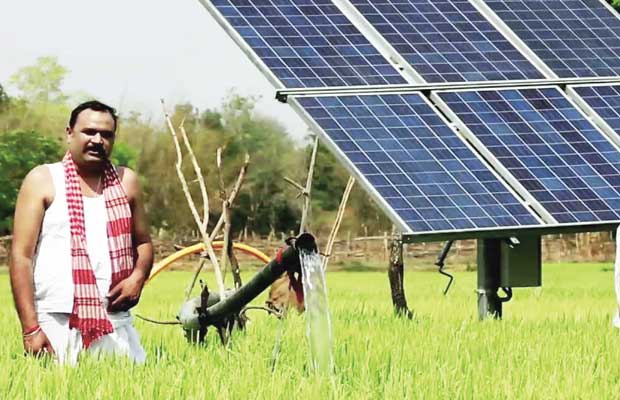 The power was planned to be shared among the six distribution utilities in the state, starting October 2016. It is expected that with this cancellation, the hopes of securing long-term power supply contracts will be down. The UP government's move, analysts believes is symptomatic of the deeper melancholy: On the one hand, hardly any PPAs are being signed and now, the bids for new contracts are being cancelled; on the other, plans to set up large thermal power plants are either being put in abeyance or abandoned. Moreover, Uttar Pradesh Power Corporation (UPPCL) has cancelled the PPAs with six firms for delay in setting up their projects. The six plants, with a combined capacity of 80 MW, belong to Sahastradhara Energy, Adani Green Energy, Pinnacle Air, Technical Associates, Sudhakara Infratech and Awadh Rubber Prop Madras Elastomers. The decision was taken as the agreement was signed in 2015, and the developers had to complete the projects by January 2017. But the developers have been quite sore about the issue and expected to seek legal alternatives against the administration.
According to the Draft UP Solar Power Policy-2017, the state will set up solar parks with a minimum capacity of generating 100 MW. Out of which, the 50 percent of the power generated is mandated to be sold to a UPPCL Distribution Licensee, adding to the state's utilities revenue. The state has promised to provide a Central Financial Assistance (CFA) of Rs 25 lakh for a detailed project report, Rs 25 lakh (or 30 percent of the project cost) for the solar park and subsidy of Rs 10,000 per KW to encourage grid connected roof top solar set ups. However, the recent withdrawal of agreement from six companies is likely to affect UP's 2017 Solar Power Policy as the move has upset the developers in UP who are seeking legal alternatives for the same. The six companies, which were a part of the agreement with 15 companies under the state's 2013 Solar Power Policy, had an aggregated capacity of 80 MW of solar power.
Apart from the delay in setting up of solar power plants, the rift between the stakeholders widened as UPPCL objected to the companies' setting up the solar panels now as per the previous arrangement even though the cost of solar panels reduced drastically. UPPCL believes that allowing the remaining six companies to set up solar panels by extending the deadline would have give them 'undue benefits' compared to the other nine companies who completed the agreement in time- and analysts believe that a shortfall in the state's solar power generation is likely to affect the country's growing solar capacity. Uttar Pradesh's aim to generate 8 percent of state's power from renewable source is in line with India's target of reaching 170 GW of renewable energy capacity by 2022, of which 100 GW is to be generated from solar power. But despite all the setback and reforms, Uttar Pradesh eyes to set up 10.7GW of PV by 2022. It targets 8% of solar power purchase obligations by 2022.
The Uttar Pradesh New and Renewable Energy Development Agency (UPNEDA) have published the "Uttar Pradesh Solar Power Policy 2017 Draft", which intends to achieve the target of 8% solar power purchase obligations by 2022, according to Enerdata. This means 10,700MW have to be set up since then, of which 4,300 MW are from rooftop projects. The new policy focuses on installation of solar power plants across Uttar Pradesh as well as promoting setting up of rooftop solar plants. The State will support private and public entities for the development of utility-scale solar parks with a minimal capacity of 100 MW. Uttar Pradesh will also support the construction of transmission lines for stand-alone solar projects above 5MW (at a single location, awarded through a competitive bidding process).
Enerdata added that the State will promote gridconnected solar rooftop projects. But with successful implementation of this solar policy, UPPCL could help generate over 6 percent of India's required target of 100 GW solar power generation by 2022. Chief Minister Yogi Adityanath had set 14th April deadline to ensure 24×7 power supply in district towns and cities, 20 hours in sub-divisional town areas and 18 hours in villages. He had set a target for the power department to give 5 lakh new electricity connections within the next 100 days; and replacement of burnt transformers in rural UP. With Yogi in, Uttar Pradesh has now signed the 'Power for All' agreement with the Centre schemes, which was earlier not implemented by previous government. Moreover, after the launch of Ujala scheme, UP would become the first state to take a pledge to install new smart meters, and will be installing 10,000 solar pumps as well as distribute 9 watt LED bulbs for Rs 60, 20 watt LED tubelights for Rs 230 and 50 watt fan at Rs 1150.
Solar energy had been a buzz thing in previous government too. The state got its first megawatt-capacity solar power in 2012 when a 2 MW plant in village Sandauli of Barabanki was inaugurated. After that a 5 MW power plant was inaugurated in Mahoba. UP, as a matter of fact, is blessed with a good solar radiation to the tune of 1,800 kilowatt-hour per sqm on an annual average basis. This is necessary for operating a solar photovoltaic power plant. And with CM Yogi planning the move, its seems like UP Government is committed to increasing power generation as it had promised 18-20 hours of supply in rural areas and 24 hour power in cities; and this is where solar power can help meeting this target in Uttar Pradesh.