Sofar Solar, one of the leading string inverter companies in China, has revealed that it plans to launch its latest third generation inverter "SOFAR 1-3.3KW-G3" at the Solar Solution exhibition to be held in the Netherlands from March 19 to March 21, 2019.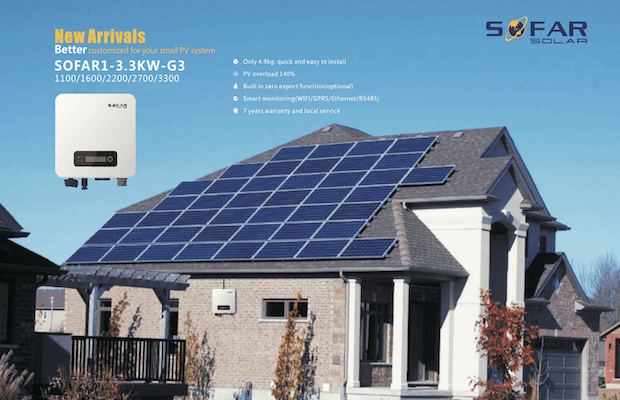 The new model includes SOFAR1100TL-G3, SOFAR1600TL-G3, SOFAR2200TL-G3, SOFAR2700TL-G3, and SOFAR3300TL-G3.
The company claims the new inverter has the following advantages:
Firstly, the G3 inverter of Sofar solar has a milky white appearance, simple and generous design, which can help better integrating into the home environment and bring modern science and technology to owners.
Besides, the G3 inverter of Sofar solar fully customizes modular hardware system. The smart use of internal space, close arrangement of rules and reasonable optimization of internal space make the whole machine smaller in size and lighter in weight. For the installer, one-hand installation can be achieved.
What is more, the G3 inverter of Sofar solar has a unique core design and important components choose world famous brand which can keep the device design margin sufficiently and ensure long service life.
Afterward, the G3 inverter owns 97.7% max efficiency and has ultra-high switching frequency design, wide input voltage range, DC support 1.4 times over,to Improve machine performance and increase user revenue.
As well as providing customers with a higher quality inverter, the chassis of the inverter is designed with all aluminum, and the input, output, and communication interfaces are designed with lightning protection, the whole machine has IP65.
Finally, the G3 inverter with rich communication ports, such as WIFI/GPRS/Ethernet/RS485 can be selected flexibly to realize Intelligent control, which helps user keeping track of the operation of the power station at any time by downloading the Solarman APP.
The Solar Solutions exhibition plays an important part in energy exhibition of Western Europe. It attracts thousands of visitors, such as producers, importers, resellers, installers, property-project owners. Most notably, many of the company's new products and technologies will be announced at this exhibition.