A large office complex in Mumbai has installed 808 solar panels, spread across 25000 square foot roof, making itself self sufficient with power, reducing the hazardous impact of power generation on the environment.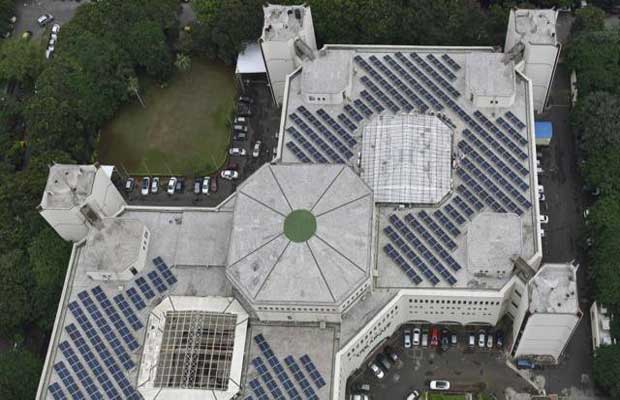 The SoBo office complex at Mumbai, the Arcade building with 120 offices at MVIRDC World Trade Centre (WTC) at Cuffe Parade, Colaba, is the first ever largest commercial establishment that uses solar energy for power generation. It has been added with 808 solar panels generating 250 kilowatt peak power (KWp) that has reduced the annual electricity bill by 30 percent. It is connected with the grid, which means excess electricity produced or generated during holidays can be fed into the public system.
  "Solar power is attractive because it is abundant and offers a solution to the negative effects of fossil fuel emissions and global climate change," said Kamal M Morarka, chairman, WTC Mumbai, a non-profit organisation that helps in facilitating trade. "With the demand for energy rising exponentially, the entire state is undergoing a transformation in how it generates electricity." The office complex is named after Sir Mokshagundam Visvesvaraya, a champion of the manufacturing industry.
The panels can generate 900 kilowatt hour (KWh) solar energy daily, which caters to all electrical consumption for the three-storeyed building, including the air conditioning system. An average household in Mumbai uses 10-15KWh electricity per day.
Dinesh Sharma, Director Engineering, WTC stated that "The panels will generate a total of 3 lakh KWh solar energy annually. After incurring the initial cost of Rs 1.75 crore, we will be saving Rs 45 lakh every year after four years through this mode of energy consumption."
Source: HT