RK Singh has said that India will need an investment of approximately Rs 4 lakh crore to achieve the balance target of its 175 GW renewable target.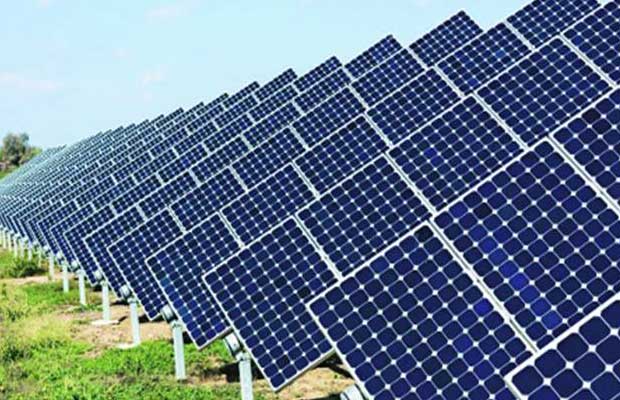 Minister of State for New & Renewable Energy and Power, RK Singh has said that India will need an investment in the region of approximately Rs 4 lakh crore to achieve the balance target of its ambitious 175 GW renewable energy generation capacity by 2022 target.
In response to a question raised in the Rajya Sabha, the minister said that the Government has set a target for installing 175 GW of Renewable Energy capacity by the year 2022 which includes 100 GW from solar, 60 GW from wind, 10 GW from Biomass and 5 GW from Small Hydro. And that a cumulative renewable energy capacity of 83.38 GW has already been installed in the country up to October 2019.
"To achieve the balance target of 91.62 GW, an investment of approx. Rs 4,14,581 Cr has been estimated as capital cost," the minister stated in his written response.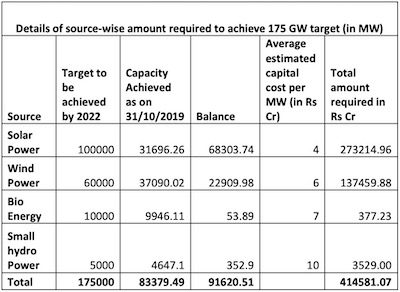 In response to the question on whether the Government is assessing different policy options for long term financial support to RE sector, and how it plans to attract large scale private investment in this sector, the minister said that most of the grid-connected renewable energy projects in the country are being implemented by the private sector developers selected through transparent bidding process.
Further adding that the Indian Renewable Energy Development Agency (IREDA), a Non-Banking Financial Institution under the administrative control of MNRE finances renewable energy and energy efficiency projects in the country by raising resources from internal and external sources such as bilateral and multilateral agencies, raising masala bonds from international & domestic market, borrowing from banks or financial institutions, etc. Also, loans at lower interest rates are being made available for renewable energy projects by major banks or financial institutions by availing a line of credit from the World Bank, ADB, KfW, etc.
Recently, it was reported that IREDA is deliberating over a new USD 100 million (Rs 706 crore) green window for financing renewable energy projects, Ministry of New and Renewable Energy (MNRE) Secretary Anand Kumar has said.
The minister also detailed that the Reserve Bank of India (RBI) has revised the guidelines for all scheduled commercial banks to include renewable energy in the priority sector, in addition to existing categories. The bank loans for solar rooftop systems are now treated as part of a home loan/ home improvement loan with eligible tax benefits.
Furthermore, the Government has created a liberal environment for attracting foreign investment in renewable energy projects. 100 percent Foreign Direct Investment (FDI) under the automatic route has been allowed in the renewable energy sector, Singh said.