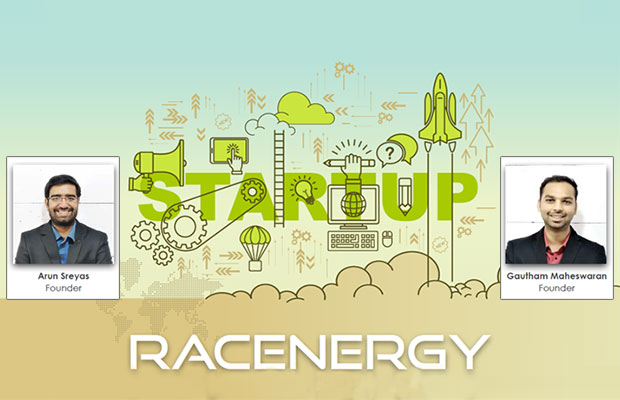 Brief details Total employees: 10
Key operational areas (Products, Regions, Clients): The company is making electric conversion kits for three-wheelers and battery swapping stations. It is targeting to launch its products in urban areas, especially Tier 1 cities. The company does direct sales to auto-rickshaw drivers and is also looking to partner with OEMs to launch vehicles on its swapping platform.
Founding Members detail: The start-up was founded in 2018 by Arun Sreyas and Gautham Maheswaran, who are alumni of BITS Pilani. They were part of the Formula SAE and BAJA teams of their university and have developed and built several race cars in the past.
Turning Point for the firm
One month after starting RACEnergy, when the founders were selected for the finals of Y Combinator and were invited for an interview in the Silicon Valley. Some of the best investors in the world believed that there was value in their idea and was worthwhile. This gave them more conviction to start executing their idea quickly.
Plans in next 3 to 5 years
The company aimed to be a leader in the battery segment and battery swapping technology. It has planned to scale up its swapping network across all the major cities in India while increasing the density of stations in each city. The company wants to work with OEMs to manufacture vehicles on its battery swapping platform.
Biggest Challenge for the Sector
In a price-sensitive market like India, the high price of purchasing electric vehicles (EVs) hinders the adoption of electric mobility.
Biggest Attraction in the sector
The price-sensitivity of the Indian market provides the company with a great opportunity to intervene and solve the cost problem and help accelerate the rate of EV adoption in the country.
Present State of Mind
We have maintained a steady rate of progress since the time we started building our products and our team. We could have had faster advancements in product development with better-streamlined component sourcing which we are striving to improve every day. Talent acquisition is another area that we are focusing on and we think it would help fast track growth.