India's manufacturing sector is set to take a giant leap forward, with the government announcing a slew of measures to boost domestic manufacturing in recent past. As a result, various companies are gearing up to expand their production facilities in India. However, Indian manufacturers continue to face a stiff competition with Chinese and other global manufacturers leading them to operate insufficiently. There could be various reasons ranging from the government's existing domestic insufficient content policy to fewer types of subsidies or the interest rates on raw material thus making them to be inadequate in promoting the domestic PV module manufacturing industry. However, the challenges in the current policy regime and steps India might take to better position itself to become a global leader in the PV module manufacturing needs a strong overhaul.
Why India Needs to Build Solar Manufacturing Capacity?
Solar power is the strategic need for the country as it can potentially save USD 20 billion in fossil fuel imports annually by 2030 and domestic manufacturing can save USD 42 billion in equipment imports by 2030. "In the absence of manufacturing, India will need to import $42 billion of solar equipment by 2030, corresponding to 100 GW of installed capacity," warns a report by KPMG, an advisory firm.
The report further highlighted that solar manufacturing can also create direct employment for more than 50,000 people in the next five years assuming local manufacturing captures 50 percent domestic market share and 10 percent global market share.
Challenges Affecting Module Manufacturing
There are several factors which contribute to the higher cost of Indian modules, including limited or no access to raw materials, lack of economies of scale, and inverted duty structure.
According to a research report – 'State-level Policy Analysis for PV Module Manufacturing in India'- prepared by a Bengaluru based Think Tank, Center for Study of Science, Technology and Policy, stated, a module manufacturing facility is not very capital intensive; therefore, raising capital cost is not a big challenge to set up such a facility. Governments, both at central and state levels, provide incentives to subsidize the capital investment for module manufacturers. However, the research found that these capital subsidies are insufficient to make domestic manufacturing viable, as its impact is outsized by the other factors responsible for high prices. The research outlines three major challenges as under:
1. Raw Material Cost
2. High Interest Rate
3. Inventory Management and Capital
Utlization
Raw Material Cost
A significant share (80-90%) of module manufacturing cost is attributed to raw material alone. Raw material for a module mainly comprises cell, glass, encapsulant, backsheet, interconnect ribbon, sealant, junction box, etc. Among these, cell has the biggest cost share of ~70% whereas the rest have a ~30% share. Also, the falling prices make inventories extremely costly.
High Interest Rate
The other challenge for a module manufacturing industry is high interest rate on capital, comprising 12-15% of the total module manufacturing cost. The current interest rates in India are in the range of 12- 15%, which are way higher compared to other countries. This analysis observes that high interest rate on working capital increases manufacturing costs. Access to cheaper working capital loans would help reduce costs.
Inventory Management And Capacity Utilization
As mentioned above, Indian module manufacturers are operating at very low capacity utilization; however the capacity is currently sufficient to cater to the demand. The major reason for this is lack of demand for domestic PV modules and unavailability and limited access to raw material. Therefore, to at least keep their plants running, raw materials are stored in the warehouse. Also, the finished modules need to be kept in the warehouse because of intermittent demand in the market. Therefore, higher inventory levels for raw materials and finished modules increase the operating cost and puts upward pressure on manufacturing costs. More long term contracts with manufacturers could assist in this regard, allowing firms to procure raw material just in time to meet demand. Access to working capital is important for Indian companies to compete against the firms from China/ South East Asia, who offer better terms.
Domestic Solar Manufacturing- Current Scenario Looks Bleak
Manufacture of solar panels (also called modules) start with polysilicon, which is made from silicon. Polysilicon is made into ingots, which are cut into wafers. Cells are made with wafers and a string of cells is a module. Today, only modules and cells are made in India, with imported material. When it comes to figures, currently, almost 90 percent of panels and modules in Indian projects are imported, mostly from China, Malaysia and Taiwan, as they are significantly cheaper than the ones made locally. According to the Ministry of New and Renewable Energy, the country has installed capacity for producing 3.1 GW of cells and 8.8 GW of modules (cells are used to make modules).
Modules account for nearly 60 percent of a solar power project's total cost. India's solar power generation capacity has already more than tripled in three years to over 20 gigawatt (GW). Of India's ambitious target of putting in place 175GW of clean energy capacity by 2022, 100GW is to come from solar projects. Local manufacturing capacity is anyway nowhere near enough to meet the target of 100 GW by 2022, which has been set by the central government.
At present, the only incentives available for manufacturing these is the Modified Special Incentive Package Scheme, which is available to all electronic goods manufacturers and implemented by the Ministry of Electronics and Information Technology, but there have been few takers for the scheme.
Will Government's Recent Proposals Change the Scenario?
The Ministry of New and Renewable Energy has eventually understood the hard core fact that the cell/module manufacturing capacity in the country is "obsolete". This is why, MNRE headed by RK Singh plans to revolutionize this sector by introducing slew of measures to support solar manufacturing in India. In December, MNRE introduced a concept note' to build up manufacturing capacity of solar PV modules, cells, wafers/ingots and polysilicon in India. The Ministry speaks of a "direct financial support" of Rs 11,000 crore and a 'technology upgradation fund', for solar manufacturing.
However, the concept note highlighted "even this capacity is not being fully exploited because of obsolete technology." Only 1.5 GW of cell manufacture and 3 GW of module manufacture is used.
Government has also come up with one good thing in the recent budget where it proposed that the duty on solar tempered glass or solar tempered [anti-reflective coated] glass for manufacture of solar cells, panels, modules be reduced from 5 per cent to zero.
Foreign Companies to set up Manufacturing Units- Market Glance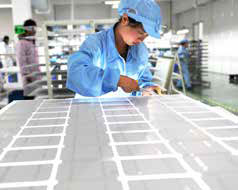 There has been growing interest from companies to set up domestic manufacturing facilities in India. According to consulting firm Bridge to India, the Indian solar module market is dominated by Chinese firms, with domestic manufacturers accounting for only 10.6 percent market share. The Chinese firms that have recently expressed desire to set up manufacturing facilities in the country include Longi, Trina Solar and GCL-Poly Energy Holdings Ltd, both from China.
LONGi Green Energy Technology Co. Ltd will be the first Chinese company to set up a solar equipment manufacturing facility in India. The company will invest $309 million, including about $240 million in construction investment and roughly $68 million in working capital, to double the capacity of its cell and module factory in Andhra Pradesh from 500MW to 1GW respectively.
LONGi's India plans also come in the backdrop of US President Donald Trump's decision in January to levy tariff on imported solar panels that will impact Chinese module manufacturers.
Monocrystalline silicon is more efficient and expensive as compared to multicrystalline silicon, widely used globally in setting up solar power projects. It also improves the average efficiency of a solar panel, resulting in better capacity utilization factor (CUF) of a solar project.
The world's largest monocrystalline solar wafer maker's plans for India to come in the backdrop of the National Democratic Alliance (NDA) government conducting an anti-dumping investigation on solar equipment from China, Taiwan and Malaysia. Additionally, India is exploring to levy a 70% provisional safeguard duty on imported solar panels and modules from China and Malaysia, as recommended by the directorate general of safeguards. A final government decision is awaited.
Domestic Companies Entering Into Solar Module Manufacturing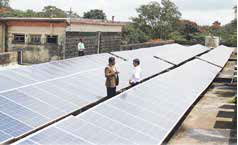 Indian companies are also entering into solar manufacturing. Last year, Yoga Guru Baba Ramdev's Patanjali Ayurved Ltd, India's consumer goods products company, announced its plans to diversify into solar power equipment manufacturing. The Haridwar-based firm is investing around Rs 100 crore in its Greater Noida facility, and the plant also plans to manufacture chips and photovoltaic cells etc. Initially, the company would consume all the solar panel internally by installing on rooftops of all its manufacturing units and centres.
Hindustan Coca-Cola Beverages Pvt Ltd, one of India's largest FMCG manufacturing and distribution companies has also stated that its all three factories in Andhra Pradesh and Telangana will start using solar power as the primary source of energy for its manufacturing operations. The company signed agreements with Vibrant Energy to procure 2.7 crore units of solar power for the three factories.
What Needs to be Done?
To make India globally competitive, Indian solar industry needs to develop a larger policy framework than the one already exists to support domestic manufacturing plans. Introducing favourable policies for domestic solar manufacturing, driving innovation through R&D support in the sector, focusing on skill development- are some of the steps that Indian solar industry drastically needs for growth. In addition, state government could promote DCR for Public Sector Units consumption to ensure module demand and to help in local employment generation.
Incentivizing manufacturing will also make sure that India continues to remains a leader towards fighting climate change. Government's role towards this sector will only find takers when they will come up with effective policies in the renewable sector such as support domestic manufacturing, and skill the workforce. Thus, more focus at challenges and better efforts at increasing domestic manufacturing capacity and given India's abundant human resource, solar potential, solar demand, and political will, India has the potential to be more competitive in global solar module manufacturing.