SmartE has successfully commissioned two new EV charging hubs in Delhi-NCR at the Rajouri Garden and Uttam Nagar Metro Stations.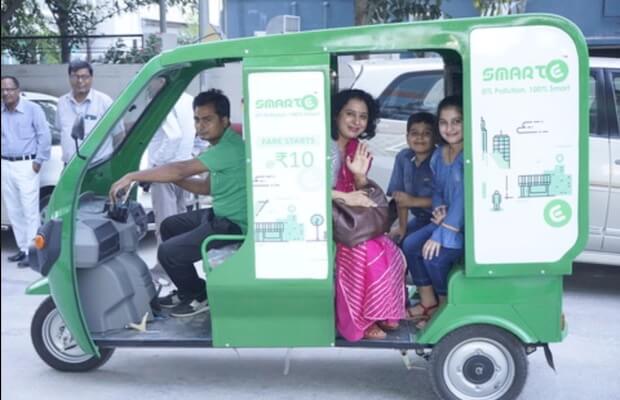 Delhi-based electric mobility service provider SmartE has announced that it has successfully commissioned two new electric vehicle (EV) charging hubs in Delhi-NCR at the Rajouri Garden and Uttam Nagar Metro Stations.
The company announced that with these new additions the company now serves more than 20 metro stations in the NCR. And the two new hubs were the seventh and eight such charging hubs that it currently operates for its fleet of nearly 1000 vehicles.
According to SmartE, 300 electric three-wheelers are rolled out in the first phase for Uttam Nagar East Station which will help nearly 30,000 commuters to move on a daily basis. On the other hand, 50 electric three-wheelers are being given the go ahead in the first phase from Rajouri Garden Metro Station (Pink Line) to help about 5,000 commuters move per day.
The company is also offering free rides to the customers, for the first 8-10 days.
By the end of the year, the firm is looking to make its services available across nearly 50 metro stations on the DMRC network. The company is also looking to ramp up its fleet from current 1,000 to nearly 10,000 in 18-24 months' time.
In July, we had reported that SmartE had raised Rs 100 crore in funding from Japan's Mitsui and Co.
The startup which is a subsidiary of Treasure Vase Ventures, raised the amount as a part of its series B funding round. Mitsui will bring to SmartE multiple synergies through its existing businesses in the EV domain to enable the company for long-term growth.
In December 2018, Mahindra Electric Mobility had partnered with SmartE to launch the first 1,000 Mahindra Treo and Treo Yaari electric three-wheeler in Delhi-NCR by March 2019. The two leading companies in the electric mobility market have come together, to offer convenient, affordable and zero-emission last-mile connectivity, not just for the NCR region but also for major cities around the country.