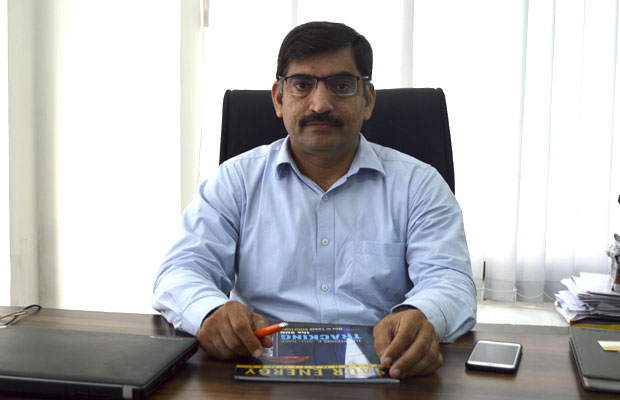 ReneSola is one of the leading international brand and technology providers of energy efficient products. Leveraging its global presence and expansive distribution and sales network, ReneSola is well positioned to provide its highest quality green energy products and on-time services for EPC, installers, and green energy projects around the world. In an exclusive Interview Pradeep Sangwan-Country Head, ReneSola to Santanu Mukherjee – Sr. Journalist, Saur Energy International shared about the latest modules, market share, projects in-line, ReneSola's production quality management and more.
Please give us an overview of ReneSola's India operations and product offerings?
We started our operation in India in 2013; our first supply of modules was to Solar Direct and SunEdison.  In last 3 years we have supplied almost 700 MW which was commissioned till last month. Initially, the company started selling to customers from China and in last three years we have established 4 offices in India, 3 warehouses and a team of 70 people on board which includes sales, logistics, HR and finance. We are incorporated as ReneSola India Pvt. Ltd. as an Indian entity, and we have today VAT registration in almost 17 states to make it to the local sales and more than 100 customers including leading developers, EPC players, small system integrators and channel partners. Other than PV, we have added LED lighting as our business that was started one and half year back and it's a growing business. Today, with more than 200 dealers across India, our monthly growth in the LED segment is almost is 20-25%. ReneSola India started with 240-290 Watt (peak) products and today we are selling 320-325 and on 60 cells its 265, 270 and 275 Watt modules marking a significant growth in the efficiency in last three years. Now our major focus is polycrystalline modules, as monocrystalline silicon requirement is less. In India, other than solar modules we are not currently selling any other solar products, although we have micro-inverters, string-inverters, off-grid solar solutions.
According to a research firm ReneSola have 5.5% share in India, what are your plans for next FY and what type of strategy will you follow to achieve that number?
We have been able to create good reach in last one and half years, our main focus was large developers, but gradually we tried to cater it to all customers. Now along with large ground mounted projects we have a lot of demand in commercial rooftop segment and other rooftop projects. Looking at the India market, we may gradually shift to residential rooftop also and foster our sales to foray into this promising rooftop market. In large ground mounted projects there is a timeline like – land acquisition and then financial approval, but in case of rooftop projects it moves very fast and numbers are also good and can further increase our volume and turnover. We are working to add more and more customers in this segment. In most of the ground mounted and large projects, customers are easily visible and you can find out which state, tender, developer and size of the project is undertaken and you can easily develop relationship. In case of rooftop segment, the sales approach is slightly different as compared to ground mounted projects as the competition is not much. With this rooftop market, we aim to add 20% to our turnover. Moreover, we will get better price advantage in rooftop segment.
How do you strategize to reach end consumers?
In case of large projects, most of the developers are known, so reaching them is not a difficult task. But in rooftop segment, you have 2-tier systems like EPC or system integrator in between, and then you have consumers. So, in this segment consumer is a sort of developer who is consuming our product, and it needs lot of patience. We have to do ground work so that customer asks for ReneSola and not for other brands.
Do you think Indian rooftop consumers are aware of solar and solar products?
Yes! Today through internet most of the buyers search about the products and brands available in the market. Most of the customers for commercial rooftop are professionals; they may have their own purchase team which helps them decide products and which EPC company they should go for. EPC companies also promote lot of vendors depending on the relationship with the module suppliers and their experience with the product. So, we have to push ourselves at both consumers and EPC level.
Please share about the production quality management you follow
We use our own wafers and cells; the quality of cells is managed through our own product supply chain. Other than that, in module manufacturing process we go for three times EL imaging process. We check micro cracks at the initial level for the cell, then before flash test and packing as per IEC standards. Other than this, we have all the certifications that are mandatory for modules and we use best quality material to build modules.
MNRE recently came out with National lab policy for renewable energy sector for testing, standardization and certification. Please shed some light on the draft and how it is going to help Indian consumers?
Whatever Indian standards are there for RE sector, they are based on international standards. So, if a product you are buying is already tested and certified by third party lab which is an international lab. Even if it is situated out of India, all the tier-1 module suppliers have their products as per IEC standards (regulatory mandatory certificates). Therefore, building an indigenous testing facility is inapt. If buyers have to ensure that he should get the best quality, the best way is to have factory inspection and scrutiny during production. Today, there are two type of sales- one is that which vendors are selling from stock for rooftop, small rooftops and others, but in large projects every customers have option of inspecting the entire lot, so there they can ensure the bill of material they want, their type of testing they want and even can go for third party testing during the production itself. This ensures the product which they are getting is 100% as per their quality requirement.
Can you please share about ReneSola's research, what type of efficiency does the company has and three years down the line what kind of efficiency is expected?
Couple of years back, we have included about 240W to 270W, which is almost a jump of 2% in efficiency. And with present technology, it is very difficult to further increase because we are almost near to maximum reach we can get.  We are shifting to other technologies like HIT or back contact cell. Next year, we will focus on technology change and shall come up with HIT technology and par so that we are able to further improve on efficiency. In 2017, commercially we are aiming to reach a level of more than 330W in 72 cells.
What kind of budget goes into R&D?
We allocate almost 10% of our turnover to R&D and quality management to ensure that we are able to improve on our quality and efficiency.
Any plans to get your R&D center or production facilities to India?
The way Indian solar market have been moving since last 3-4 years, most of the large projects are driven by state policy under MNRE, JNNSM program plus the rooftop program under SECI and MNRE. Initially we were producing modules in India through OEM tie-up, but that year we experienced there is a big gap in demand and supply. If we are producing module today, the demand may come after 6 months, so in India producing and holding stock makes cost very high because the interest rate is 11-12%. If I have to produce 50MW modules and get chance to supply only after 4 months then I will be losing on cash flow. Other than that the cost of production is also higher. Looking at the production volumes in India in comparison to China, we are very far behind so it seems very difficult to achieve that production cost. Government has been trying to promote Indian production through specific tenders under NTPC, where they define that the product has to be made in India product, but still the demand has not been able to go above 500MW per year. With 500MW it is very difficult to sustain.
Panel pricing has been crashing for last one year, how do you think this is going to impact the Indian solar market?
It is good for Indian solar market, for example most of the projects that has to be commissioned by March 2017, bidding was done almost one year back. At that time the price point that they might have taken to bid, the prices are now much lower than that, so the profitability of the developer and EPC companies will be better.  However, most of the EPC companies do not get module orders as it is directly purchased by developers, still the IRR for the developer will be better because almost 2-3 cents difference is still there. If you see today the price is almost below 36 cents and in Q1 this year the price was almost 48 cents, there is a 12 cent fall. And projects which were bided in Q4 of 2015 or this year in Q1, they never anticipated that the price will go below 36 cents. In solar business for developers and system integrators this is actually good. We expect the price to further go down by next year.
How do you compete with the low quality manufacturers and how do you educate your consumers about the quality that ReneSola offers?
In terms of quality the buyer need to check the bill of material, so we try to educate our consumers from bill of material, back sheet quality, vendor, type of glass and thickness of glass that drive the price. Other than that, in the production quality itself if you can see the inter-cell contact you can easily make out the quality of module. Module failure mostly happens due to failure of inter-cell contact or junction boxes.