Q. What is the importance, feasibility, viability of using Solar Trackers in various states of India
Dropping PPA prices, high irradiation and utility scale makes solar trackers the perfect and only choice to get higher IRR for a solar plant in India. The solar plant generation can achieve up to 15%-25% more yield when using a horizontal single axis tracker in most regions of India, such as: Tamil Nadu, Karnataka, AP, Telangana, and Maharashtra. Even in North India, you can still get 15-20% more energy by using a horizontal single axis tracker with tilted solar modules. As a result, more and more top solar developers tend to use solar tracker technology.
Q. What are your view on the GOI target of 100GW Solar Power by 2022
Honorable Prime Minister Shri Narendra Modi has expressed huge determination to adapt renewable resources as a viable means to meet the rising power demand in the Indian sub-continent by setting an ambitious target of achieving 100GW through solar by 2022. This target makes India a booming market and there is no doubt that India will emerge as top 3 solar market in the world in 2017. We see great potential in the Indian solar market, at least in next 5 years.
While growth opportunities envisaged are obvious, challenges and associated risks cannot be sidelined. Due to the stringent project delivery timelines, most of the projects are executed in an extremely short time frame which cannot be seen anywhere else. Planning and coordination becomes major contributing factors in order to achieve stern targets as everyone is under paramount pressure to deliver. MMS suppliers. have to face the major brunt because design is normally finalized in the last but site delivery is expected much ahead of any other material. We try very hard to satisfy the needs and requirements laid down by our various customers through leveraging our huge production capacity and adapting advanced inventory control system. The good thing is that we have never let down our customers so far.
Q. Explan briefly about your company, directors, promoters, financial & tech strengths, investors its background, vision & mission etc…
Arctech Solar is now ranked No. 1 in terms of solar structure supplied in China and India with a vision to be a leading solution provider and manufacturer of solar racking and tracking systems in the world.
Since 2009, the year Arctech installed its first high precision dual axis tracker, we have always tried to adapt our products and technology to market demands and as a result our accumulated installation is 10GW up until this January.
With a 3GW tracker and 6GW fixed structure annual production capacity, Arctech is well equipped to be an active player in the world solar market.
Q. What is the kind of tracker technology you supply for the solar market?
The horizontal single axis tracker with redundant backup system and linked rows is the main tracker technology we are promoting in Indian market, and it is also the most cost effective and durable solution we have developed.
Our R&D team is working on next generation to help our clients reduce column post foundation nos and land consumption, and the same time increase energy yield.
Q. Mention the technical specifications of the trackers you offer.
We normally use heavy-duty slew gears in our trackers which can drive up to 1000 pcs of 72-cells solar modules.
In the meanwhile, our unique redundancy design makes "never stop tracking system" from a concept to a real product. The backup system can automatically be activated whenever the primary system stops. Therefore, there is no power generation loss.
Q. What is your USP's, distinctive advantage of your technology, products, solutions
Firstly, Arctech solar is not always trying to sell trackers or racking system to our customers. We are the solar structure solution provider. We always listen to the customers, try to understand the real needs, and then provide financially viable and technically workable solar mounting solutions to the customers including trackers and racking systems. Secondly, we will sit with our customer together and discuss how to adapt our products to the local applications. For example, since it becoming more and more difficult for investors to find flat land for PV projects, we launched a smaller tracker which can be much more flexible for land requirement.. We also have an integration solution with inverter and solar module to help our customers minimize cost and simplify the design.
Thirdly, we provide highly reliable products backed by a dedicated R&D team with more than 40 talented engineers. Our Redundancy Solar Tracker Technology, also called "Arctracker PRO", has set a new level of reliability for solar trackers.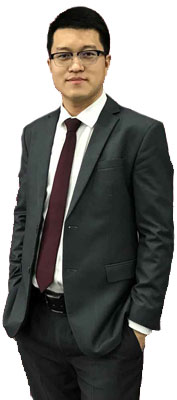 Finally, Arctech Solar is committed to only providing the highest quality solutions in any market that we enter. Arctech Solar is probably the only company which has very strong R&D capabilities and a huge vertical integrated production capacity as well. It allows us to control quality from design phase and throughout every step of production. On the other hand, our customers can also experience the high quality of our services from site surveying, plant layout, financial analysis, tracker performance monitoring, local warehousing for spare parts, technical support, and on site instruction.
Q. Please present case studies, noteworthy projects in India and/or worldwide.
Arctech has supplied the biggest solar tracker project in India, which was a 172MWp 100% solar tracker project in Telangana, has commissioned this year. Our client will have around 18%-19% generation gain with support of Arctech solar's redundancy tracker technology.
Q. What are your plans for India and your view on the opportunities and challenges.
We are proud to announce that we have achieved an unprecedented record 2GW installation footprint in India which includes 650MW solar trackers. We have signed MOU's and firm agreements with several top IPP, developers and EPC companies with a strong pipeline of more than 2GW backing us. For Arctech Solar, we take India market as one of the two home markets besides China. In India, we want to be viewed as an Indian company, which means localization of more and more aspects of our business and long-term commitments accordingly. In addition to business, we also want to develop our CSR and grow the company together with the society.
Q. Please share a video about your tracker / company for our digital media platform.
You can search "Arctech Solar" in youtube.com, to find video of our solar trackers.
Q. Explain various guarantees, warrantees, insurance, certifications, test results, performance report of your trackers
Arctech Solar is one the few tracker companies to obtained ISO, CE, UL2703, UL3703 certificates and Black& Veatch bankability report, and the first tracker company certified by TUV according to IEC 62817.
Q. The recent aggressive bidding by various developers keeping Solar Tariffs in the price range of Rs.4.34 – Rs.5 per kWh in various Solar Tenders…Whats your view on the viability, Costs & timeline pressures, Resource Challenges (Materials, ManPower, Execution, Grid Connection, Land Possession) etc…
Currently the Rs 2.44 tariff price will force the solar panel and BOS cost coming down, but will also encourage use of new technologies such as use of high efficiency solar panel, robotic cleaning systems and system integration.
Arctech Solars R&D team has done a lot of innovations and we treat our tracker systems and MMS as a platform to integrate different technologies. For example, we have released integrated solar tracker design, which allows tracker and inverter share power and communicate cables, and no UPS or battery needed for trackers eventually saving the BOS cost.
Using higher efficiency module such as bifacial module on solar tracker will reduce the BOS cost significantly and what's more importantly, it will solve land limitation issue. We can also further think combination of tracker and robot cleaning technology.
Q. In the overall Solar Market….what is the size of installations with trackers…in this what is your market share.
Solar tracker is one of the most effective equipment to help investors increase their IRR with some IPPs considering 100% tracker portfolio. In 2016, global tracker installation capacity was estimated at around 11.6GW, 20% of total installed volume. We are expecting the percentage will further increase by 40-45% in next 5 years. Arctech solar ranked Top 5 in order of global shipment volume. If look at Asia pacific market, India market and China market, Arctech Solar shipment volume were No. 1 in 2016.
India and China became the most active market for solar tracker besides United states.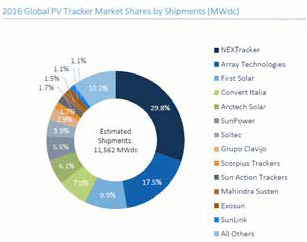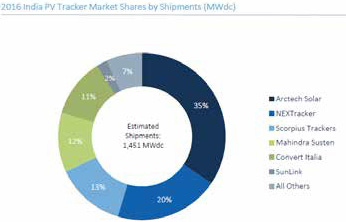 Above info sourced from GTM research.
Q. How has Arctech's perspective of the solar energy segment in India changed over the past one year? Accordingly, how have the company's strategies for developing solar portfolio evolved?
As per our experience in last year, we witnessed several new trends emerge in the market Š
Solar tracker projects scaled from 100MW to GW within 1 year. Š
Solar roof-top market has heated up in last one year, especially in the commercial and industrial segment due to various policies announced by states leveraging solar as a viable and sustainable form of energy which further helps reduce the carbon foot print. Š
Indian solar market exceeds 10GW milestone. Since many developers and EPC companies have gained the expertise to manage utility scale installations, it will further help in ramping up the installation capacity for meeting future milestones. As a MMS and tracker solution provider and manufacturer, our target is not only to meet the market request, but also to lead the market trend by innovation.
Besides high-quality products and on-time delivery, after sales support is the most important deciding factor for our clients while opting for our solutions. We have built a strong local service team in India which allows Arctech Solar to render professional and timely technical support.
Q. What are your manufacturing plans in India?
We do have plans to set up manufacturing facilities in India and we will announce details at the right time.