India is poised to achieve a growth rate which is projected to trigger a major rise in energy demand due to demographic expansion, increasing urbanization and rising demands for mobility. By 2022, India targets solar power installation of 100GW, which is an ambitious target and requires a quantum four-fold growth in the sector. India's total installed solar power capacity reached 15611MW (13951MW utility scale and 1660 MW rooftop solar) on June 30, 2017. India quadrupled its solar-generation capacity from 2650 MW on 26 May 2014 to 12,289 MW on 31 March 2017. The country added 3.01 GW of solar power capacity in 2015-2016 and 5.525 GW in 2016-2017, the highest of any year, with the average current price of solar electricity dropping to 18% below the average price of its coal-fired counterpart. After a bumper Q1 2017 (end of FY17) when India added 3120MW of utility scale solar power capacity, pace in Q2 2017 was relatively slow at 1,437 MW against a scheduled capacity addition of 3,300 MW. Highest capacity addition as well as slippage was from the 2000 MW allocations in Telangana. Around 1680MW was due to be commissioned in Telangana during Q2 but only 640MW came online because of delays arising from land and transmission related issues. Total utility scale project pipeline allocated to developers stood at 12250MW at the end of the quarter. More than 3000MW of new tenders were announced which were greater than the aggregate of all new tenders announced in previous three quarters. But at the same time, eight tenders with an aggregate capacity of 2130MW were scrapped due to DISCOMs reconsidering their power procurement options.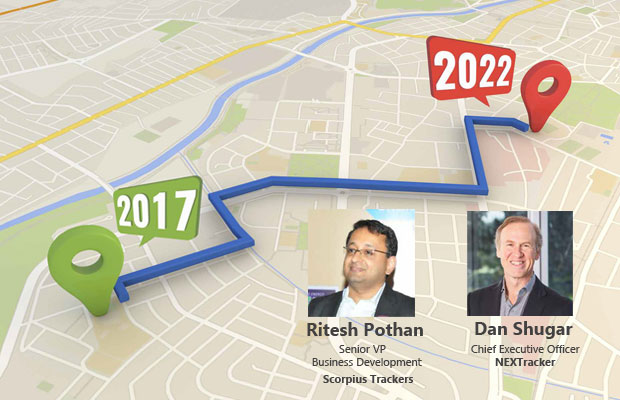 New utility scale capacity addition of 1565 MW and 2265 MW is expected in Q3 and Q4 of 2017. Expectation for total rooftop solar capacity for 2017 is 1056 MW. It is set to take capacity addition estimated to 9443 MW in 2017. As a result, renewable energy in India has seen more fervent investment, capacity building activity and a steeper fall in per unit energy supply tariff than any other energy source in the country. To give it a stir, the Bhadla tender drove it to a new low of Rs 2.44 per unit, continuing the free fall in the cost of green energy. Acme Solar Holdings and SBG Cleantech, the joint venture of SoftBank, Foxconn and Bharti Enterprises won the latest auction for 500 MW of projects in Rajasthan.
This has notably resulted in a 157% increase in solar power capacity addition during FY2015 and FY2016. It also notches landmark achievements such as the commissioning of Adani's 648 MW Kamuthi solar power plant in Tamil Nadu, now the world's largest. This is an evident testimony on how the sector is eyeing towards its ambitious target of 100GW by 2022. India is expected to become the third biggest solar market worldwide in 2017 with estimated utility scale and rooftop solar capacity addition of 8.4 GW and 1.1 GW respectively.
Helping MNRE Attain the 100GW of Solar by 2022
On enquiring how companies are being instrumental in helping MNRE help achieve its vision and target of adding 100GW of solar power by 2022, Dan Shugar, Chief Executive Officer, NEXTracker said, we stand behind the MNRE vision. The future is solar, so let's build it with confidence. Solar is on the brink of a mainstream breakthrough.
NEXTracker ensures solar's ubiquity and viability by making it more affordable and accessible by strengthening and streamlining smart tracking systems – the backbone and brains of the solar power plant. Customers around the world – and especially the high-growth market of India – trust us to help them solve their solar challenges – from design and permitting to shipping logistics and from installation to maintenance. With dedicated personnel on the ground across India, we ensure each project is in experienced, reliable hands from start to "great job." Project-by-project, we are committed to helping India achieve its vision and target of adding 100GW of solar power by 2022 for more than two years. To date, the company has delivered over 1GW of solar tracker product to seven clients on 21 solar farm projects in India spread over six states. We plan on delivering between 1.5GW to 2GW more annually in India in the mid-term and have hugely expanded our Hyderabad office and leadership capabilities, serving India and beyond with more than 60 staff members. In addition, in India we have a new tube manufacturing line currently under construction that will be operational later this year, accelerating project velocity and lowering logistics costs for projects. We have learned a tremendous amount by participating in the market. Our collaboration with our customers is for the long term, demonstrated by incorporating feedback from customers into our product and adapting our technology to local India conditions – from market and geotechnical standpoints. For example, we have adapted our flagship product, the NX Horizon selfpowered tracker, to the realities of the Indian solar market. Specifically, we have updated this product, known to our Indian customers at NX Horizon 100, to include:
Lower cost (CAPEX advantage).
Higher energy yield (e.g. to include a 100 degree rotational range and TrueCapture control system).
Reduced special tool requirements.
Faster delivery with local manufacturing.
Simplified configuration (in combination with perimeter fence design).
Another important initiative we began over a year ago was the extension of our PowerworX Academy for solar installers and EPC partners in India. According to Bridge to India, over 300,000 workers will be needed in the next five years alone, and installation, construction, and operations & maintenance make up the majority of the skilled workers needed to achieve the Indian government's aggressive targets. Our PowerworX Academy seeks to address the skills gap in the Indian solar workforce. Since we began the program, we've had over 200 solar installers take our hands-on course to learn NEXTracker best practices, tool handling, and installation techniques for DG and utility scale installations.
Ritesh Pothan, Senior VP – Business Development, Scorpius Trackers talking in regards to tracking technology highlights that trackers are the need of today with the ability to space out generation throughout the day and reduce the evacuation infrastructure by almost 30,000 MW and reduction of panel imports of almost 25 GW to achieve the 100GW target. He asserts that the Honorable Prime Minister is saving lakhs of crores rupees for the nation. The advantages of deploying good trackers technology are:
Reduce AC Evacuation & Transmission Capacity by almost 30%. -Savings of 30,000 MW (lakhs of crores) on achieving target of 100GW.
Reduction in tariff due to optimal utilization of technology and resources.
Savings in current account deficit for 100GW target due to reduction of panel imports. -Rs. 2.2 crores per MWp x 25,000 MWp = Rs. 55,000 crores.
Balanced ecosystem created and nurtured within the country.
Promoting R&D, jobs, manufacturing, engineering – 10,000+.
Improved energy storage capabilities due to longer charging and shorter discharge i.e longer, constant, consistent, quality power delivery.
Efficient, constant, consistent, extended power delivery throughout the day as long as the sun shines.
Ritesh further mentioned that the current technology is limited by the ability to deliver maximum power for barely 3-4 hours of the day and leaves much to desire by way of constant and consistent power needs of the nation. On the other hand, trackers space generation throughout the day and are far more resilient to grid outages and extract the best performance from the solar power panels.
Future Plans: Once Saturation is Reached Dan Shugar reiterated that India is a large economy with massive solar industry potential. That said, the per capita power consumption in India is well below the world average. With a growing economy and improving per capita incomes, we believe the per capita power consumption will also increase over the next few decades.
With sound commercial growth moving simultaneously with huge demands for power in India, solar will be a formidable energy source in power generation. Such a dynamic market requires a partner like NEXTracker – reliable, driven, and obsessive about details. We are proven, trusted and partner focused – a must-have in a market with such dramatic changes to the energy landscape.
On the other hand, India's per capita power usage which is 1/10 of USA and 1/6 of China. Commenting on the statistics, Ritesh Pothan cites, we have a really long way to go before we hit saturation, the need for energy is bound to grow by leaps and bounds as we move to a more connected and power hungry nation with automation being a key driver for the next level of growth which needs copious amounts of energy. The current consumption is approx.1142 Billion Units as of FY2016, which is likely to grow substantially in the coming years with the Make in India push as well as growing conflicts with our neighbors with whom we have a substantial deficit in trade. And due to the standard PLF/CUF of 19%, the name plate capacity does not indicate the true MU generation (100GW Solar MU = 20-25 GW THERMAL MU) and 100 GW in renewables will only add 166 BU to the mix which is barely 15% of the current consumption. Another factor is that coal as a source is not sustainable and many old plants will reach 'End of Life' so there is huge scope that 100GW target cannot fulfill.
Will India Achieve its Ambitious 100GW Target?
Talking about the possibilities of India achieving its 100GW target, Dan Shugar mentioned that the Indian Solar market is booming – just take a look at the cumulative installed solar capacity of 12.5GW at the end of March 2017 with an additional pipeline of 12GW. The annual capacity addition in India was approximately 6.5GW in FY2017 (i.e. approx. 50 percent of the total installed capacity was added within this year itself). India was the fourth largest solar market in 2016 in terms of capacity additions after China (34.5GW), the U.S. (14.5GW) and Japan (10.2GW). New solar capacity additions for 2017 in India are expected to be between 9GW to 10GW making India the third largest solar market in 2017, superseding Japan. With these trends, we are confident India is on track to achieve its 100GW target most definitely by 2025.
Ritesh Pothan on the other hand has a different opinion on this. He believes that the given current constraints due to government policy there is still a long way to go. Land is a significant hurdle since solar will require almost 4,00,000 acres to meet this target. There are technologies which can improve this need and holistic adoption is necessary to achieve the target. Ritesh presumes that 2022 looks difficult given the current market instability due to the Chinese reneging on contracts.
How Future looks like for Solar Power Industry?
CEO of NEXTracker, Dan Shugar briefs that according to a recent report called the New Energy Outlook 2017, published by Bloomberg, $10.2 trillion is expected to be invested in new power generation capacity worldwide by 2040. 1 of this, 72 percent goes to renewables, or $7.4 trillion, of which solar accounts for $2.8 trillion of this total. Investment in renewable energy increases to around $400 billion per year by 2040. This means solar power is expected to account for 34 percent of electricity generation worldwide by 2040. This is compared with just 5 percent today. Installed solar capacity is expected to increase 14- fold by 2040. With solar power's declining capital costs and solar electricity output that is highest during times of high (on peak) demand, NEXTracker firmly believes that solar capacity worldwide is anticipated to grow beyond 2022 – not just in the current markets but newer markets like Africa, Latin America, and South America. The future is bright and sun is abundant. Since we bring together solar expertise and tracker innovation in a way no other company can, we will grow alongside the market.
Ritesh from Scorpius Trackers believes that tracking technology will play a vital role in the future of solar industry. We see the entire industry moving to trackers due to the ability to generate power from sunrise to sunset which increases the stability of the grid and brings in all day power to the grid allowing for the systematic ramp up and down of thermal sources. The future of trackers is very bright given the value it brings to the table coupled with energy storage which allows for base load replacement, something that the grid needs to replace coal as the primary source. Scorpius, being a technology company with a very strong R&D Ethos has new products in pipeline – Smart BOS and robotic cleaning is set to launch in 2018.
Biggest Challenges to the Attainment of Solar Target
Dan Shugar opines that the Indian solar market will continue to grow despite challenges with declining tariffs enabling rapid solar power adoption to compete with coal based power.
Solar tariffs are governed by many factors but primarily capital cost, long term financing availability and competitive bidding. Over the last few years, equipment price reductions and installation cost drops have kept pace with the declining solar tariffs enabling bankability of solar PV projects in India. In the future, over-optimistic speculative assumptions and aggressive bidding by developers will be the biggest challenge for the Indian solar industry to attain solar targets. At NEXTracker we are bullish, but realistic.
On the other hand, Ritesh considers land, safety, engineering and quality as the few of the challenges that might hamper the 100GW solar target by 2022.
Land: Improved per ACRE generation is need of the hour.
Engineering: Standards for plants needs to be standardized.
Safety: Too many corners are being cut making it a hazard to the local environment.
Quality: Certain benchmarks need to be etched in stone and not moved based on tariffs.
But he also believes that if implemented properly, no target is unachievable.
Causes of the Drop in Solar Cell Technology
According to Dan, the decline in solar PV cell and module technology in the past few years is primarily attributed to continued global oversupply of PV cells and modules. In 2016, the global demand for PV modules was approximately 70-75GW while global manufacturing capacity was approximately 95GW. We are collaborating closely with our partners since many Indian EPCs bid in auctions based on prices in the low 20 cents per watt. According to a report from Bloomberg New Energy Finance,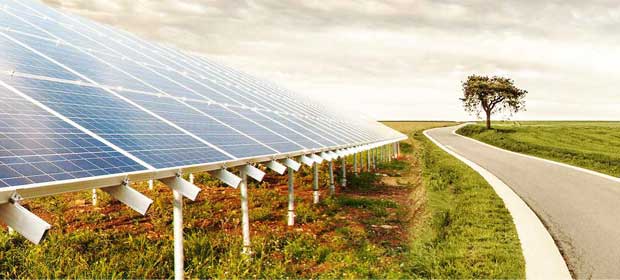 "The slowdown is complicating plans for solar developers in India, who were anticipating the cost of their panels would fall more quickly and are now facing an unexpected reduction in their returns. That's making the industry more cautious about future developments, adding a hurdle to Prime Minister Narendra Modi's ambition for quick growth in clean-energy." Again, that's why proven, trusted, bankable partners like NEXTracker are critical for the dynamic Indian market.
Ritesh mentions that the costs drops in India are primarily due to cheap BOMs and less due to the impact of improvements of cells technology. A majority of the improvements and quality material is bound for the Europe and USA markets who are offering better costs whereas our markets are for the lowest BOMs. Chinese manufacturers deliver multiple quality based on price, the Current Idiom 'cheapest = best' is the biggest misnomer in the market.
When asked how sustainable this trend of dropping prices is and does industry expect prices to fall further or have they reached the lowest point; to which Dan replied that global solar demand in 2017 is expected at about 90GW, representing a 14 percent increase from 2016. Meanwhile, the global manufacturing capacity will only see moderate growth of 5 percent. Narrowing the demand-supply gap means that PV module prices should remain steady in the near to mid-term.
While Ritesh expects that the sustained focus on quality will improve the overall delivery and the current short term focus on price which is impacting the market to an unnatural degree creating safety and health hazards for the future. With consumption globally increasing Chinese will deliver their products to better paying markets thus creating a global increase in prices. Another factor that Indian Developers are missing is the continuous bankruptcy due to falling prices renders the 25 year guarantees by module manufacturers invalid and it has been seen to happen continuously rather than the exception. The gravitation of a mature industry towards quality is given with the centre stage that solar is now at, with failures creating blemishes that impact the future of the industry due to few players who are focused more on price than quality.
Expectations from Policy Makers
In regards to the attainment of solar target, NEXTracker and the solar industry seek the development of long term, stable and sustainable policies for the industry from the policy makers to ensure growth as well as sustainable long term business and technology advancement. Dan Shugar commented that we all know that solar is the long-term answer to energy problems in many regions of the world, so we expect the policy makers to foster a predictable policy environment that drives smart, clean energy solutions and job growth.
On the same note, Ritesh Pothan wants policy makers to focus on creating a sense of stability and maturity in the market by bringing in quality and standards to ensure a level playing field. He believes that the race to the bottom in tariffs is severely detrimental to the industry as a whole as it sacrifices innovation, R&D, quality in favour of cheap delivery which will create ripples that will destroy local ecosystems and the future of the next generation by delivering jobs to the Chinese markets while killing local markets. The focus on replacement of base load with continuous, constant and schedulable delivery of power is a must and needs to be integrated into the policies at the highest level.
Sighting Trepidation or Anticipation
Extending the dialogue on trepidation or anticipation to the next 5 years, Dan replied, NEXTracker is bullish on solar around the world but we are especially confident in the Indian market. With our reputation for reliability, expertise and innovation, we will play a key role with our EPC partners to help drive this growth.
While Ritesh anticipates a huge uptick in the market towards trackers due to the advantages brought to the table over fixed, seasonal and tracker technologies. Developed completely in-house with Indian patent received with global patent filed, Scorpius Tracker provides most competitive and bankable tracker technology. It cultivates aggressive supply chain with localized supply, installation, erection and O&M support. With more advantages to its side, the company expects that the next 5 years will be a boon for the India market.
Envisioning Solar Industry 10-20 Years from Now
Dan Shugar sees things going on the right direction. More than ever, solar companies are seeking to improve plant efficiencies and optimize performance with smart technologies. Smart solar is driven by the adoption of newer intelligent technologies and designs like solar trackers, high voltage designs (1500V), digital O&M, energy storage and intelligent self-adjusting control systems (for example, TrueCapture).The entire world over is being transformed by data and intelligence, better known as the Internet of Things and solar is a frontrunner in smarter energy systems. Talking about the solar sector 10-20 years from now, Ritesh said that the solar industry will be recognizable with solar projects implementing base load characteristics and replacing thermal including nuclear projects delivering energy security and clean power to the nation.
Shift in the General Trends of Solar Industry
Complementing the solar trends in India, Dan spoke extensively on the Indian market. He noted, India continues to grow rapidly where added solar capacity is being driven by a strong utility scale solar EPC, financial institutions and developer players. Utility segment accounts for over 90 percent of the India market and we expect this trend to continue in future. Also, solar auctions have gained acceptance and have been instrumental in driving down the cost of solar power in India. The solar market in India has matured with average project size now in the 50MW to 100MW size versus around 5MW to 10MW few years back. Also, the velocity of execution has changed dramatically from the burgeoning, committed solar ecosystem developed in the country over last decade. We now see a rich landscape of domestic and international project developers and IPPs in India with a strong ecosystem and workforce of EPC, integrators and installers. Frankly, we're proud to have helped grow this ecosystem.
Ritesh commented that we have seen the industry move towards generating more power per MW AC using adaptions that mimic tracking and the entire industry looking to become more efficient and deliver more power at the same or better efficiencies. He believes that the next step is integrating multiple technologies with energy storage to break the glass ceiling that DISCOMs and SLDCs have hit due to the concentrated profile of generation between 11am to 2pm which needs to be smoothened out to 7am to 6pm, thus enabling scheduling as well as base load.
Environmental Constraints Will Shape Global Markets
Prompting last quick words, Dan said, we're on a mission to mitigate climate change through the worldwide deployment of solar power and we're not about to slow down. With a combined 100 years of solar experience and 3GW of solar installation, NEXTracker is making the possibility of solar as a mainstream solution a possibility. We accomplish this by listening to our customers, investing in the right people and innovating sustainable technologies that are better for the planet (and economics). The effects of climate change and environmental challenges are widely understood worldwide.
Governments from the G20 and developing countries alike are taking steps to ensure long-term growth and development for their countries. Governments are heralding energy policies with sustainability baked in and a long view for energy security provided by renewable sources of power – such as solar. Governments will continue to underscore this strategy, resulting in increasing solar power generation providing over 30 percent of the global electricity demand by 2040.
Ritesh believes that the need for cleaner, consistent and constant power will drive new efficiencies and technologies with the ability to deliver baseload needs. As we grow, our need for safe, clean and quality power will only increase and our tolerance levels will decrease for global warming and fossil fuel based after effects.
Editor's Note
The target of 100GW is huge but not difficult. With proper execution plans and policies in place, a solar power plant unlike other energy plants can be operational in a few months. Also, it is important to heed the participation of private sector in the process, as it is the only way out. The Government of India needs to provide more and more incentives to people to use solar power. Planning out innovative schemes for public participation will actually help the government reduce cost. Moreover, India needs to take steps in addressing issues of financially unviable state electricity retailers and an inadequate grid. Individual entities need to start selling power to individual industrial units and make money while providing constant power to the industry. The Indian government has taken positive steps to support the supply of solar power on the grid; it should now also focus its attention on the demand for solar power, by developing solutions that provide the private sector with access to affordable solar. Of course, India is on track to achieve its annual solar powercapacity addition target for this financial year but the government will need to do more in subsequent years to reach India's ambitious solar goals.