TNERC has directed TANGEDCO to provide Southern Railways with net metering connections for its 4 MW of rooftop solar projects.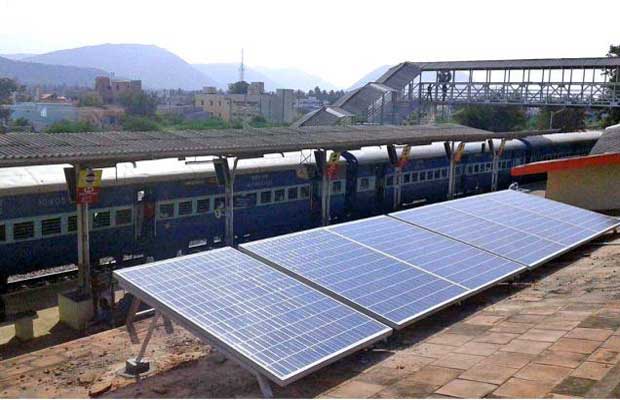 The Tamil Nadu Electricity Regulatory Commission (TNERC) in its latest order has directed state Discom Tamil Nadu Generation and Distribution Corporation (TANGEDCO) to comply with the state's solar energy policy and provide Southern Railways with net metering connections for its 4 MW of rooftop solar projects.
The Southern Railways had filed a petition with the state regulatory commission seeking its intervention for granting connectivity and net metering to the petitioner for the implementation of its 4 MW of rooftop solar projects. The petition had been filed to extend the net metering facility for solar projects connected under HT II-A and HT III Tariff category consumers in Tamil Nadu as per the commission's older order from 2013.
The rooftop solar projects are part of the Indian Railways aggressive push for alternate fuels to meet a portion of its energy needs, with the rising energy demand and uncertainty in power tariffs. In recent years, the Indian Railways has taken significant strides to increase the share of renewable energy in its electricity mix, which includes solar and wind, to reduce energy costs as well as carbon emissions. In its vision 2020 document, the Indian Railways had outlined a plan to harness 10 percent of its energy through renewable sources.
The petitioner further submitted that on approaching TANGEDCO for extending the net metering facility, for the above project, the Chief Engineer at the Discom has advised that net metering facility will be facilitated only to eligible LT consumers and that only parallel operation of the solar system without net metering will be facilitated to HT consumers.
Further adding that the Discoms of not allowing net metering for HT III tariff category service connections is complete insubordination of TNERC's order. And that not allowing the net-metering for solar projects at HT supply points will lead to poor investment from developers which finally hamper the development of rooftop solar panel arrangement and is a national loss.
The Petitioner in its amendment petition dated January 24, 2019, had submitted that the Southern Railway has been allotted with 8 MW capacity solar rooftop panels, which were to be commissioned before March 31, 2019. And that the railway service connections fall under HT III commercial category. In all the above cases, there is no projected export of power to the grid. During the day hours at these railway stations and DRM offices, there are existing loads that will be fed partly by the provision of solar panels. However, since the Government of India is focussing on the provision of solar panels for utilisation in all the Central Ministries, Southern Railway also will be planning for more solar panels in the future where net-metering provision is required to be granted for Southern Railway as per the TNERC Order from 2013.
Based on its findings and submissions made by the two parties, the commission has ordered that "As Southern Railway has filed the petition before the Commission and hearings were also held before the issue of New Tamil Nadu Government Policy 2019 the Commission directs TANGEDCO to provide LT and HT metering connectivity to Southern Railway as per TNERC Order from 2013 for the above 4 MW capacity only."
"However, for other future cases shall be as per the available orders of TNERC from time to time. If LT/HT net meters are not available with TANGEDCO, Southern Railway may be permitted to procure LT/HT net meters as per TANGEDCO specifications."
For more information click here.