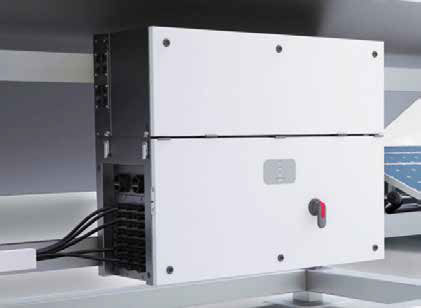 The renewable energy sector is catapulting a holistic approach in the overall technology world. Especially 'Solar Power' which has a GW trail to his name is seen as the next big revolution in renewable energy sector. The power demands in future will become ruthless and Government is writing subpoena for Solar Experts and companies to foster the overall power demand. On the heels of giving credential to public bodies for their suitable provision of funding support and legal support, the companies in solar sector have a successful proven theory on technology and economic advancements. To add, ongoing advancements in the field of alternative power generation to fulfill increasing power requirements
CONNECTING
The basic technology of Inverters is to convert DC Power into AC Power but that's not what the sector has stopped to make us believe
worldwide have led to significant advancements in technology, and the market has witnessed the arrival of new advanced products catering to the ever increasing power requirements. To name one of the vital sectors catapulting alongside the solar sector is the solar inverter market. The basic technology of Inverters is to convert DC Power into AC Power but that's not what the sector has stopped to make us believe. With technology leap and profound innovation in this technology today we have central, string and micro inverters. To just elaborate on string inverters in this piece shall make justice as the market for string inverters are taking over central and micro inverters.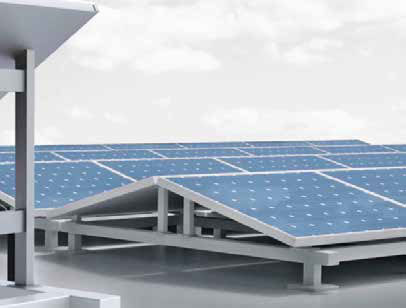 STRINGS!
EXPLORING THE INVERTERS IN A STRING
Inverters play an inevitable role in ensuring a well- functioning distributed grid. Emphasizing on the evolve of string inverter technology; this has been dominant in recent time. To simplify the statement it has now become a universal accepted technology for solar power. But it is also sought not to be suitable for certain types of installations. Solar panels are arranged into groups connected by "strings." Each string of panels is connected to a single inverter, which transforms the DC electricity produced by the panels into appliance-friendly AC electricity.
A string of solar panels will only produce as much electricity as its least productive panel. If one or more of your solar panels is shaded during any part of the day, the power output from that entire string would be reduced to its level. For this reason, if your solar panels are installed facing different directions, a string inverter may not be a good choice. With technology enchanting small and powerful a significant growth of micro-inverters is also been reckon in coming time. With infrastructural growth and smart cities concept, monetization the rooftop segment is on the deck. In a situation where the skyscrapers is tend to takeover smaller buildings technology like micro-inverters with partial sunlight to the complete or a portion of the solar array will not disturb the power generation.
VOUCHING THE ADOPTION OF STRING INVERTERS
Though string inverters can hardly deal with shading issues, the technology is trusted and proven and they are less expensive than systems with microinverters. String inverters are commonly used in residential and commercial applications. Also, as technology improves allowing string inverters to have greater power density in smaller sizes, string inverters are becoming a popular alternative over central inverters in small utility installations smaller than 1 MW. String inverters can also be paired with power optimizers, an option that is gaining popularity. Power optimizers are module-level power electronics meaning they are installed at the module level, so each solar panel has one. Some panel manufacturers integrate their products with power optimizers and sell them as one solution known as a Smart Module. This can make installation easier. Power optimizers are able to mitigate effects of shading that string inverters alone.
What's Shaping the Solar Inverter Market?
The global share for string inverter market is envisioned to gain strength with the aggravating demand for continuous power supply without any interruptions and strict sustainability statutes. Over the forecast period 2016–2024, the global market share is expected to be bolstered by the reducing adoption of fossil fuel and increasing acceptance of renewable energy supported by government measures.
The cut down in component cost and rising want for sustainable energy can considerably contribute toward the escalation of market growth. The industry is likely to welcome more growth on the back of feed-in tariff, net metering, and other various schemes introduced. Report asserts the singlephase string inverter segment could rise while riding on the aggressive penetration of off-grid residential consumers in emerging economies. The market carries the potential to add to the global market growth impressively. Likewise, the threephase market is anticipated to exhibit a considerable growth. Other promising segments of the world string inverter market could include standalone and on-grid string inverter by product, 10 KW and 11 KW–40 KW by power rating, and residential and commercial by application.
1.500V DC input for solar farm inverter and no less!
This is the main technical trend coming and it's strongly confirmed. Solar farm installers want higher input voltage: and 1.5kV is the most efficient one. It does not require special high voltage certification and training for installation staff, but it's still the most efficient combination to build large multiple string installations.
Studies proved it was the best trade-off. So expect every large PV inverter manufacturer to have more and more 1500V DC input power electronics systems in their catalog very soon.
(Multi-)String inverter at all stages
It's not because there is a main trend in the utility scale photovoltaic inverter field that the string inverter will stay at residential level. With prices coming down, reliability and monitoring being improved, less than 50kW string and multi-string inverters are still and will keep being used in larger installation.
Monitoring hardware is now commonly built inside residential and commercial inverters. Software packages from major inverter providers like SMA, SolarEdge and Enphase are increasingly featurerich, especially for self-consumption and energy storage integration, and commonly offered at a low (or for no) price. As a result, independent software vendors must find areas of differentiation, especially in selfconsumption markets where the homeowner is now the main user of monitoring (vs. the installer) and does not value inverter independence or fleet-level functions.
Emerging Opportunities for String Inverters
Analysts forecast the String Inverters Market to grow at a CAGR of 8.48% during the period 2017-2021. The U.K. string inverter market is envisaged to augment its business growth with the rise in the adoption of rooftop solar system in both the residential and commercial fields. The Europe region will gain impetus for its growth with the newly introduced EU emissions trading system (EU ETS) directive 2003/87/EC, which is aimed toward the 20.0% of slimming down of greenhouse gas emission by 2020.
The U.S. market will take advantage of the encouraging adoption of renewable energy propelled by rebate, tax credit, and other government incentives. The Asia Pacific region could leverage the significant market share offered by China with the introduction of photovoltaic poverty alleviation program, which plans to implement solar panels of 10 GW by 2020. China will also look to target 110 GW of photovoltaic installation by 2020.Market opportunities are also predicted to arise from countries such as South Africa and Chile. Asia Pacific region is expected to experience high demand for string inverters over the forecast period. India and ASEAN are projected to be the major contributors to the growth of string inverters market in this region.
Deadline of 2,000Vdc Trending!
Further reduce installation costs and increase profitability by reducing the number of inverters and other BOS components required. Giant vendors such as Huawei have promoted the market for three-phase string inverter for its use in utility installations. Future string inverters are expected to have better features for their application in utility projects. Sungrow has twice as powerful, next-generation string inverter which can be suited to 1,500-volt installations. It is said that string inverters will have the potential to closely battle with central inverters. With overall costs per watt already low, a reduction of this magnitude can make for a significant advantage.
Huawei Smart PV Solution unveiled their latest utility scale solar inverter, SUN2000- 95KTL-US. The 95 KTL 1500 VDC smart interactive string inverter is a groundbreaking design in inverter technology, offering the highest power-to-weight ratio in the industry for ease of install. The 95 KTL utilizes an 800 VAC output stage to minimize AC losses. To improve string flexibility and maximize yield compared to traditional string or central inverters, the 95 KTL includes six MPPTs and twelve directly connected string inputs.
These potential savings have led GTM Research to predict that the demand for 1,500 V PV systems exploded through 2017 and became the new industry standard. Experts reckon that U.S. inverter standards can potentially allow 2,000 Vdc bipolar arrays, a European rollout would be limited by the low-voltage limit, which is currently set by the IEC at 1,500 Vdc. Anything above this would count as medium voltage, and would be subject to different standards, increasing development costs significantly. These differences make a worldwide rollout of a higher voltage system unlikely, although significant demand could prompt regulatory changes.
Entrants and Seekers of Indian Inverter Market
Lately Patanjali the Indian-grown FMCG magnet is planning to foray into the Indian solar business. This evidently portrays the potential of Indian solar market. Recent few announcements of companies entering, expanding and completing GW mark in India is a high-brow for the global green energy marathon. Company like Siemens, the German $80 billion conglomerate, announced its plans to start manufacturing Solar Photo-Voltaic (PV) inverters in India which will initially cater to the domestic market and later supplied for exports.
The company said the Sinacon PV inverter will be locally produced and manufactured at Siemens' Kalwa plant near Mumbai. It added the Indian renewable energy sector is the second most attractive renewable energy market in the world, crossing 14 Gigawatt of installed solar capacity with the government firm on its ambition of 100 GW of solar generation by 2022.
Major PV inverter manufacturer SMA Solar Technology has sold more than 1GW of solar inverters in India during 2017 and has now exceeded 3GW of cumulative sales in the country. The firm's sales in the commercial segment have already doubled compared to last year and it now has a 30% market share in this segment. The company also claims to have a 20% market share in the utility-scale segment in India.
Baba Ramdev led Patanjali will invest Rs 100 crore to go deep into the Solar Energy market, by manufacturing solar equipment. Acharya Balkrishna, managing director of Patanjali Ayurved said, "Getting into solar is in line with the swadeshi movement. With solar, each household in India can have power supply, and we are here to make that happen."
Enphase Energy, a California-based energy technology company specializing in solar micro-inverters, has announced two major developments in the Indian market: the opening of a new R&D center in Bangalore and the installation of one of its largest projects to date.
According to the company, India is powering the growth of solar with its ambitious targets for clean energy and is expected to be ranked among the world's top solar markets this year. Enphase plans to support this rapid growth with the opening of its Bangalore R&D center, where it will also offer employment opportunities for engineering, operations, marketing, sales, and customer support personnel to meet the needs of its customers worldwide.
Disruption in Solar Inverters
Some state inverters as the brains of the solar system because it is where the solar system is monitored and feeds into the AC electrical system. What could be a game changer for inverters is adding chargers, which could reduce the number of components in an installation and make a less expensive smart energy solution. They could also be the next evolution of solar systems and their integration with EVs.
Believe! Inverter chargers
SolarEdge was the first to introduce an inverter with EV charger in its D-Wave line of products. The company says combining the inverter and charger "eliminates the need for additional wiring, conduit and a breaker installation," saving time and money. Since customers who install solar systems are more likely to own EVs and vice versa, it makes sense to combine the inverter, charger, and eventually even energy storage system into one unit.
Tesla has combined the inverter with its storage system in the Powerwall, simplifying the installation of some components. But the charger is still separate from the Powerwall and in the long term I think that will change as well.
Combining inverters, chargers, and storage
Solar systems and electric vehicles have always been destined to meet at some point because they're both upending energy as we know it. Rooftop solar allows homeowners to generate their own electricity, something that wasn't possible before, and EVs change how we fuel transportation. What makes them ideal companions is the smart energy capabilities they can provide.
Tesla is a natural company to launch an inverter combined with energy storage and charging. Another to watch is SunPower which has residential energy storage systems and will control an EV charger with its solar control system. It could combine all three into one seamless solution as well. Before long, it'll be commonplace to get more than just an inverter with your solar system. EV charging will be standard and energy storage could be, too.