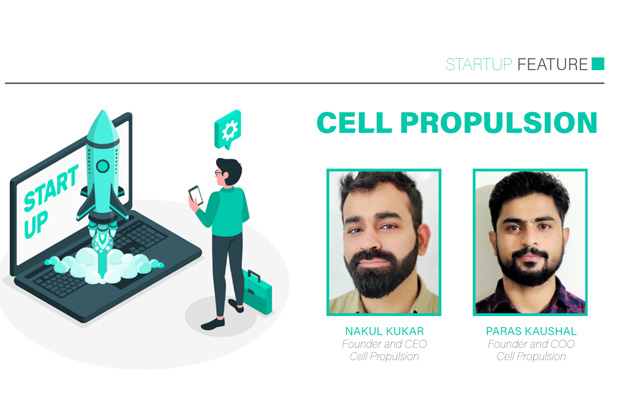 Total employees: 30
Key operational areas (Products, Regions, Clients)
The company is poised to drive massive growth of nascent heavy electric commercial vehicle market and capture its major share. It is developing connected, electric powertrains for electric buses. They will be used to electrify the fleets of 12m, 16ton city transport buses. The company is into electric vehicle (EV) battery packs, integrated electric powertrains for electric commercial vehicles and eBuses.
Founding Members detail
The company was founded by Nakul Kukar and Paras Kaushal. Nakul is having experience of working in the domain of launch vehicle and spacecraft propulsion. He has worked at the Indian Space Research Organization (ISRO) on its launch vehicle engines. Subsequently, he has led the design and development of a lunar lander propulsion system, and the design & development of solarpowered electric aircraft. Nakul graduated from Indian Institute of Space Science and Technology (IIST) with a degree in Aerospace Engineering.
Another Founder Paras Kaushal is a mechanical engineer who has worked on developing all-terrain vehicles. He has worked at ISRO on launch vehicle engine ignition systems. Subsequently, he has worked on the design and development of thermal control systems for a lunar lander, satellites, the solar-powered aircraft, electronics hardware, and space grade lithium batteries. Paras graduated from Punjab Technical University with a degree in Mechanical Engineering.
Turning Point for the firm
A major turning point for the firm was when it got the opportunity to work on a pilot with Bangalore Metropolitan Transport Corporation (BMTC) to supply one electric bus. It will be deployed into commercial service, and the company will also provide maintenance for the subsequent 2 years of operation.
Plans in next 3 to 5 years
The company is focused towards achieving a leadership position in developing motor controllers, battery management systems, chargers, operating firmware, and system engineering for integrating and operating these components as a unified system (Integrated electric power trains). It own designs and IP for electric motors and battery packs but it has to get them manufactured from its suppliers. This enables the company to be agile and scale its powertrain solutions quickly to multiple vehicle segments.
Over the next 3-5 years, Cell Propulsion aimed at commercializing electric powertrains for light and heavy commercial vehicles with technology development getting completed as part of the BMTC pilot. The company aim to sell or lease the electric powertrains for LCVs and HCVs both in the after-sale market, as conversion kits, and directly to vehicle manufacturers for their new electric LCV and electric bus models.
Biggest Attraction in the sector
Electrification of buses and trucks will have a massive impact not only on the Indian economy but also on a large section of Indian society as buses are still the most common mode of transportation for the masses. This potential to create a positive impact has been the biggest attraction for the company to venture into this sector.
Biggest Challenge for the Sector
The biggest challenge currently for the company is to find skilled engineers that have worked on high voltage, high power (600V to 800V & 100kW+) electrical equipment and have the capability to design and develop such technologies.
Present State of Mind
The progress so far has been quite good even though there is always room for improvement and doing better. In retrospect, we would have started even earlier with our venture as we underestimated the time required to build such technologies and products.