Welcoming the Finance Minister Nirmala Sitharaman's Union Budget 2020, which was tabled in the parliament today, the energy storage industry body India Energy Storage Alliance (IESA) has sought numerous opportunities in this year's Budget for the energy storage sector.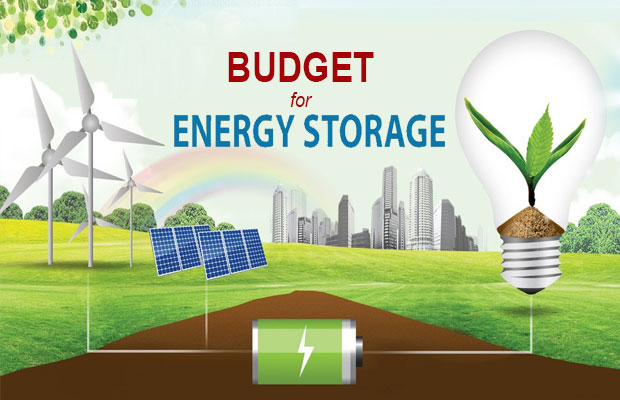 From Sitharaman's second Union Budget, the energy storage industry analyzed that it will not only provide a further boost to the economy but also help in further boosting the renewable energy sector as a whole. For the energy storage sector, it finds opportunities in the areas like – power and renewable energy (RE) sector, KUSUM Scheme, manufacturing, policy for building data centre parks, Kishan Rail network, 100 more airports by 2024, Rs 4,400 crore allocation for climate change policy, startups, smart cities, fish production, sewer systems cleaning, and Arth Ganga among others.
Thus, in his first reaction on the Budget, Dr. Rahul Walawalkar, President of India Energy Storage Alliance (IESA) commented that we welcome the government's focus on the power and renewable energy sector as it had allocated Rs 20,000 crore for the renewable energy sector. With the recent path-breaking tenders showing the viability of RE plus storage as an alternative to peaker plants, government's plan to retire old inefficient thermal plants can be achieved through RE plus storage hybrid projects, thus providing a boost for efforts for cleaner air and renewable energy push.
He further said we welcome the announcement on concessional corporate task rate of 15 percent to the generation sector as this can attract greater investments in the renewable energy sector in the country.
On further explaining about the various growth opportunities for the energy storage sector in KUSUM scheme, Dr Walawalkar suggested the government that "over the past 2-3 years, we have witnessed reliance on solar pumps to reduce distribution network losses by various states. We urge the government to consider the use of microgrids that can help improve the utilization of solar panels deployed with these pumps as well as ensuring groundwater management is done. Without such integrated policies, push for just deployment of solar pumps could lead to exploitation of limited ground water resources and result in unintended consequences during summer months."
By welcoming the government's step to boost electronics manufacturing, IESA Chief said, "power electronics and electronic manufacturing is an essential part of advanced storage and EV ecosystem. We hope that this new scheme can boost component manufacturing in India and reduce reliance on imports for Indian companies."
IESA was given the push under Niti Aayog's mission National Mission on Transformative Mobility and Battery Storage for indigenous manufacturing.
However, Dr Rahul seemed to be little disappointed on this and said, "we were anticipating a clear allocation of resources for accelerating e-mobility and setting up of Giga factory which was a miss in the budget. We hope the finance ministry will provide a clarification on this early next week."
On the policy for building data centre parks, the IESA Chief commented "India is already witnessing the rapid growth of data centres. Data centres need high quality and reliability of power supply. This would give a big boost for the integration of advanced energy storage technologies that can offer higher energy density and thus allow data centres to dedicate more space to deploying servers for revenue-generating activities."
On Kishan Rail network to ferry perishable goods faster, that will have refrigerated coaches, he said that "we thank the government for addressing issues of lost agricultural produce during transportation that leads to huge losses for farmers. Use of refrigerated coaches, as well as cold storage facilities, would help reduce these losses to a large extent, thus helping to boost the income of farmers in India. IESA and its members are working on the use of thermal storage technologies for both cold storage and refrigerated transportation facilities as well as looking of use of microgrids for local processing of agricultural produce and thermal storage for accelerated drying of agricultural produce."
While on the development of 100 more airports by 2024 to support Udaan scheme, he added that, air transportation is witnessing rapid consumer demands. IESA anticipates that by 2021, electric planes will be commercially available for transporting passengers from smaller airports with a radius of 500 km. The government's push for opening up 100 more new airports can receive a huge boost if India can become an early adopter of ePlanes. Due to lower operating costs and smaller sizes, this can enable rapid grown of air transportation amongst these newly formed airports.
Also on the allocation of Rs 4,400 crore for the climate change policy, Dr Rahul expressed happiness by saying that energy storage has been recognized as a key enabler for the renewable energy targets. The allocation for climate change policy will result in faster deployment of renewable energy plus hybrid projects in 2020-21.
In order to boost startups, the Budget says tax burden on employees due to tax on Employee Stock Options to be deferred by 5 years or till they leave the company or when they sell, whichever is earliest.
"Government's five year tax holiday will definitely encourage the new innovation in electric vehicle and energy storage startups to flourish in India. This will provide a competitive platform for Indian startups to compete with global players," he further added.
The Budget also noted the development of 5 new smart cities in collaboration with states in PPP mode. He commented on this, we have already seen a short listing of 100 smart cities in the past. But the actual amount of work done on implementation is minimal. We need to evaluate the progress made so far and ensure that we can create smart cities that can achieve all the stated objectives and setting up an example.
Furthermore, Budget also indicated about fish production which is likely to be raised to 200 lakh tonnes by 2022-23.
The reliable power supply is essential for fisheries. IESA is already working on exploring the role of microgrids for helping fisheries to avoid losses due to power cuts. We look forward to helping the government is achieving the target for increasing fish production in India, the IESA Chief commented.
Besides, Budget also puts emphasis on the removal of manual cleaning of sewer systems or septic tanks. On this Dr Rahul said that "IESA welcomes this step. Entrepreneurs are developing new tools that can automate the task of cleaning of drainage systems (such as Bandicoot, a drainage-cleaning robot). With the advances in energy storage technologies and the availability of compact high power batteries, such systems can reach tougher spots and help us eliminate the need for manual cleaning immediately. We encourage all industries and residential societies to consider such options before choosing for manual scavenging."
Looking for further opportunities in the transportation sector such as Arth Ganga, he said, we are looking forward to furthering details on this plan. Push for opening up waterways for transportation and developing economic activities along the river banks can be achieved through the introduction of electric boats that can also ensure minimal damage to fragile ecosystems along with the rivers.