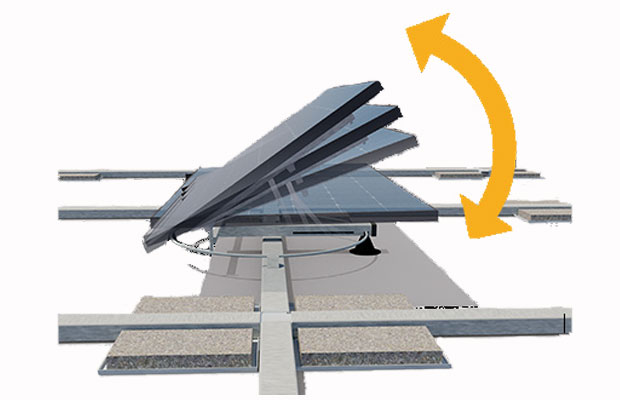 Product Brief: PV Booster by Edisun Micro-grids is the only dual-axis solar tracker designed and built for the commercial rooftop and solar carport sector. Its direct drive design eliminates the need for a gearbox and the brushless DC motor has a 20 year life. PV Booster's thoughtful implementation mitigates reliability concerns and yields an ultra-low-maintenance solution
Product Feature: PV Booster is designed for simple, fast installation and features a gearless, lightweight design that keeps operations and maintenance costs low over the lifetime of the system. PV Booster lays out quickly in a grid-like pattern similar to a conventional PV module installation. Flexible mounting systems are employed to accommodate varying conditions. Add-itionally, for roof installations the ballast is adjustable to site conditions and local codes. Our trackers come equipped with a terminated network cable so it's plug-and-play with no wires to strip up on the roof.
Application: The largest component cost of all PV systems is module investment so continuously pointing them directly at the sun improves the bottom line. PV Booster optimizes energy capture throughout the day regardless of the time of day, latitude, or time of year. The tracking systems of PV Booster dominate the ground-mount market, and almost 90 percent of all systems now include trackers because of the strong economic benefits. In contrast, the rooftop and carport markets have not been able to take advantage of trackers because of weight, size, mounting, and wind issues.
Benefits: PV Booster solves all of the sun tracking issues, allowing building owners to gain all the advantages of tracking energy boost. PV Booster can generate 30% more energy for the same installed nameplate capacity.
Availability: Available for purchase