TERI and WAPCOS to jointly implement innovative approaches in areas of Water Resources, Power and Infrastructure sectors.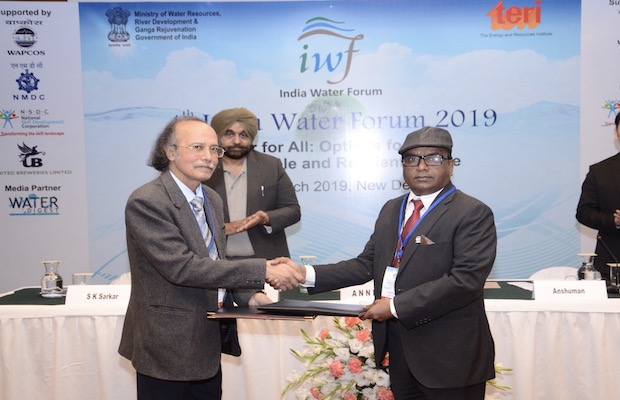 The Energy and Resources Institute (TERI), India's leading think tank and WAPCOS, a consulting organisation and public sector undertaking under the Ministry of Water Resources, River Development and Ganga Rejuvenation, have signed a MoU (Memorandum of Understanding) to jointly implement innovative approaches in areas of Water Resources, Power and Infrastructure sectors. The MoU was signed on the sidelines of the 4th India Water Forum, themed, 'Water for All: Options for Safe, Sustainable and Resilient Future' at New Delhi.
The MoU with TERI was signed in the presence of A.N.N. Prasad, Chief Executive Director, WAPCOS Limited, and Dr. S K Sarkar, Senior Director-Water Resources Division, TERI, among other dignitaries. As per the MoU, both TERI and WAPCOS will broadly work in key areas including water security and integrated water resources management (IWRM); water use efficiency in various sectors; water conservation and augmentation; hydro-power-energy-climate change nexus; urban and rural water demand and supply management; green infrastructure for smart cities and climate resilient infrastructure in water sector.
Dr. Sarkar said, "The 4th IWF 'Water for All' will share knowledge on various aspects of water management. The Sustainable Development Goals (SDGs) enjoin every nation including India to achieve universal and equitable access to safe and affordable drinking water for all by 2030. Deliberations at The India Water Forum will help to formulate a policy that strengthens India's activities to improve water resources management while ensuring water security for all."
A.N.N. Prasad, Chief Executive Director, WAPCOS Limited, further added, "There is a need for researchers to pool resources together and bring various stakeholders on a common platform. With this MoU, TERI and WAPCOS aim to accelerate the pace of work to develop water resources of the country sustainably.''
U.P. Singh, Secretary, Ministry of Water Resources, said the key challenge for India is of water resource management and not as much of water availability. He said, "Our experience shows that there is not much scope for building more large and medium dams, but there is a lot of scope for groundwater recharge. There is a lot of scope for water use efficiency in agriculture. We know Punjab is not endowed for growing paddy, just as Maharashtra is not suited for growing sugarcane.''
Dr. Amarjit Singh, Former Secretary, Ministry of Water Resources, highlighted that India draws more groundwater than the U.S. and China put together. He reiterated that agricultural productivity has to be a fundamental part of the solution and India has to be ingenuous in producing same food grains with far less water. He lauded Madhya Pradesh's efforts towards irrigation reforms that have significantly increased land under irrigation without any major construction of dams and Gujarat's efforts towards rationing of electricity for agricultural and non-agricultural users under the Jyotigram Yojana.
Against the backdrop of declining per capita water availability in the country along with the addition of sectors requiring water as a resource, the 4th India Water Forum is structured into four panel discussions, focusing on specific themes of public-private partnership, technologies for the future, and policy frameworks with respect to water governance for achieving SDG6. There will also be a launch of a compilation by TERI on the key outcomes and learnings of its high-impact projects in this domain.
TERI's work in the water sector includes initiatives to promote water conservation and improve water use efficiency in industrial, domestic and agricultural sectors.