Oberoi Group has claimed that it has become the first in the Delhi-NCR region to enable both its Gurgaon properties to be powered by solar energy.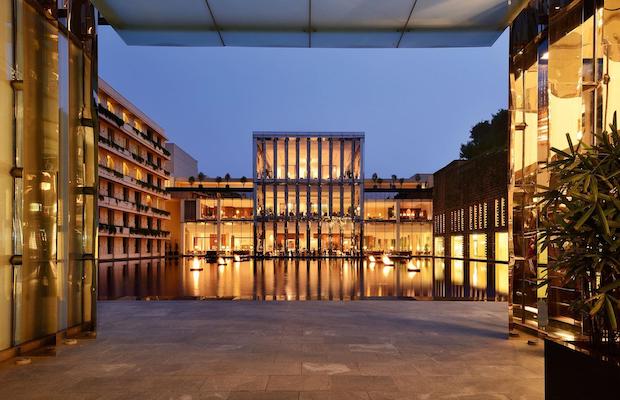 Indian hospitality major Oberoi Group has claimed that with the commissioning of its new solar power plant in Haryana, it has become the first in the Delhi-NCR region to enable both its Gurgaon properties to be powered by solar energy. The move marks a welcome step for large luxury hotel chains, which have a particularly high carbon footprint due to the nature of the business and facilities they offer. 
The Oberoi Gurgaon and Trident Gurgaon have introduced solar power to fulfill their electricity needs. A captive power plant in Balasar, Haryana, will generate 7.5 MW of electricity to meet the energy demands of the two hotels.
The solar power plant has been equipped with "polycrystalline" technology and is spread over 25 acres. "With 27,000 solar panels installed, the plant's performance ratio is determined to be 76.50%. The Oberoi and the Trident in Gurgaon aim at reducing CO2 emissions by 12,344 tons per year," the group said in a statement.
Trident Gurgaon GM Amit Khare said, "Surveys have shown that guests prefer to stay in environment-friendly accommodations. This is equally an important priority for us. With this in mind, our guests will be pleased to know that they are now staying in a hotel that is fully powered by solar energy."
The group is also adopting a unique way of offering a healthy and luxurious breathing environment to its patrons. The groups New Delhi hotel displays PM 2.5 at the main entry for the guests to know that they are safe in the rooms. The solution is built on an air cleaning process that not only removes dust but also eliminates any kind of infection-causing germs, making it even more attractive. To make this value proposition clearer and more prominent to guests, now, several hotels like the Taj Hotels, the Leela, Jaypee are also displaying real-time PM2.5 levels in their lobbies and rooms, offering a comparison between the pollutants inside and outside the hotel premises.
"Adopting renewable energy like solar power will help resolve many environmental challenges like reducing global warming and CO2 emission and also helping drive greater socio-economic benefits by creating local employment opportunities," the group statement said.
Oberoi Gurgaon GM Abhishek Panshikar said, "We are proud that our Gurgaon hotels are now operating on 100% solar power. This is our small way of giving back to Mother Nature and providing our guests with a sustainable luxury experience."
Globally, luxury chains have been making moves beyond solar energy with brands such as Four Seasons and Oetker Collection having gone single-use-plastic-free, and Marriott International vowing to eliminate the use of straws in all 6,500 of its hotels, eliminating roughly 500 tons of plastic annually.
Closer to home, budget chain OYO has been making its own moves, where it recetly claimed to have made 83% of its hotels in Shimla water harvesting compliant.