MNRE has issued draft guidelines for the installation of innovative stand-alone solar-powered pumps under its varied schemes.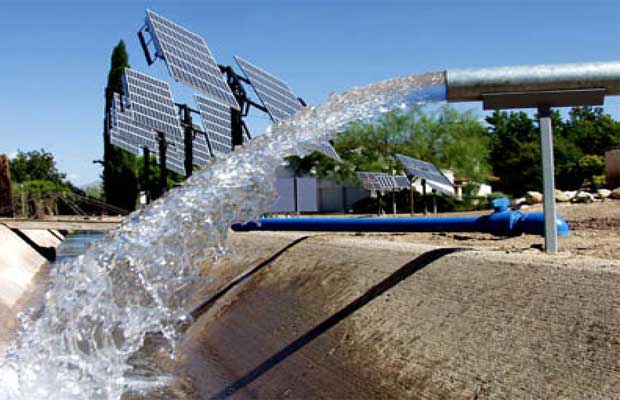 The Ministry of New and Renewable Energy (MNRE) had issued updated specifications for stand-alone solar pumps in July last year. And since then it claims to have received representations from innovators claiming that by using different design/software for the stand-alone solar pump they can achieve performance better than specified by the Ministry in a cost-effective manner. At present under the MNRE schemes – stand-alone solar pumps fulfilling MNRE specifications can be installed, however, in order to promote innovation in technology, the Ministry has decided to permit installation of innovative stand-alone solar pumps in test mode. In line with which it has now issued draft guidelines for the installation of such solar pumps under MNRE schemes.
As per the notification, the guidelines will be applicable for all Indian innovators/manufacturers/service providers, who wish to install innovative stand-alone solar pumps in the country under schemes operated by MNRE.
The guideline covers four key points:
I. Call of Expression of Interest (EoI): The MNRE will call EoI from time to time for inviting application from solar pump innovators claiming better performance on account of improved efficiency, cost-effectiveness, monitoring, other value addition, etc. New technologies for which patent/IP related filings have been done (patent may not have been awarded) will also be eligible to participate in the EoI. And, the elements of innovation in the context of improved performance of solar pump needs to be mentioned very clearly by the applicants in their response to EoI.
II. Evaluation of Applications: Applications will be evaluated by an Evaluation Committee constituted by MNRE. The Committee may recommend testing of the performance of the pump at NISE or any other NABL accredited laboratory before allowing the installation of such pumps in the field. The innovator would need to submit the test report along with the applications if has been tested earlier. In cases, where the technology is in its nascent stage, the special method may be adopted to test the pumps in consultation with the innovator and NISE.
III. Demonstration of the Innovation in Farmers' Field: On recommendations of the Committee, the innovative technology will be allowed for demonstration in the field after getting consent from respective state implementing agency(SIA) and the beneficiary farmers by the innovator. The innovator will be allowed to install up to 50 solar pumps in different parts of the State/country for demonstration purposes.
IV. Adoption of technology by MNRE: On recommendations of the Evaluation Committee, the MNRE may adopt the innovative technology and update the existing specification after having detailed stakeholders' consultation on the same.
The MNRE has now invited suggestions/ comments from stakeholders, with a deadline of April 15, 2020.