RK Singh has said that apart from solar projects (installed or under development) the government is planning to tender for 20 GW solar projects by June 2021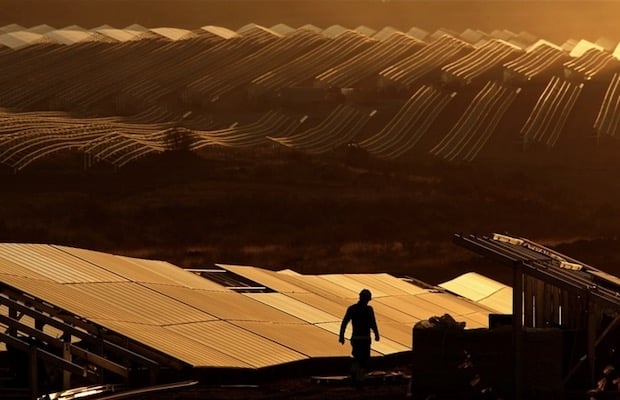 Union Minister for New and Renewable Energy RK Singh has said that as on February 29, 2020, a cumulative grid-connected solar power capacity of 35.07 GW had been installed in the country. And an additional capacity 21.35 GW was at various stages of implementation with 31.27 GW at various stages of tendering. This apart, tender s for installing 20 GW have been planned till June 2021 so as to achieve the target of 100 GW.
Answering a question raised in the Rajya Sabha, Singh said that deployment of solar energy definitely reduces dependence on oil imports and the government has set a target of installing 100 GW of solar capacity by December 2022.
In his written reply the minister also stated that the government has taken various steps to increase solar energy generation in the country. This inter-alia, include the following:
(i) Announcement of a target of installing 100 GW of solar energy capacity by December 2022.
(ii) Waiver of Inter-State Transmission System (ISTS) charges and losses for inter-state sale of solar and wind power for projects to be commissioned up to December 2022.
(iii) Permitting Foreign Direct Investment (FDI) up to 100 percent under the automatic route.
(iv) Notification of standard bidding guidelines to enable distribution licensee to procure solar and wind power at competitive rates in a cost-effective and transparent manner.
(v) Declaration of trajectory for Renewable Purchase Obligation (RPO) up to the year 2022.
(vi) Implementation of Green Energy Corridor project to facilitate grid interaction of large scale renewable energy capacity addition.
(vii) Notification of quality standards for deployment of solar photovoltaic systems/devices.
(viii) Launch of new schemes like Pradhan Mantri Kisan Urja Suraksha Evam Utthan Mahabhiyan (PM-KUSUM), 12000 MW CPSU Scheme (Phase II) and Solar Rooftop (Phase II) program.
The minister also provided details on the amount of solar power generated during the last three years (2016-17, 2017-18, 2018-19). As per the Central Electricity Authority, nearly 79000 Million Units of power has been generated from solar energy sources in the last three years, with 2018-19 accounting for half of that number with 39268.20 MU solar power generated in that year alone.
For the state-wise distribution click here.