In the 2020s, traditional fuel-based generation will shrink as a proportion of the power mix. This will increase the flexibility needs of utility & power markets
Over the next decade, traditional fuel-based generation will shrink as a proportion of the power mix. This will increase the flexibility needs of utility and power markets, according to Wood Mackenzie. Additional capabilities will be needed to solve the increasing number of grid-balancing challenges associated with a more intermittent and renewable generation fleet. The imperative to identify and implement these solutions will lead the industry to continue to experiment with innovative market reforms to unlock the growing and as-yet-unrealised flexibility potential of distributed energy resources (DERs). Efforts to integrate these resources will lead to the creation of new revenue opportunities via wholesale and distribution value streams during the decade.
What are the biggest trends to watch in the global grid edge in 2020 and beyond? Ben Kellison, Wood Mackenzie Research Director, and Elta Kolo, Research Manager, see five key themes:
Regulatory reform
Evolution of market models
Grid edge investment to complement electrification
Grid-balancing will increasingly rely on flexible resources
De-risking investments so the DER market can scale
Kolo said: "Today, the US power system alone has more than 50 gigawatts of behind-the-meter flexible resources at its disposal from DERs enrolled in demand response programs.
"Initially, flexible volume will be attained by dynamically leveraging what is already integrated into the grid. Resources already enrolled in existing demand response programs will be the lowest-hanging fruit. Flexibility portfolios will scale with resources situated on either side of the meter."
Regulations governing how DERs are compensated for capacity and energy services are trending away from simple, fixed, time-agnostic rates, such as net energy metering and volumetric charges.
According to Wood Mackenzie, this shift will increase the exposure of DERs to local power market and emerging distribution grid market constructs that dynamically determine the value of energy, capacity and ancillary services.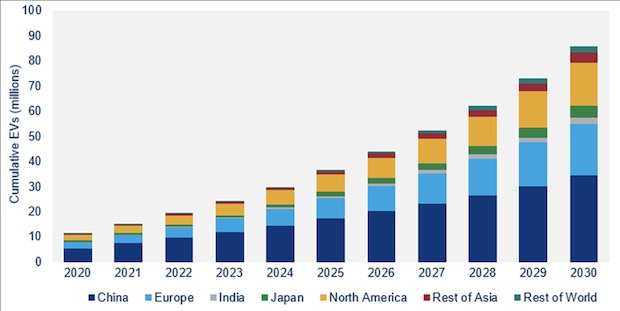 "Both electric vehicles (EVs) and electric heat are expected to see record growth in the 2020s. Heating and transport offer massive opportunities for electrification and with these opportunities will come complementary grid edge technologies to manage electricity use, increase resilience and integrate these new loads into the electric grid," said Kellison.
The report expects EV growth to add 241,453 megawatt-hours of power demand in 2030 in the US alone, as more than 80 million EVs hit the road.
"Utilities and grid operators are taking note and investing in ways to address the generation-demand mismatch and follow renewables production to lower system costs. Active management and the oversizing of heating and EV chargers create additional flexible capacity for energy managers to pick and choose when and how to cycle use across portfolios to lower costs for customers," said Kolo.
"Flexibility from EVs will move from demonstration project to everyday reality over the next decade due to the sheer scale of the available storage capacity (measured in kilowatt-hours).
"North America alone could have more than 97.5 gigawatt-hours of EV battery capacity by the end of this year. Based on a conservative assumption that the average EV will have 30 kWh of flexible capacity in both 2020 and 2030, that figure is expected to surge to 647.3 GWh by 2030.
"The scale that is available as these devices enter the market will make it imperative to incorporate these load and storage devices into wholesale and local markets to address flexibility challenges while balancing customer demand with overall grid system costs," added Kellison.
Companies including Centrica, EDF, Enel, Engie, Shell and Southern Company have set themselves up to execute on customers' evolving rigorous energy demands by establishing distributed practices through a series of mergers and acquisitions during the last decade.
These efforts have resulted in the creation of compelling vertically integrated business units, however, none have yet succeeded in proving they can scale a DER offering that relies on acquiring customers and customising offers across highly fragmented regulatory and policy environments.
"Interconnection requirements, policies and codes across utilities, standards bodies and governments are currently far from achieving standardisation and alignment. Further fragmentation would drastically increase the complexity of project economics, with a crippling level of uncertainty risk hindering the industry's ability to scale," said Kolo.