The Bihar Electricity Regulatory Commission has approved a tariff of Rs 4.15/kWh for the procurement of 2 MW power from a floating solar PV plant in Darbhanga.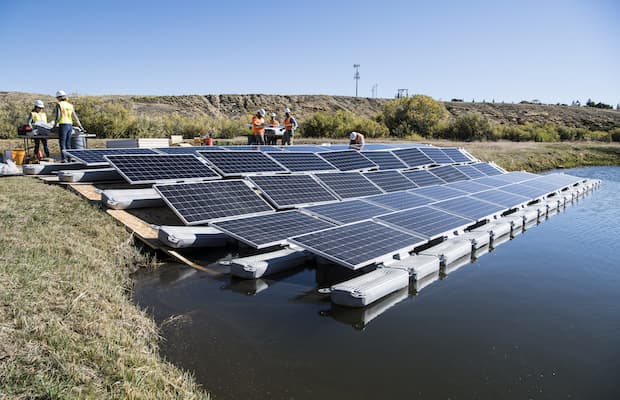 The Bihar Electricity Regulatory Commission (BERC) has in its latest order approved a tariff of Rs 4.15 per kWh for procurement of 2 MW solar power from a floating solar PV system in Darbhanga.
The tariff was proposed by the Bihar State Power (Holding) Company (BSPHCL) and Bihar Renewable Energy Development Agency (BREDA) in a petition. The petitioners had claimed that during the year 2019-20 and 2020-21, they would face a deficit of solar power, whereas, in the year 2021-22, they would have surplus solar power. However, in its supplementary submission, BSPHCL revised its calculation and said that the Discoms would face a shortage of power in all the three years. The Commission added that the procurement would meet the stipulated long-term RPO trajectory of the Discoms.
As per the petition filed by the BSPHCL and BREDA, The project is being set up in Darbhanga, and the power is to be purchased by the North Bihar Power Distribution Company Limited (NBPDCL) and the South Bihar Power Distribution Company Limited (SBPDCL).
In its findings, the Commission observed that BREDA had not taken adequate care while floating the tender as certain provisions of the RfP were not in line with the draft PPA. And has further directed the petitioners to draft the PPA in line with the guidelines for the tariff-based competitive bidding process for the procurement of power from grid-connected solar PV power projects issued by the Ministry of Power (MoP).
The petitioners had also submitted that apart from the Bihar Renewable Energy Policy 2017, the state of Bihar has also started Jal-Jeevan Hariyali Program, which includes promoting solar projects to be installed on rooftops, ground-mounted, and water bodies.
The Commission finally also noted that the petitioners had claimed that the price discovered during competitive bidding was lower than the BERC's FiT (feed-in-tariff) of Rs 4.17/kWh, but the commission observed that these two could not be compared as the FiT for the FY 2019-20 is applicable only for ground-mounted projects and not floating solar PV projects.
For more information click here.