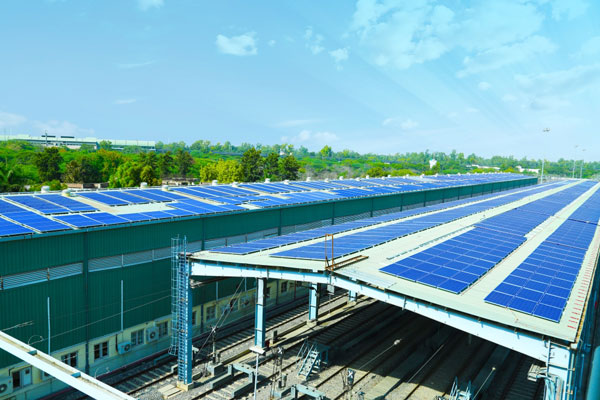 Azure Power has announced the successful installation and operation of its rooftop solar power plant for Delhi Metro Rail Corporation (DMRC) at the Sultanpur facility. This is the first phase of a 14 MW allocation by DMRC to Azure Power, one of the largest by DMRC to a solar power developer.
The tariff on the project is Rs. 5.55 per kWh (US$ 0.083), with a total subsidy of Rs. 167.4 million (US$ 2.514 million). The company will supply power for 25 years which will be utilized for DMRC's operations. The company notes that the 14 MW project will be completed in phases and will cover several metro stations, workshops and parking lots.
Commenting on the occasion, Anup Kumar Gupta, Director (Electrical), DMRC said, "Delhi Metro Rail Corporation has taken a number of Green initiatives and steps to reduce its carbon footprint. The power generated from solar energy will not only fulfill our energy requirements but will also help in making the city cleaner and greener. DMRC has signed a PPA for 25 years with Azure Power to help us in this endeavour."
 Inderpreet Wadhwa, Founder and Chief Executive Officer, Azure Power said, "Azure has unique rooftop solar power solutions for infrastructure, commercial and industrial customers in cities across India to lower their energy cost and meet their greenhouse gas (GHG) emission reduction targets. We are pleased to partner with DMRC in reducing their GHG emissions through deployment of solar energy in their facilities across the capital city of New Delhi."
Early this month, Azure Power started the construction of 100MW solar power project in Andhra Pradesh. The project was auctioned by NTPC, which is designated under National Solar Mission for a total capacity of 1000 MW of solar power projects at Kurnool Ultra Mega Solar Park. The solar park is being developed by Solar Park Implementation Agency (SPIA), Andhra Pradesh Solar Power Corporation Limited (APSPCL).
The tariff on the project will be Rs.5.12/ kWh (US $0.077) and power produced from the solar park will be supplied to NTPC for duration of 25 years. The project is expected to get commissioned by second quarter 2017.