Less than an hour after Finance Minister Nirmala Sitharaman's first budget speech, it appears that it is not a bad budget at all for the renewables and EVs.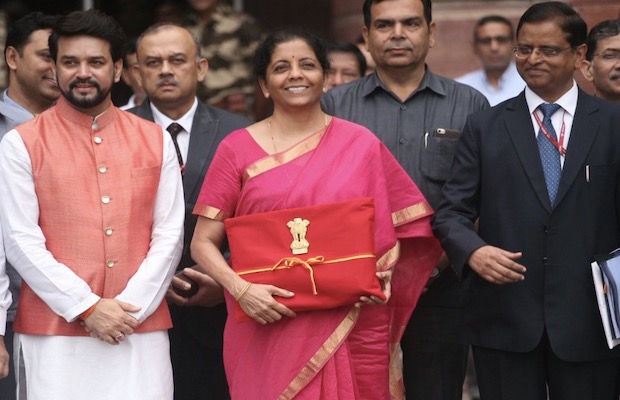 Less than an hour after Finance Minister Nirmala Sitharaman's first budget speech, it appears that it is not a bad budget at all for the renewables and Electric Vehicles sector. Especially when you consider how GST has taken out a huge part of the excitement from the budget by making indirect taxes irrelevant.
Though that didn't stop the FM from springing a small surprise in the form of the Rs 1 additional special excise duty on fossil fuels. That clearly indicates a government that is determined to get the people used to relatively high pump prices, irrespective of any drop in crude oil prices. How it reacts to a sharp run-up in crude prices, should that happen, is the big question really.
The biggest surprise, of course, is the Rs 1.5 lacs income tax exemption on interest payment for loans on Electric Vehicles. That, along with the shift of EV's to the 5% GST slab from 12% right now, is a serious show of support and intent by the government for people who have been doubting their ability to push back against the pressure from legacy auto firms. The affordability factor of EV's has just been taken to a level even the most ardent supporters did not consider possible until later next year.
The customs duty exemption on select parts imports, besides the investment benefits being spoken about for large manufacturing moves in solar equipment and lithium batteries, is also a positive.
The broader push to expand the taxable income slab to Rs 5 lacs and above, or make life with GST simpler, is also welcome. The expansion of firms up to Rs 400 crores turnover for coverage under the lower 25% corporate tax rate also covers most of the firms in these sectors.
Among the innovative possibilities is the one related to a stock exchange for social sector enterprises to enable them to raise funds like equity, debt or even units. That could potentially be a big move, especially for firms looking to raise funds on the back of a sustainability-driven pitch, or those who have been hit hard by the delays caused by scrutiny of FCRA. This is certainly one move worth tracking, as firms with a strong track record of execution could get access to funds at a really low cost.
As we mentioned earlier, even seemingly unrelated moves like allowing a single woman member of a Self Help Group, or SHG, access to a loan of up to Rs 1 lac under the MUDRA Yojna, could open up possibilities for distributed solar firms and devices. GOGLA should be looking at how to use this. As should mini-grid operators, who could benefit from the social enterprises stock exchange too.
There has been much that has been left unsaid but the thrust of the budget points to the search for greater private sector involvement in both renewables and EVs. Perhaps one reason why lumbering PSU giants like NTPC and PowerGrid have not fared so well after the speech on the bourses.
Finally, the overall thrust of the budget, on fixing India's creaking financial sector, be it PSU banks, NBFC's, or the bond market makes it clear that the government is alive to the funding challenge for every player in the economy today. That in itself is positive, and should give everyone hope that the government has indeed got a handle on the problems it needs to solve.