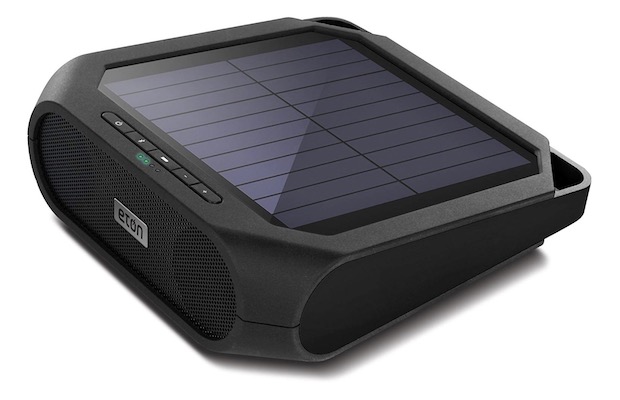 Product Brief: The Eton Rugged Rukus is a solar-powered speaker which also doubles as a portable mobile phone charger. The speaker boasts of a stereo sound system with 2 full range speaker drivers. The product has been designed to be an efficient entertainment unit outdoors which can be powered by the retrofitted solar panels.
Product Features: The speaker comes with a high efficiency monocrystalline solar panel with an internal Li-ion battery. It is also IPX 4 rated to withstand hits and water. The speaker is also Bluetooth compatible and can play audio from a mobile device wirelessly.
Application: Music System
Product Benefits: The solar panel on the speaker is capable of completely charging the internal battery of the speaker in 5 hours. The product is extremely rugged and can easily bear falls and even big water splashes. The product weighs 531 grams and is smaller in size than a laptop and hence can be easily carried on hikes and trails. The battery backup of the product is 8 hours of music playback on a full charge.
Availability: The speaker is available on select e-commerce websites like Amazon.in where it retails for Rs 10000. (Currently on discount at Rs 6634)