Utility-scale renewables in the US have been predicted to will generate more electricity than coal through the entire second quarter of 2019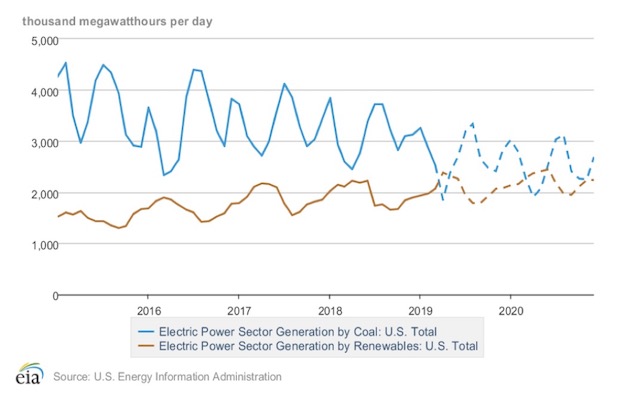 According to a new analysis, utility-scale renewables in the U.S. generated more electricity than coal for the first time in April, and the trend will likely persist through the entire second quarter of this year.
The Institute for Energy Economics and Financial Analysis (IEEFA's) latest analysis noted that if the projection comes to pass, it would mark the first time renewables have outpaced coal-fired generation in the U.S. on a quarterly basis.
The totals for the milestone month of April—predicted one month ago and registered formally this week by the Energy Information Administration (EIA) were: 68,481 thousand megawatt-hours (MWh) of generation for renewables (including wind, solar, hydro, geothermal and biomass) and 60,099 thousand MWh for coal.
These numbers add to evidence of a fundamental shift described by the EIA in its latest Short-Term Energy Forecast, which contains significant notes that lie beneath the headline takeaways in the agency's elaborate presentation of information:
Share of generation from coal will average 24% in 2019 and 23% in 2020, down from 27% in 2018. Wind, solar, and other non-hydropower renewables together provided 10% of U.S. generation in 2018. EIA expects they will provide 11% in 2019 and 13% in 2020.
Renewable fuels, including wind, solar, and hydropower, will collectively produce 18% of U.S. electricity in 2019 and almost 20% in 2020. EIA expects that annual generation from wind will surpass hydropower generation for the first time in 2019 to become the leading source of renewable electricity generation and maintain that position in 2020.
U.S. coal consumption, which reached a 39-year low of 687 million short metric tons (MMst) in 2018, will fall to 602 MMst in 2019 and to 567 MMst in 2020. The falling consumption reflects lower demand for coal in the electric power sector.
Specifically, the EIA estimates that renewable generation from April through June will average 2,324 MWh per day while coal will total 2,301 MWh/day.
Now, with changes sweeping through the sector, that prediction has the ring of inevitability. The forecast indeed may not pan out this quarter, but as companies continue to shutter their coal plants, reduce the output of the plants that remain online, and bring new renewables, natural gas and, increasingly, storage resources onto the grid, a long-term crossover point is coming, and there is reason to believe it is coming soon.