The State Fund and Engie North America have announced an agreement to build solar panels, energy storage systems, and EV charging stations across California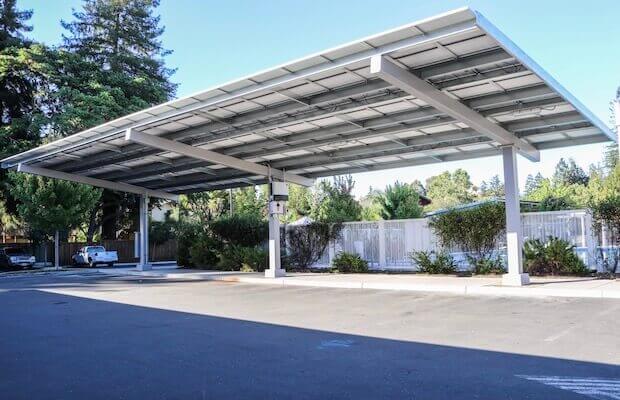 The State Compensation Insurance Fund (State Fund) and Engie North America have announced an agreement to build solar photovoltaic (PV) panels, energy storage systems, and electric vehicle (EV) charging stations across seven different State Fund locations throughout California. Engie and JLL jointly designed this comprehensive program to help State Fund embark on the next phase of its broader sustainability strategy.
Engie will install up to 11 MW of solar panels across six State Fund facilities spanning from Riverside to Redding that will generate approximately 18,000,000 kWh of clean energy annually. This energy production will offset approximately 14,000 tons of greenhouse gas emissions — equivalent to taking about 2,700 cars off the road or planting about 204,000 trees each year. The energy storage systems — approx. 4,240 kWh of battery storage at four locations — will allow the firm to store energy and avoid buying power from the electricity grid during the most expensive times of peak energy use each day.
Additionally, it will install a network of more than 150 Level II and Level III EV charging stations at seven locations that will be used by fleet vehicles and available to employees. State Fund's fleet currently includes eight battery electric vehicles (BEVs), three of which are new long-range BEVs.
"Increasing our efforts and investments around sustainability initiatives will bring a number of benefits to State Fund customers and employees, our surrounding communities, and California as a whole," said Andreas Acker, Executive VP and CEO at State Fund. "This project with Engie and JLL is a huge step forward in our drive to reduce our use of fossil fuels, limit the load we place on local and statewide electrical grids, and improve overall air quality throughout California."
This initiative is part of a broader sustainability strategy that State Fund has been rolling out for several years and will ramp up significantly over the years to come, which include: Installation of exterior and interior LED lighting and energy-efficient heating, ventilation and air conditioning (HVAC) systems at several locations and installation of daylight harvesting systems at all owned buildings.
"We are honoured to have been chosen by State Fund and JLL to help develop this ground-breaking solar, storage, and EV charging solution set to support State Fund's mission serving communities across California," said Gwenaëlle Avice-Huet, CEO of ENGIE North America. "We believe that demand for renewable energy programs that incorporate additional, leading-edge solutions like battery storage and EV charging represents the next chapter of sustainability impact that will also effectively help us transition to a zero-carbon future."