The industry was expecting a policy direction from the government to promote manufacturing, especially in the renewable energy sector in the background of the jobs crisis, which India faces. Surprisingly, this was completely missing from the budget, says Amit Gupta, Vikram Solar.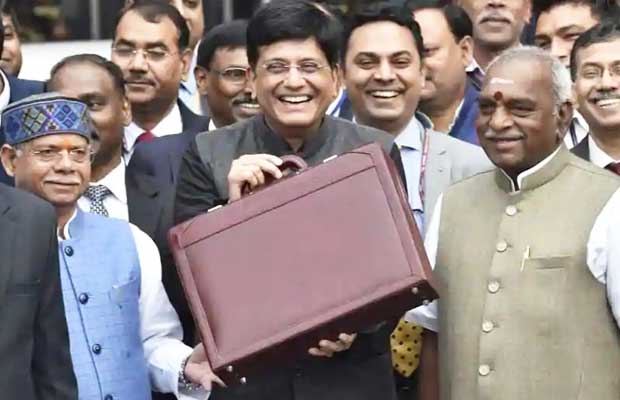 India's renewable energy industry was expecting lot of things from the present Modi government to be addressed in its last budget. Here's a sneak peek into quick reactions from the industry veterans of various organizations on Interim Budget 2019 which was tabled in the parliament by the Interim Finance Minister Piyush Goyal:
Module maker Vikram Solar, Director of Legal & Corporate Affairs, Amit Gupta expressed his concern by saying that, "In a situation where there is scarcity of financing options for renewables and manufacturing units are dying a slow death, the budget provides no ray of hope. The industry was expecting a policy direction from the government to promote manufacturing, especially in the renewable energy sector in the background of job crisis, which India is facing right now. Surprisingly, this was completely missing from the budget."
"Budgetary allocation for the MNRE remains close to capital allocated in FY 2017-18, standing at INR 5200 crore. Unfortunately, the Government did not act upon the Parliamentary Standing Committee recommendation to  reinstate the funding of renewable energy projects through National Clean Energy Fund (NCEF), which was diverted towards GST compensation fund since 2017," Gupta added.
While on the other hand, rooftop solar solutions provider Amplus Energy Solutions, Founder and CEO, Sanjeev Aggarwal saw some positive hopes on the electric vehicles front and said that, "The budget of 2019 has once again shown the commitment that the government has for improving the environment by promotion of clean energy and electric vehicles. Electric vehicles and rooftop plants are going to provide the much needed respite to the deteriorating environment in our urban areas. We look forward to concrete steps for promotion of rooftop solar and electric vehicles so that every common person starts adopting these life-transitioning technologies."
On EVs front, Waaree Energies, Director, Sunil Rathi also said that, "We are elated at Renewable Energy being a key dimension in the Government's vision for the coming decade, as proposed in the Interim Budget, with specific focus on Electric Vehicles and Energy storage solutions. With the focus on supporting domestic trade and services, and Public Sector Undertakings now sourcing from local entities, we foresee an impetus towards growth for domestic manufacturers in the sector, while achieving economies of scale and supporting job creation.."
He further added that, "Moreover, we see solar energy being an integral support pillar to The Pradhan Mantri Saubhagya Yojna, which aims at making electricity accessible to all. We applaud the Government's 2030 vision of reduced dependencies on foreign entities for fossil fuel and believe that given a sustainable ecosystem for domestic solar manufacturers, solar energy will be a prime source of energy. This in-turn, will reduce imports, thus strengthening the Rupee denomination and contributing to the nation's GDP."
"Furthermore, the proposed investment in the Railways and Roadways segment will enhance the scope for inter state commercial transportation, thus providing the solar industry with an opportunity to solarise commercial vehicles and other modes of public transport like buses and trains. With technological evolution leading the sustainable efforts of the country, we are confident that, if implemented, the proposed vision will help attain energy security and generate employment," Rathi added.
Adding to it, Nikunj Ghodawat, CFO, CleanMax Solar also saw the positive side of the budget and said that, "It is good to see that Renewable Energy remains a priority for the Government and has been prominently highlighted in India's 2030 Vision. Electric Vehicles have also been brought into focus. What we will wait to see is, finer print on the renewable industry like uniformity in policies, imposition of duties, ease of financing etc. to reduce dependence on deplete-able energy resources, thereby fueling adoption of renewable energy. For Electric Vehicles to be a norm of the future, policies should include how EVs can be powered by renewable energy. While the budget has confirmed the role of renewables in its vision of a clean and green India, and states have started showing enthusiasm in adoption, a long term road map will be expected by the industry."
"The Union Budget 2019 has a strong focus on long term sustainable growth. An effort has been made to bridge the urban-rural divide. Fiscal prudence has been maintained by the government even though we are in lead-up to elections. Vision 2030 elaborates the government's focus on key sectors, that should help India transform into a global power – physical infrastructure, clean & green India, rural industrialization are some of the key work areas. Boost to manufacturing sector, will help transform the 'Make in India' vision into a reality, leading to significant increase in job opportunities.
It is good to see government's continuing push for renewables to become a major source of energy in India. This will help ensure India's energy security as well as meet our climate change goals. Through continued support for renewables, EVs will benefit. India might set a precedent in EVs being powered predominantly by renewable energy, as compared to coal based thermal power. I see a holistic and inclusive approach taken by the government," said Vineet Mittal, Chairman, Avaada Group.
On backing the government's efforts on renewable push, Anmol Singh Jaggi, Promoter Blu Smart and Director Gensol Engineering, said that, "The announced budget is a gift to 1.3 billion people of India and a strong medium for the nation's transformation. The current government, keeping in mind the challenges, has immensely uplifted a huge chunk of our Indian society largely the poor, the farmers and the youth of the country.
We are happy that the government highlighted the use of electric vehicles in the India, as part of its 2030 vision. This will surely prove to be a major push for India to adopt sustainable mobility solutions and services. This will also address the adverse effects of air pollution on the environment with a greener sustainable transportation solution. The implementation of the electric mobility approach will not only reduce India's energy demand by 64% but will also curb carbon emissions by 37%. It will encourage zero emission mobility solutions to make urban transportation better and environment friendly.
The government's vision of Clean and Green India is a clear indication that the focus on 'green energy' remains one of their top priorities. This further gives us the impetus and motivation to continue aligning our vision with theirs. India's renewable energy sector has emerged as a game changer and will continue to be the major source of energy and will boost the solar industry. The introduction to new schemes like solar-wind hybrid, floating solar, manufacturing-linked solar and offshore wind projects, renewable energy definitely promotes better utilisation of available resources."
Anil Chaudhry, Zone President and Managing Director, Schneider Electric India, also added that, "It is heartening to see the budget clearly outline the priority areas as part of the broad vision for the future, with sustainable use of energy at the core of that plan. The focus on renewables is evident with electric vehicles being one of the ten dimensions for building New India by 2030. The budget announcement that India will drive on electric vehicles with renewables, backed by energy storage devices, becoming a major source of power supply shows that this is expected to be a key focus area for future governments. If concerted steps are taken in this direction, it will be go a long way in bringing down pollution levels addressing the issue of climate change.
The long term focus on creating a fully digital economy with one lakh digital villages in next five years and expanding rural industrialisation by harnessing digital technologies is also laudable. This is combined with a reiteration of Make in India which can support the evolution to the smarter, Industry 4.0 A combination of all these measures, when undertaken, will put India firmly on road to become a $10 trillion economy in next eight years. Further, the government's decision to set up National Centre on Artificial Intelligence will allow sectors across the economy to draw benefits from this new age technology, boost manufacturing, trim production losses and usher in efficiency."
Maxson lewis, Managing Director, Magenta Power, also added that, "As an EV community we are happy that Electric Vehicles got mentioned as one of 10 dimensions of focus till 2030. While no specific tax structures or rebates were mentioned in the budget, this was quite expected since a day ahead of the budget the government via the Central Board of Indirect Taxes and Customs (CBIC) has carved out a separate category for parts and components of electric vehicle for which customs duty has been lowered to 10-15 per cent, with a special push for local battery manufacturing to counter China's hold on the global battery manufacturing monopoly. Until now, vehicle parts and components imported for assembly in India attracted import duty of 15 to 30 per cent.
The budget is consistent on its EV push as it wants to move away from fossil fuels as quickly as possible to reduce India's dependence on crude.. Overall, the 2019 Budget has reiterated its goal of passenger vehicle electrification by 2030.What would have made a big positive impact however would have been a simple announcement of removal of tolls for electric vehicles across India. This would have certainly given an emotive push for adoption of electric vehicles in India."
On the other hand, Solar Thermal Federation of India (STFI), Secretary General, Jaideep Malaviya expressed his concern over GST on solar water heater components and said that, "The higher 18% GST on solar water heater components especially evacuated tubes is deterrent to the growth of industry. It was expected to be bought down to 5% as done for Solar Photovoltaic."
"The emphasis on promoting exports from food processing & establishing cold chains is a welcome move & Solar thermal based heating will get boost and will add to the value of the export product as processed using clean energy technology. Already solar thermal for milk processing is now established as a viable technology and food processing and brewery can follow suit," he added.