Sharp has unveiled three new high-efficiency mono-PERC solar panels. These range from 300 W to 370 W, and the five-busbar modules are designed for use in a range of applications, from residential PV projects to large commercial installations.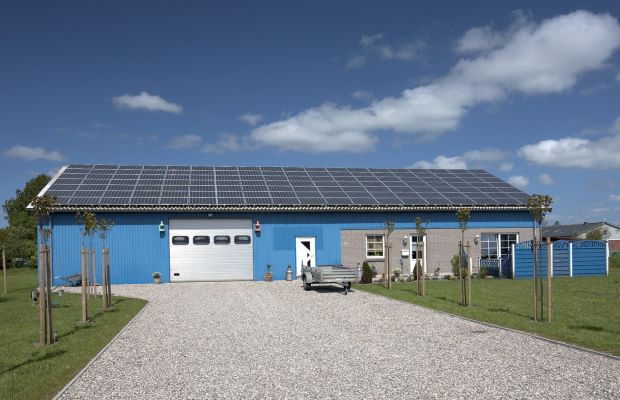 Japnese electronic giant Sharp adds that all three modules, the NU-AH370, NU-AK310 and NU-AK300B, can be mounted in portrait or landscape to maximise sunlight capture and suit the performance needs of different projects.
The following three modules are available to buy now from Sharp and its partners:
NU-AH370: 370W, 72 cells
NU-AK310: 310W, 60 cells
NU-AK300B: 300W, 60 cells, all black
At the highest 370 W, the company's NU-AH370 monocrystalline silicon solar modules offer the highest output of with a conversion efficiency of 19.1%. Sharp recommends the 72-cell passivated emitter rear cell (PERC) panels for use in large-scale rooftop and ground-mounted applications.
"Sharp's unique power tolerance of up to 5% makes this the module of choice by project developers," the company said in an online statement. "With the addition of 1200mm cables that enable leapfrog wiring and reduce balance of system (BOS) costs, this module is the ideal choice for major industrial projects and power plants."
The 60-cell NU-AK310 and NU-AK300B lines are ideal for industrial and residential rooftop PV arrays, and are available in a number of design choices. Like the NU-AH370 and NU-AK300B modules, the 310 W NU-AK310 panels also boast a conversion efficiency rate of 19.1%, and also feature black frames and backsheets, for aesthetics matter.
"We have made improvements to our supply chain, enabling us to provide our customers with cost-savings, while still ensuring that the modules incorporate the best of Sharp's technology," said Andrew Lee, Sharp sales director for EMEA.
Sharp claims to have shipped more than 50 million PV modules throughout the world to date. Last year, the Japanese group achieved a 25.09% conversion efficiency from a cell using both heterojunction (HJT) and back contact technology, as certified by the Japan Electrical Safety and Environment Technology Laboratories.