The Ecocapsule Micro Home includes details designed to boost energy efficiency, from a water filtration system to a roof outfitted with solar panels and a wind turbine.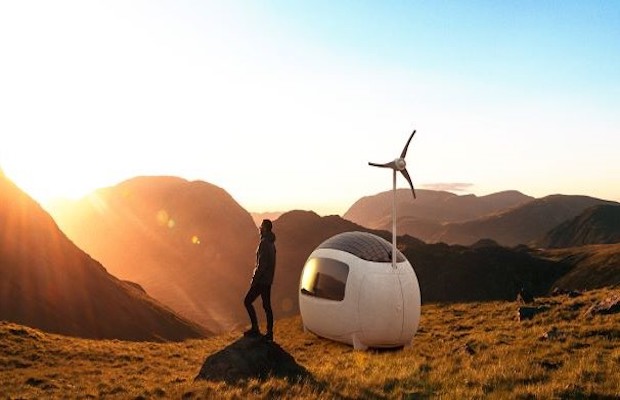 Designed by Bratislava-based Nice Architects, Ecocapsule is a self-sustainable smart house powered solely by solar and wind energy. It allows you to live off-the-grid. These unique and self-sustainable mobile micro-homes went into production last year as the first finished mobile dwelling packed into a compact egg-shaped form homes.
Despite its relatively small size, the energy-efficient pod is capable of comfortably accommodating two adults. There is a built-in kitchenette offer running water, while the structure also contains a flushing toilet and hot shower — allowing occupants to live in a home-like atmosphere. Also in addition to a folding bed, the ecocapsule features plenty of storage space for sporting or research equipment.
Each ecocapsule is powered by a built-in turbine complemented by an array of photovoltaic cells, while a high-capacity battery ensures enough power is retained during periods of reduced solar or wind activity. Moreover, the design's spherical shape is optimised for the collection of rainwater and dew, with built-in water filters allowing the inhabitant to utilise any water source.
The best bit is that the entire unit fits into a standard shipping container and no special preparations and precautions are necessary to transport the product worldwide. In fact, the ecocapsule can be shipped, airlifted, towed or even pulled by a pack animal.
So, for all the eco-travelers who suffer from wanderlust, Ecocapsule can be the best traveling vehicle without hurting the environment. Its curved shell, comprised of a fiberglass body with a steel frame, is designed to minimise energy loss.
The Ecocapsule measures slightly over 15-feet-long and seven-feet-wide, giving residents just over 88 square feet of space to conduct all daily activities.
In 2018, these micro home were priced at €79,900 (Rs 62 lakh) plus a €2,000 deposit, or in US dollars, a total of about $100,258. The team plans to begin mass producing a second series this year, and these will be available for pre-order for interested parties based in the US, Canada, Australia, New Zealand, and the European Union. It's likely that this second round of Ecocapsules will cost less as the cost of technologies changes over time.
Published with permission from iamrenew.com