Global Interest, International Investments & Technology breakthroughs to mark the 13th epic edition of Asia's leading Renewable Energy Expo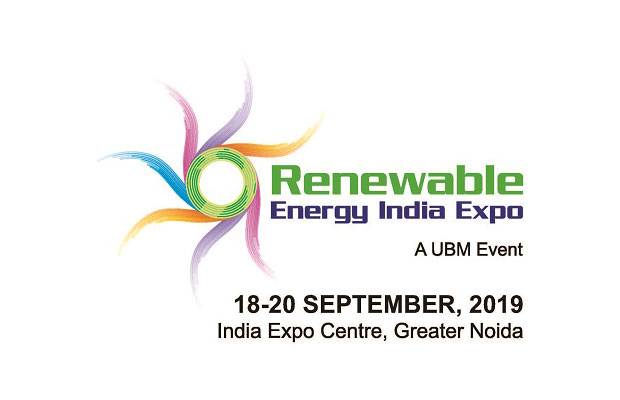 REI 2019 at a glance:
Asia's leading Renewable Energy Expo by Informa Markets in India from September 18-20
45 participating countries, over 700 plus exhibitors
3 – day power packed conference – 'Giving the Business of Power – the Power to do Business'. Conference to highlight innovations, challenges and way forward
5th edition of Renewable Energy India Awards on 19th September: To recognize Innovation & Excellence in the Renewable Energy Industry
Global Leaders to join hands to encourage World Energy Sustainability @ REI Expo and Key Govt dignitaries from Govt of India, State of MP, State of Telangana to highlight benefits & future plans
Visiting delegation from Bangladesh, Maldives to enhance new business opportunities for manufactures  & Solar farm Developers
Government of Madhya Pradesh to organise a exclusive roadshow on Rooftop RESCO Project on 18th Sep 2019 @ REI Expo
High end session with the CTO's and CFO's discussing the VUCA in Re-Sector, Innovations and Technologies and many more
Discussions on innovative technologies for high performance solar panels, Energy solutions, Electric vehicles expected
"World of Innovation" , Presentation zone to highlight what is NEW to the sector
Innovative electrification products for rural & urban areas like Solar Tree, PV Port in display
Top industry influencers like World Bank, IDCOL, Indo-German Energy Forum, EY, KPMG, Tata Cleantech part of the forum
New Delhi, 16th September 2019: After achieving stellar success in a dozen years of existence the Renewable Energy India 2019 Expo (REI), hosted by Informa Markets in India (formerly UBM India), India's leading exhibitions organiser, is set to take place from 18th to 20nd September 2019 at the India Expo Center, Greater Noida.
A flagship event, REI is the most reputed global platform where India's green economy community including overseas participants will congregate to discuss industry trends, challenges and market insights including the Indian regulatory framework. The event aims to further upscale and mainstream the opportunities in systems and applications of renewable energy resources, new industry realities, showcase product launches, and innovations, best of technology, cost effective solutions, and create the perfect platform for Industry leaders, country delegations, top global brands and their products.
Association Support and Countries Participating:
In its 13th edition, REI will see active participation from 45 countries such as USA, Germany, Turkey, Brazil, Bangladesh, Maldives, Singapore, China amongst a host of other countries. It is supported in its grand mission by Indian Bio Gas Association, Indo German Energy Forum, Solar Business Club, All India Solar Industries, APVIA, Indo German Chamber of Commerce, National Solar Energy Federation of India and GIZ, among others.
Key Dignitaries:
The expo, will see the presence of key dignitaries Mr. Justin Wu, Head of APAC , Bloomberg New Energy Finance; Mr. Somesh Kumar, EY India Power & Utilities Leader; Shri Ajay Mishra, IAS, Special Chief Secretary,  Energy Department, Government of Telangana; Shri Manu Srivastava, IAS, Principal Secretary, New & Renewable Energy Department, Government of Madhya Pradesh; Prof. Eicke R. Weber, Former Director, Fraunhofer ISE, Freiburg; Dr. Michael K. Dorsey, Co-founder and Principal of Around the Corner Capital; Md. Enamul Karim Pavel, Head of Renewable Energy, IDCOL, Bangladesh;
H.E André Aranha Corrêa do Lago, Ambassador of Brazil; Shri. Anand Kumar, Secretary, Ministry of New and Renewable Energy Government of India; Mr. Yogesh Mudras, Managing Director, Informa Markets in India and Mr. Rajneesh Khattar, Group Director, Informa Markets in India among others, during the high profile Opening Ceremony on 18 September.
Exhibitors and Country Pavilions:
Bringing together Manufacturers, EPC, and Service Provides, the expo will host over 700 exhibitors including companies like Longi Solar, Waaree Energies, Vikram Solar, Mundra Solar PV Ltd (Adani Solar), DSM India, TBEA, Jinko Solar, Cleantech Solar, Swelect Energy Systems Limited, Ginlong Solis, Emmvee Photovoltaic Power Private Limited, Cybrid Technologies Inc, Applied Materials, Alfanar Energy, Sungrow Power Supply Co., Ltd, Canadian Solar, Tata Power Solar, Delta Electronics India Pvt Ltd, JA Solar, Sineng Electric, Jetion Solar, Risen Energy, Fronius India, Sterling & Wilson, and Larsen & Tubro amongst others. The show will feature pavilions from Germany, China, Taiwan, Bio Energy and Emerging Businesses, to name just a few.
Three-day Content-led Conference:
A power packed three-day conference themed 'Giving The Business of Power –The Power to Do Business' will take place, encompassing knowledge -rich sessions by Indo-German Energy Forum, Bloomberg New Energy Finance, PV Magazine, Skill Council for Green Jobs, and Mercom Capital, Bridge to India, World Business Council for Sustainable Development .
Highlights of the Conference: 
'Energy Leaders Dialogue – Market Trends and Quality Roundtable and Future Roundtable
Benefits, Costs and Smart Policies in Solar Rooftop & Grid Integration.
Upcoming Business Opportunities in Solar PV Niche Markets of India – SelfPV, Floating Solar and O&M
Impact of Solar Energy in 2030 – Utility scale vs Distributed Solar
The Energy Effect: Buyer Perception and Decisions
Agrophotovoltaics – Harvesting the Sun for Power and Food along with Role of Start-ups' in Renewable Energy
Technology Transformation: CTO Dialogue: Importance of Quality, Reliability, Technology, Innovation in PV and its fight with commercials:
Discussion on stationary energy storage:  focused on the current energy storage market in India behind the meter and front of the meter
Policy and regulations recommendations towards encouraging private investments in captive and public charging infrastructure
Innovations that make the future Brighter: Upcoming Technologies That Can Change The World
Energy Storage for EVs along with case studies and Innovations in the RE Sector
India Solar – A multi-billion dollar market opportunity amid testing times
1st Solar Business Club Empowering  Women Summit India
Energy transition with increasing capital flows in VUCA world (Best of the speakers from Banks, Investment Banking expected
Biogas Conference-2019  covering  the entire value chain of Biogas
Speaking on the announcement of the 13th edition of Renewable Energy India, Mr. Yogesh Mudras, Managing Director for Informa Markets in India said, "Our country has an installed power generating capacity of 356.100 gigawatts as of 31st March 2019 and over the last five years, India put up a 99.21 GW of additional capacity, generating 1.2 trillion units of electricity each year. And while India still maintains its trailblazing reputation in the renewable energy sector, in recent times, the relatively steadfast nature of the industry has been overtaken by dynamism and transformations lately. In such a scenario, it is crucial to keep pace and build an ecosystem of innovation and adaptation to change. An array of new trends is being seen, such as the rise of floating solar and e-mobility, increased fragmentation with participation from smaller players as well thereby encouraging the rise of the domestic manufacturers. A renowned and reputed expo like the REI is just the vehicle needed to explore these new trends and opportunities and propel the further growth of the sector."
The trade show will also be preceded by the 5th Renewable Energy India Awards, slated for 19th September, 2019 that aims to recognise the efforts, innovation, and excellence and promote the talent in the industry. The Awards will have an august audience of industry stalwarts competing under various categories from both manufacturing & implementing communities.