Okaya Power Pvt Ltd launches an all-in-one Solar Power Generation System to meet the demand for clean, renewable energy.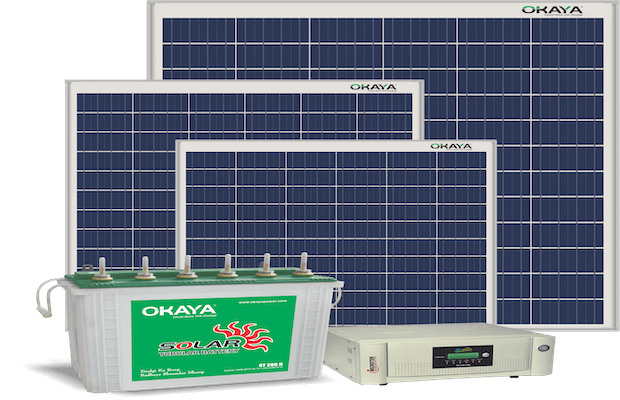 A leader in the Indian battery and Inverter segment, Okaya Power has launched a new comprehensive range of Solar Power Generation System (SPGS) with an aim to meet the fast emerging demand from its esteemed customers.
Okaya aims to aid the government's efforts to enhance the country's renewable energy capacity to 175 GW by the year 2022, which includes 100 GW from solar power. It is already engaged in augmenting solar energy storage technology to facilitate the mass use of solar energy. The SPGS range launched by the firm consists of combinations of PV panels, solar inverters/charge controllers and solar batteries, all available in different ratings to suit different installations and applications.
The SPGS meets all statutory and certification compliances to benefit all off-grid/on grid applications. The Solar PV Modules range in it is packed with features like PID (Potential Induced Degradation), excellent low light performance, and ARC (Anti-Reflective coating) glass. All the panels come with RFID tag and they undergo rigorous quality control and more than 20 in-house tests. It includes a Solar UPS, which is a  next-gen Hybrid Solar UPS based on DSP technology, designed to give maximum benefit from solar energy and minimise your electricity bills. It also includes an SMU based on PWM technology which ensures faster charging, more battery life and improved solar system performance.
Major USPs of the SPGS:
1. Solar UPS,
Pure sine-wave output, noiseless operation, highly efficient battery charging from solar energy, Intelligent selection modes for smart solar UPS and normal UPS. Available in 935VA/12V, 1135VA/12V, 1735VA/24V, and 2035VA/24V.
2. Solar PV Modules,
Solar PV Modules range has 50W, 75W, 100W & 150W in 12V and 260W & 320W in 24V.
3. Solar Management Unit (SMU),
SMU models are available in 10A/12V, 30A/12v, 60A/12V, 30A/24V and 60A/24V.
4. Solar Batteries,
The Solar Batteries are designed specifically for the solar application.
Anil Gupta, Managing Director, Okaya Power Pvt. Ltd said, "Okaya remains committed to contributing to India's ambitious Solar Mission with Make-In-India endeavour. The comprehensive range of Solar Power Generation System launched by us is aimed at utilising our expertise in designing, developing, planning and implementing solar technology that can ensure the country's energy security through reliance on an inexhaustible resource."