SmartE, a Delhi-NCR based electric mobility startup, has raised Rs 100 crore from Japan's Mitsui and Co.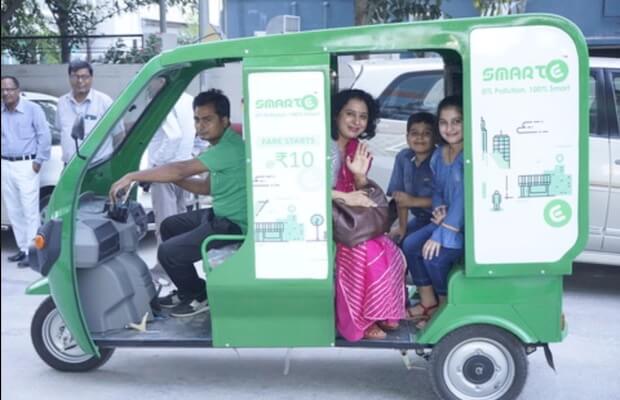 SmartE, a Delhi-NCR based electric mobility startup, has raised Rs 100 crore in funding from Japan's Mitsui and Co. The e-mobility service provider, which is a subsidiary of Treasure Vase Ventures, has raised the amount as a part of its series B funding round. Mitsui will bring to SmartE multiple synergies through its existing businesses in the EV domain to enable the company for long-term growth.
SmartE, which operates a fleet of more than 1,000 electric rickshaws in Delhi NCR, will use the funds to expand into new markets.
The five-year-old startup had raised $5 million in 2017 from Singapore's Ecotransit Investments International Pte Ltd in a series A fundraise. Until now, the company has raised more than Rs 132 crore. The company did not share its current valuation citing Mitsui's compliance rules which are listed in Tokyo.
Goldie Srivastava, co-founder and CEO, said his startup plans to expand its fleet of electric three-wheelers to 10,000. The startup will also look to enter five new cities in the next two years, which will be divided into three south Indian cities and two cities in north India.
"The deployment of electric three-wheelers in first and last mile connectivity operations is now a proven business model. We plan to scale up to 100,000 EVs in the next five years with different milestones in between as we grow gradually," he said.
SmartE said it had built India's largest EV charging infrastructure, spread across five large park and charge hubs with a capacity to concurrently charge more than 800 electric three-wheelers. SmartE is also the official last-mile connectivity partner to Delhi Metro, offering its services across multiple metro stations in Delhi, Gurugram, and Faridabad.
"Growing urbanization in Delhi-NCR is driving demand for transportation, placing a greater burden on the environment," said Shinichiro Omachi, managing director of Mitsui & Co. India.
"We are proud to partner with SmartE, a true pioneer in the electric mobility service space, who shares our commitment to sustainable business development and alleviating pain points to improve living standards for communities," said Omachi.