India and Maldives have signed one agreement and two MoU, including collaboration in the field of energy efficiency and renewable energy, in the presence of Sushma Swaraj and her Maldivian counterpart Abdulla Shahid.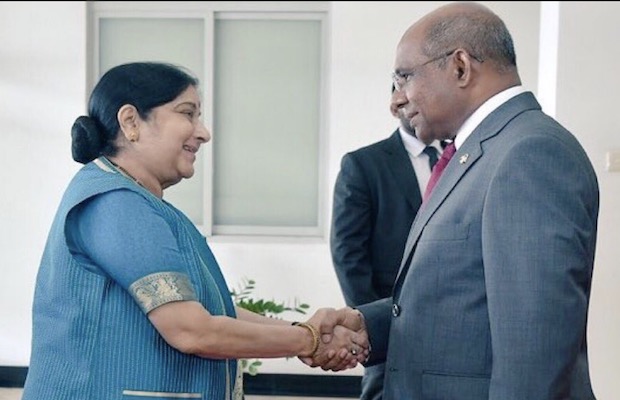 India and Maldives signed an agreement on the exemption from visa requirement for holders of diplomatic and official passports, while, the MoUs exchanged focused on Indian Grant Assistance for the implementation of High Impact Community Development Projects through local bodies in the island nation as well as collaboration in the field of energy efficiency and renewable energy.
During the joint ministerial meeting with Shahid, the leaders also discussed ways to enhance cooperation bilaterally on a variety of issues, including consular issues, capacity development, health cooperation, trade, investment, economic cooperation and enhancing people-to-people contact.
According to a statement released by India's Ministry of External Affairs, Foreign Minister Shahid, during the meeting, noted that India continues to play an important role in the socio-economic development of the Maldives.
Swaraj also announced India's decision to renew the quota for essential commodities, as requested by the Maldives, including river sand and stone aggregate, for a period of three years, starting from April 1, 2019.
Welcoming the increase in trade volume over the past few years, both Foreign Ministers agreed to improve connectivity as a means to promote the exchange of goods and services, culture, and people.
The Ministers also agreed on the need to boost private sector involvement, and agreed to hold the Maldives-India Business Forum in 2019, the statement added.
Both Foreign Ministers agreed on the importance of maintaining peace and security in the Indian Ocean Region, and to strengthen coordination in enhancing regional maritime security and to support efforts to combat terrorism, particularly cross-border terrorism, and crimes such as piracy, organised crime, narcotic drugs, and human trafficking, the statement said.
In addition, Maldives once again reiterated its support for India's candidature for permanent membership of an expanded and reformed UN Security Council and a non-permanent seat for the year 2020-21, the statement read.
Foreign Ministers further agreed on the need to strengthen the global response to climate change, through multilateral forums including the UNFCCC and the Paris Agreement.