India is having a huge potential market for solar process heat which is yet to be tapped, as revealed by the recently completed three-year Solar Payback study.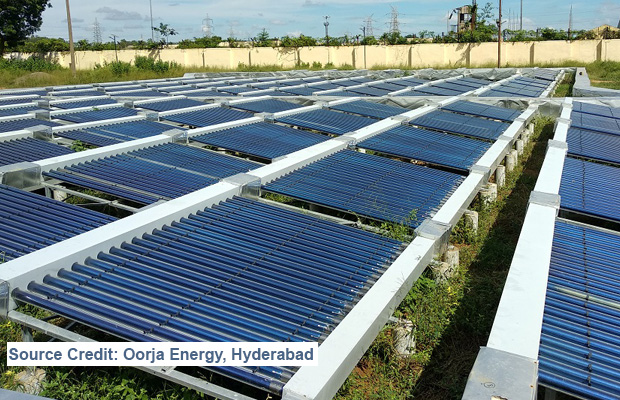 This 3-year international 'Solar Payback' study project was kick-started in January 2017 in India, with an aim to increase the use of solar heat for industrial processes (SHIP), and has now successfully completed.
According to the study, the process heating in industries uses only low to medium temperatures of below 250 degree Celsius. Considering the heat demand in selected industry segments the report identified – dairy processing, food processing and beverages, automotive components, textiles, chemicals, and pharmaceuticals as most relevant industry sectors where industrial solar heat can be used.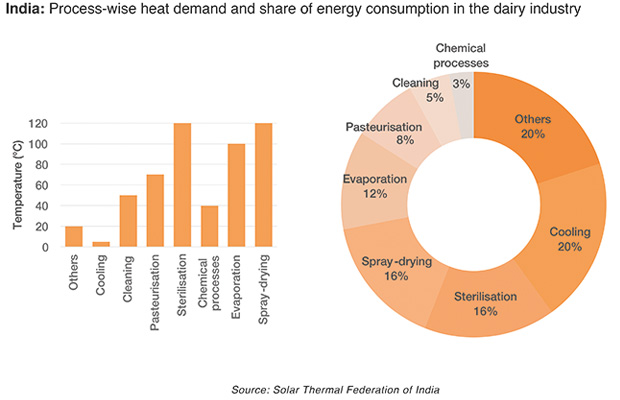 For every 3 million m² of an installed area, the annual diesel saved will be 20 million litres on a continuous basis and abate worth 55,000 tons of CO2 annually.
The study further revealed that dairy processing itself can fulfil this target considering India is the world's largest producer of milk and dairy products. This is especially true in states with high irradiation, such as in the northwestern and central states, which can be supplied on a decentralized level.
The report further suggested that suitable technologies for solar process heat are either flat plate collectors, concentrating dishes or vacuum tube collectors with compound parabolic concentrators.
Post completion of the study, Jaideep N. Malaviya, Chief Project Manager of Solar Payback – India, suggested the government while talking to Saur Energy that "aggressive target to be set as a part of National Solar Mission if India needs to reduce its dependence on import of fuel oil."
He also added that "one suggested policy measure is a certain percentage of Renewable Heat Obligation in the identified industries, which will act as driver and accelerate the SHIP projects."
India has an already established industry of solar thermal companies and suppliers that have installed over 35,000 m² of plants for SHIP. To overcome the challenge of high capital investment for "Make in India", it can perhaps lessen the burden.
Thus, capital cost reduction and cheaper storage will need to be addressed as a future strategy in order to make solar heat for industrial processes commercially attractive, Malaviya added.
In the project report, Solar Payback has illustrated market niches and applications in identified industries. It has also provided a methodology as a basic tool to facilitate the economic calculation of SHIP projects.
Solar Payback in India is a joint effort of the Solar Thermal Federation of India (STFI) and the Indo-German Chamber of Commerce (IGCC), backed by the German Federal Environment Ministry and funded by the International Climate Initiative.