At COP25, EIB and Iberdrola have announced agreements worth EUR 690 million to invest in renewable energy projects and electricity distribution networks.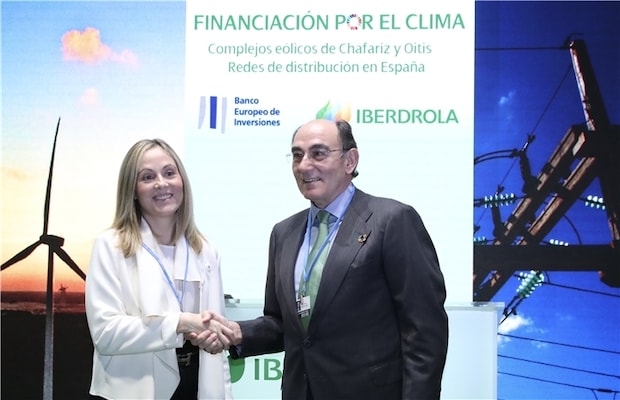 At the Climate Change Conference (COP25) being held in Madrid, the European Investment Bank (EIB) and Iberdrola have announced two new agreements to promote climate action by investing in renewable energy projects and electricity distribution networks. To do so, the Vice-President of the EU bank Emma Navarro and the President of Iberdrola Ignacio Galán agreed two loans for a total of EUR 690 million.
EIB Vice-President Emma Navarro, head of the climate action at the Bank and its operations in Spain and Latin America, said that the bank is delighted to be signing these agreements at the Madrid Climate Change Conference because they are a great example of EIB's efforts to support climate action inside and outside of Europe.
"To fulfil the objectives of the Paris Agreement, we need to mobilise resources on an unprecedented scale, and the EIB is seeking to lead the response to this challenge. We are the EU's climate bank, and that is why we have strengthened our climate ambition. We are working on mobilising up to EUR 1 trillion over the coming decade through projects that, like the ones we are supporting today, are going to help with the transition towards a low-carbon economy by promoting renewable energies."
Of the EUR 690 million total, EUR 250 million will go to financing the construction of 15 wind farms to be developed in Brazil by Neoenergia, the Iberdrola subsidiary in Brazil. These new facilities will be located in three states in the northeast: Paraíba, Bahía and Piauí. Once operational, they will have a total installed power of 520 MW and produce an annual average of 2,300 GWh of clean energy. Commissioning these wind farms will help to reduce CO2 emissions and increase the proportion of renewable energy in the country's electricity generation.
The EU bank and Iberdrola have also joined forces to develop digitalisation of infrastructure essential to the decarbonisation of the economy: the electricity distribution networks. To do so, they have agreed an EUR 440 million loan to finance new investments in Spain for infrastructure to help improve the reliability of the network and the quality of supply.
These networks are key to the energy transition, as they enable the integration of more renewables, sustainable mobility, smart cities and decentralised consumption. Transforming the networks into smart infrastructure that is more reliable and more secure puts consumers at the centre of the business, giving them greater decision-making power and connectivity.
Ignacio Galán expressed his satisfaction with sealing this deal during COP25. "The byword for this COP is the need to start taking action, and that is what Iberdrola and the EIB are doing today: undertaking specific actions that will help to limit the global temperature increase to 1.5°C" He also said that Iberdrola "got a head-start with this transition 20 years ago, when we realised that the economy of the future had to be carbon-free. Since then, we have invested EUR 100 billion in renewables, smart networks and efficient supply, becoming one of the world's largest utility companies."