Huawei has revealed that it has signed a contract worth 860 MW with Adani Green Energy for its AI Boost FusionSolar Smart PV Solution at REI 2019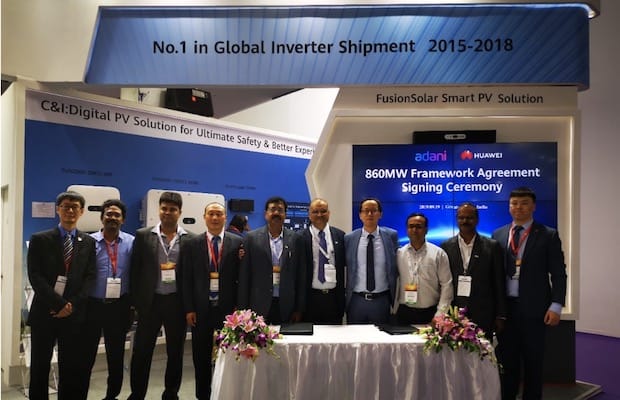 Huawei, a leading global Information and Communication Technology and network energy solutions provider, showcased its AI Boost FusionSolar Smart PV Solution at the recently concluded Renewable Energy India (REI) expo, the largest exhibition and conference for the solar industry in India. Followed by more than 1.5 GW cooperation, the company has announced that it has signed an 860 MW contract with Adani Green Energy, India's largest solar power developer, on the second day of REI at Huawei booth.
The company claims this is win-win cooperation between Adani and Huawei to combine the advanced technologies and build industry landmarks in India. The newly launched FusionSolar Smart PV Solution 6.0 with SUN2000-185KTL-INH0 brings higher yields and smarter performance at an optimal LCOE (Levelised Cost of Electricity), which provides a better output out of the same asset for Adani, especially under the price pressure situation in Indian solar market.
The demonstration of the new solution that will cover the utility-scale scenario in the Indian solar market. The SUN2000-185KTL inverter integrates bifacial modules, trackers and smart DC system as a solution to promote yields and lower the LCOE by at least 5 percent comparing to central solutions. With 9 maximum power point trackers (MPPTs), it could reduce string mismatch effectively and increase yields by over 3 percent.
The Smart IV Curve Diagnosis 3.0 using big-data analysis can proactively discover low- performance PV panels, achieving the revolution from passive maintenance to active preventive maintenance. Moreover, further application of AI evolves the operation and maintenance (O&M) of PV plants towards "Autonomous driving". Compared with manual I-V Curve test, it performs full detection of 100 MW strings and generates the diagnosis report in 15 minutes, rebuilding a more efficient and lower cost O&M model.
During this REI, Huawei launched the digital PV solution for ultimate safety and better experience with latest SUN2000-100KTL-INM0, SUN2000-20KTL-M0 integrated arc-fault circuit interrupter (AFCI) function.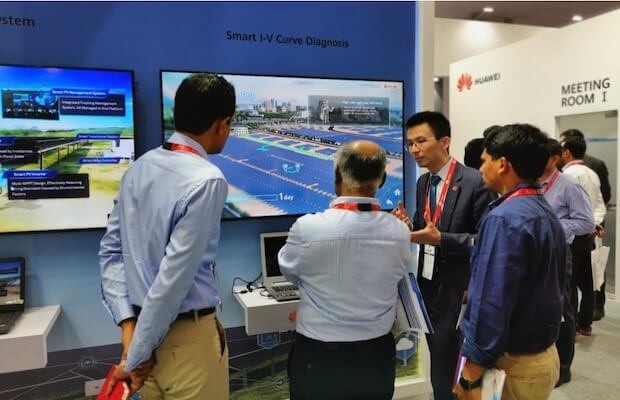 SUN2000-100KTL-INM0 applied for large scale C&I rooftop systems and the 2019 Intersolar Award Winner SUN2000-20KTL-M0 as the first unveiled three-phase inverter in India, which applied for small scale C&I rooftop systems. These two models implement multi-MPPT to obtain maximum power generation from PV strings.
DC arcing may occur in solar system, posing a danger to properties. AI-powered AFCI can proactively mitigate the fire risk: arc fault detection and confirm mechanism and machine learning accumulated capability for reliable & wide range arc fault identification.
According to the latest India RE Map 2019 released by Bridge to India on the first day of REI, Huawei had a market share of 19.9 percent and ranked No.2 among all the inverter suppliers. There're more than 4 GW Smart PV Solution deployed in India till now.
The inverter supplier said that, it will continuously team up with partners and bring more advanced and competitive products and solutions to the Indian market to contribute to the prosperity of the PV industry in India.