A new report has predicted that the global solar PV installations in 2019 will reach a record high of 114.5 GW, up nearly 17.5 percent on 2018.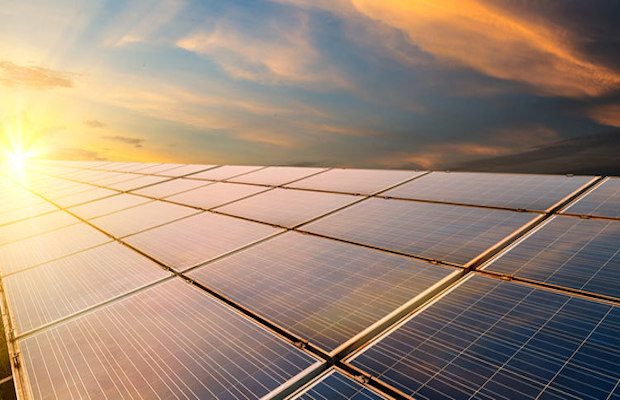 As noted in the Wood Mackenzie 'Global solar PV market outlook update: Q2 2019′, the market is now back on a strong growth trajectory after a slowdown in 2018. Annual installations are expected to rise to around 125 GW per year by the early 2020s.
Commenting on the report, Tom Heggarty, Wood Mackenzie Senior Research Analyst, said "global growth will continue despite a gradual slow-down in China, the world's largest PV market. The Chinese market peaked at 53 GW in 2017, driven by generous feed-in tariffs. A move towards more competitive procurement of solar PV will lead to more sustainable annual additions of 30-40 GW."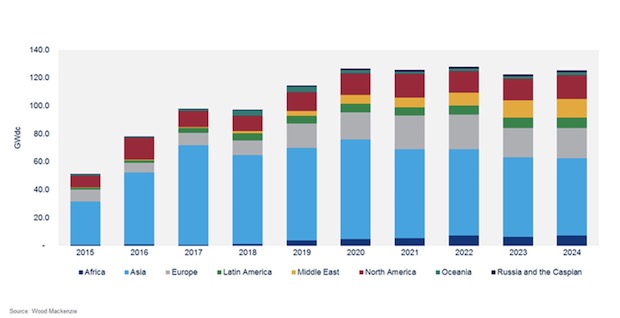 The report also noted that the market is rapidly diversifying and expanding in newer markets. Countries which are installing between 1-5 GW annually will be the market's growth engine. In 2018, there were seven such markets. By 2022, there will be 19 – with new names including Saudi Arabia, France and Taiwan.
In India, auction activity is starting to recover after a slow-down caused by land and transmission constraints. In the U.S., announcements of new state utility IRPs. The European market will grow strongly as policy markets look to deliver on 2020 and 2030 renewable energy targets. In Latin America, Brazil looks to be the most exciting market of the moment, with both auctioned PPAs with distributors and free-market contracts with large consumers on offer. In the Middle East, all eyes are on the upcoming 1.5 GW auction in Saudi Arabia, which is set to be extremely competitive, added Heggarty.
The report then delves into the results of the first solar PV auction in China. A staggering 22.8 GW of projects awarded contracts in the inaugural auction. This is by far the world's largest completed auction, with the next largest being the award of 3.9 GW of solar PV in Spain during July 2017. Awarded projects are intended to be connected by the end of 2019, facing tariff cuts for any delays.
Solar auctions will remain the driver of growth in many global PV markets. The report expects to see 90 GW of solar PV projects awarded contracts through auctions in 2019, up from 81 GW in 2018.