The 22nd meeting of the Green Climate Fund (GCF) recently ended with a raft of decisions to strengthen GCF for its first replenishment.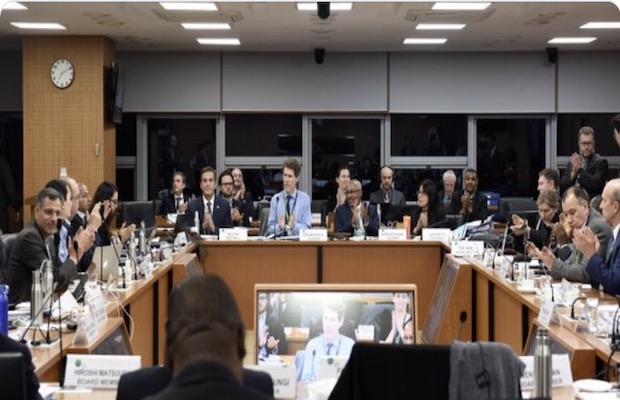 The Board during the meeting approved nine new climate resilience and low emission projects totaling $ 440 million in GCF resources and took steps to strengthen operations, reinforce standards and close policy gaps. The meeting also approved the selection of nine new project partners to become Accredited Entities to GCF.
The nine new project approvals bring GCF's portfolio to a total of 102 projects and programmes, committing $ 5 billion of GCF resources for climate action in 97 developing countries. Including co-financing, the portfolio channels $ 17.7 billion in climate finance through its network of 84 Accredited Entities. The new approvals include the first REDD+ results-based payments to be financed, relating to the Brazilian Amazon.
The board approved the following projects and programmes:
FP100 – USD 96.5 million for REDD+ results-based payments for results achieved by Brazil in the Amazon biome in 2014 and 2015 with UNDP.
FP101 – USD 8.0 million for Resilient Rural Belize (Be-Resilient) with IFAD.
FP102 – USD 29.6 million for Mali solar rural electrification project with BOAD.
FP103 – USD 18.8 million for Promotion of Climate-Friendly Cooking: Kenya and Senegal with GIZ.
FP104 – USD 100 million for Nigeria Solar IPP Support Program with AFC.
FP105 – USD 69.6 million for BOAD Climate Finance Facility to Scale Up Solar Energy Investments in Francophone West Africa LDCs in Benin, Burkina Faso, Guinea-Bissau, Mali, the Niger, and Togo with BOAD.
FP106 – USD 100 million for Embedded Generation Investment Programme (EGIP) in South Africa with DBSA.
The following projects were also approved under the Simplified Approval Process (SAP):
SAP005 – USD 9.0 million for Enhanced climate resilience of rural communities in central and north Benin through the implementation of ecosystem-based adaptation (EbA) in forest and agricultural landscapes with UN Environment.
SAP006 – USD 8.9 million for Building resilience of communities living in landscapes threatened under climate change through an ecosystems-based adaptation approach in Namibia with EIF.
Javier Manzanares, Executive Director ad interim, stated, "GCF now has a $ 5 billion portfolio in 97 countries supporting low-emission, climate-resilient development. With decisions to ensure better governance, new project approvals, and a reinforced readiness programme, this Board meeting has left us in great shape for our first replenishment."