In some much awaited numbers for February, data from customs and research agencies shows that PV inverter exports from China contracted 41 percent over January. The March outlook remains unpredictable of course, as manufacturing is back on track in March in China, but he virus has had the biggest impact in the rest of the world during the month.
Data released by China Customs indicates that  PV inverter export shipments reached 2.4GW in February 2020 with a total export value of US$85 million. The shipments dropped 41% month-on-month (MoM), while showing an increase of 64% compared with February 2019.
In the export stakes, Sungrow took the first place with export value exceeding US$12 million (excluding the contribution from its Indian factory), followed by Huawei and Growatt with the export value of US$11 million and US$7 million respectively.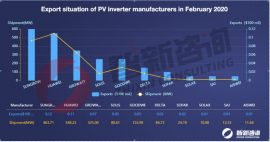 (Remark: China's manufacturers' shipments and export data only refer to what is produced in Chinese factories and exported abroad. Shipments of factories outside China and bonded areas are excluded.)
In MW terms, Sungrow managed to ship inverters capable of handling 463.71MW, while its India factory shipments were 480MW, enabling the overseas shipments totaling 943.71MW. Shipments of Huawei were 548.23MW, ranking second, and Growatt ranked third with 325MW of overseas shipments.
Covid-19 pandemic had caused a drop in February shipments compared with January, thanks to the disruptions in demand as well as logistics efficiency.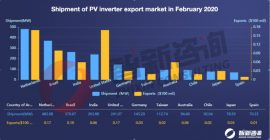 While Q1 is usually slow quarter for demand, thanks to the many holidays including the Chinese New Year shutdowns or Chinese Spring Festival holidays, the coronavirus pandemic still managed to wreak havoc on the global PV sector.
Sungrow's preliminary fiscal report shows the company's revenue for 2019 was about 13.5 billion CNY (US$1.934 billion), representing a 30.5% YoY increase; and the net profit was 891 million CNY (US$127.65 million), a YoY increase of 10.09%.
From the perspective of the regional export market, the Netherlands shipped 482.08MW with an export value of US$17 million, topping the ranking. The Brazilian shipments were 371.01MW, with an export value of US$10 million, placed second. India shipped 263.88MW and it embraced an export value of US$6 million, ranking third. The U.S. shipments were 241.07MW, with exports of US$17 million, ranking fourth, and followed by Germany, of which shipments were 145.2MW and export value reached US$3 million.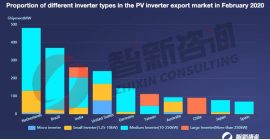 In terms of different types of inverters in the Chinese PV inverter export market in February, medium inverters accounted for 63.98%, small inverters accounted for 17.81%, large inverters accounted for 12.8%, and micro inverters accounted for 4.88%.