Chinese state-owned developer CECEP, in collaboration with French floating solar specialists Ciel & Terre, has connected its 70 MW floating solar power plant in Anhui, China to the grid after the project successfully cleared all tests and monitoring.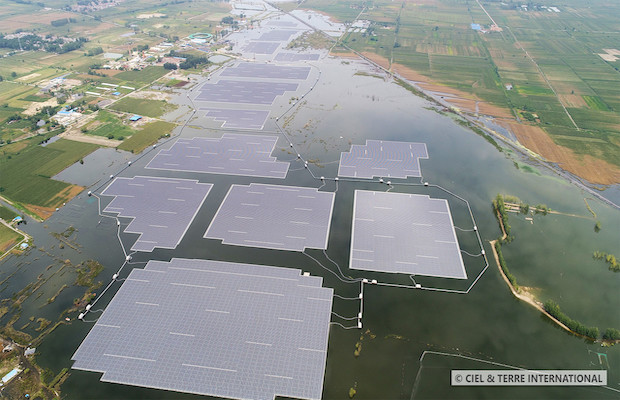 Located on a former coal-mining area, in Yongqiao district, Suzhou city, the floating PV array will mainly aim to improve the energy structure in the province and the quality of the environment on-site. In the meantime, the initiative enables to promote the development of the "floatovoltaic" technology, which also preserves water bodies. It prevents them from algae proliferation and oxidation, and even conserves water sources by reducing evaporation.
Constructors China Energy Conservation Solar Technology and China Energy Engineering Group Shanxi Electric Power Design Institute contributed to building the biggest floating solar plant by providing EPC services.
The project, spread across 13 separate islets on an area of 140 hectares, was completed in late 2018. A brand new 18km 110V overhead line was also built for the grid connection of the plant, which is expected to generate up to 77,693MWh of electricity in its first year, equivalent to the power consumption of nearly 20,910 households. Within 25 years, the solar farm should generate around 1.94 million MWh.
The CECEP system was built using Ciel & Terre's Hydrelio floats, which are locally produced through the French company's subsidiary in China to minimise emissions, optimise logistics costs and offer local employment.
The project uses monocrystalline modules from Chinese manufacturer LONGi Solar. Central inverters have also been put on stilt platforms on the shoreline of the quarry lake so as not to interfere with neighbouring farm activity and avoid energy losses. Concrete poles support the electrical installation and 1,500 helical anchors were used for the project and buried at an 8-15 meter-depth to match the water body.
In December 2018 we reported that to further advance the development of floating solar technology, Ciel & Terre had joined hands with PRINCIPIA which has a strong technical background in the offshore renewable energy industry.