BHEL has issued a tender setting up of a 5 MW floating solar plant for the West Bengal Power Development Corporation (WBPDCL).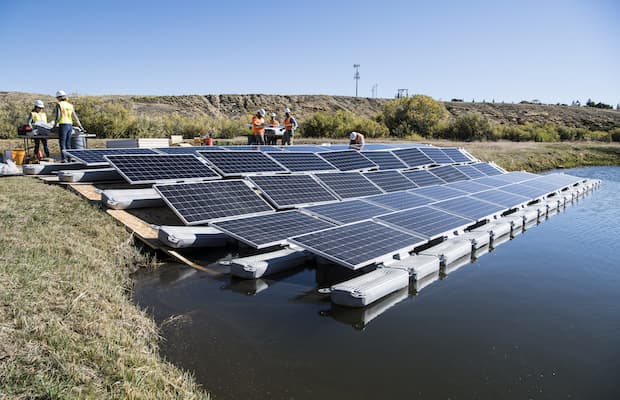 Bharat Heavy Electricals Limited (BHEL), the country's largest power equipment manufacturer has issued a tender for the selection of solar power developers for setting up of a 5 MW grid-connected floating solar PV plant for the West Bengal Power Development Corporation (WBPDCL) at the Thermal Pond-3 in the Sagardighi Thermal Power Plant in West Bengal.
The scope of work for the selected developers will include the supply of Balance of Systems (BOS) items along with the design, engineering, construction, testing and commissioning of the floating solar plant. The supply of all floatation devices including hardware for forming floating islands shall be in the scope of BHEL. However, assembly of floatation devices as per OEM manual shall be in bidder's scope. The scope of supply shall also include necessary spares required for normal operation & maintenance of DC equipment for a period of 5 years and special tools & plants required for erection & maintenance.
After forming the floating island, the installation of BHEL supplied solar PV modules on the floating island using BHEL supplied hardware shall be in the scope of the bidder. The floating solar array shall be formed as per the BHEL drawings
The last date for bid submission is July 22, 2019, and the techno-commercial bids will be opened on the same date. The date and time of the financial bid opening will be informed to the shortlisted technical bidders later.
To be eligible, the vendor should have executed contracts of electrical installations of 33KV minimum in power plants or sub-stations in India with scope including both supply and erection for a cumulative value of Rs 2 crore with such individual contract values not less than Rs 0.5 crore within last 5 years from the date of tender opening. And, should have achieved an annual average financial turnover of Rs 2 crore in three financial years (2015-16, 16-17 and 17-18).
Recently, (BHEL) issued a tender, inviting quotations from eligible bidders for manufacturing and supply of 157 mm multi solar cells as per BHEL technical specification.