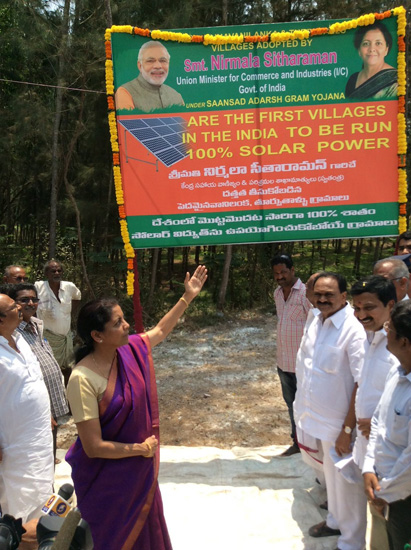 As part of green development initiative, two villages of Andhra Pradesh- Toorputallu and Pedhamyanavanilanka will run completely on solar power from this year.
Commerce and Industry Minister, Nirmala Sitharaman who adopted both the villages of Andhra under Sansad Aadarsh Gram Yojna (SAGY) said "these will be the first two villages in the country to be run 100 per cent on solar power."
The solar plant capable of producing 2MW of power will be developed by a private entity and power generated by the power plant will be brought by APEPDCL. The solar plant will be completed by August this year and would generate substantial income for the village at 60 paise per unit.
Peddamainavanilanka & Toorputallu (Andhra). Serving Hon PM Shri @narendramodi's call for use of solar power tweeted Sitharaman on Sunday.