The company has installed its modules at Amul's warehouse facility located in Gandhinagar, Ahmedabad.
One of the leaders in Dairy space Amul has associated with Waaree Energies, a leading solar PV manufacturer, for its rooftop solar solutions.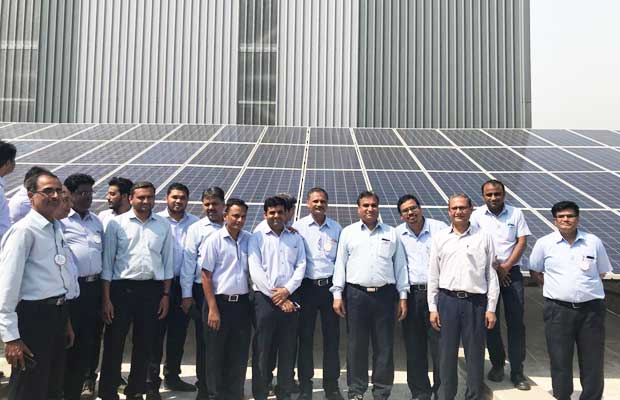 The company has installed its modules at Amul's warehouse facility located in Gandhinagar, Ahmedabad. Amul is a brand of the Gujarat Cooperative Milk Marketing federation, the largest such federation of milk producers in the world. With most products sold under the brand AMUL, GCMMF is widely credited for the white revolution in India.  For GCMMF Limited, the move to go solar, albeit slowly is probably a natural extension of the efforts it makes to stay ahead of the curve  as a responsible corporate.
According to the company sources, the commissioned plant has been developed for captive consumption, and Waaree Energies serves as a turnkey Engineering Procurement and Construction (EPC) partner to the brand.
Further, the rooftop solar installations are spread across roof of Amul and it will provide power to run automated warehousing machines at its warehouse.
Moreover, this plant uses 320 Wp poly crystalline modules of Waaree and was executed in a record time frame.
The module maker further said that, this plant is expected to generate 200 units per day.
Recently, Waaree Energies has unveiled its 25 kW rooftop solar project at Himalayan Institute of Alternatives (HIAL) in Leh, Ladakh.
The project was completed under the company's CSR programme and is part of its ongoing efforts to bring the current wave of solar revolution to Ladakh. HIAL has established its position as a renowned institute in the region, founded by the visionary Sonam Wangchuk.
HIAL is expected to save close to Rs 2 lakh per year. The installation of this project is of critical importance as solar power brings much-needed respite to the people of Ladakh since the region is cut off from the Kashmir valley for the most of winter. The region, which is virtually a cold desert, has also been in the news for the massive solar power plans announced by the government recently.