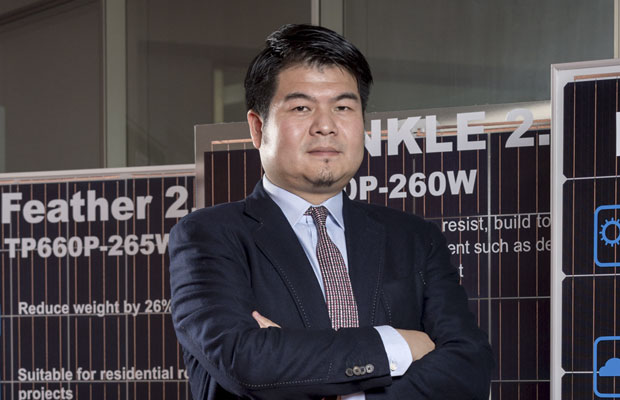 Zhongli Talesun solar Co., Ltd. is a leader in photovoltaic modules, solutions and services. Founded in 2010 as a PV system integrator, Zhongli Talesun today drives smart energy together with installers, distributors, utilities and developers worldwide. Company's industry-shaping position is based on innovation excellence, superior product quality, vertically integrated capabilities and environmental stewardship. William Sheng- SVP Global Marketing & Zhongli Talesun speaking to Santanu Mukherjee- Sr. Journalist, Saur Energy International shared about its relationship with ACME, new technology it is working on, its market strategy for India and more.The exchange follows:
Government of India has been encouraging companies to manufacture in India under its Make in India initiative, is there any plan to establish manufacturing unit in India under the initiative ?
Currently we do not have manufacturing unit in India. For further plans, please only refer to our official press release.
Last year the company signed an agreement to supply 222MW of solar modules to ACME Cleantech. How has the partnership worked out so far and what are the upcoming projects?
We cooperate very well, and we are continually delivering modules to different projects of ACME. Some of their big PV projects have been completed and successfully connected to the grid. And projects performance data exceeds their expectations.
Can you share the name of the companies you are in talk with for your products in India?
As we are one of the largest PV module suppliers in India market, basically we have very close relationship with main developers, EPC companies, like Renew, Hero, Rays, Adani and EDF, etc.
What new technology you are currently working on?
We are keeping on improving our PERC cell technology. We believe only cost effective high efficiency PV module is the future for solar energy.
How do you see Indian solar market in 2016-2017, what will be the major drivers of the market?
For this year, we estimate 4-5GW new installation capacity, and a big jump to 8-10GW for next year. Policy is still the main driver of India market
How the company is consolidating its position in the solar sector in India and globally?
We have various ways to consolidate our position. First is the product quality, it is the most basic and important factor. Second is our excellent localized service. We have now built professional sales and technical support team based in India. Third is reasonable price strategy. The last is to build close relationship with key players in the market
What are the key market strategies of the company for the Indian solar market?
We will keep focusing on large scale PV project developers, EPC companies, meanwhile we see roof-top market is rising and has great potential in the future. Generally we are aiming to improve our supply chain and establish warehouses to better serve our customers in India.
What type of opportunities do you see in the country?
Currently ground mounted project is the majority; however the residential market share is increasing.
What is company's current market share in India and its growth expectation in a year time?
Talesun Solar now is in top 5 PV module suppliers in India. Our target is to be top 3 or even better.