The global concentrated photovoltaic (CPV) market is expected to reach USD 6.35 billion by 2025 at a 10.1 percent. Demand for concentrated photovoltaic is anticipated to register rapid growth owing to its ability to harness solar energy in areas with no space constraints.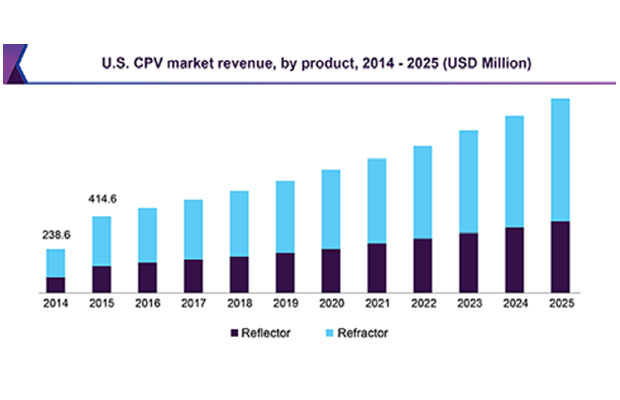 CPV technology is yet to gain worldwide acceptance and manufacturers are constantly engaged in developing new modules with improved efficiency. Growing popularity of PV has overshadowed the efficiency and advantages of CPV. However, the technology shows great promise owing to its scalability and efficiency.
Globally, Asia Pacific is the largest market for CPV. Presence of a large number of module manufacturers, coupled with favorable government initiatives, is driving the demand for this technology. The advantage of low labor cost and introduction of smaller rooftop systems are also expected to boost market growth.
Industry Insights
The global concentrated photovoltaic market size was estimated at USD 2.67 billion in 2016. Growing demand for grid connected electricity, coupled with awareness regarding use of renewable resources for power generation, is expected to boost the adoption of CPV technology in a wide array of applications.
Rapid decrease in the price of conventional PV modules has resulted in increased demand for CPV and other silicon-based solar technologies. Moreover, CPV requires a relatively smaller area for installation, which, in turn, is anticipated to boost its demand in the near future. Solar technology is chiefly deployed in areas with direct sunlight. The industry is still at a nascent stage, owing to which, it is mostly used for special purposes. Performance, cost, reliability, and trade-offs are major factors taken into consideration by manufacturers in the global market for concentrated photovoltaic.
U.S. is a rapidly growing market on account of increasing power demand and stringent government regulations pertaining to the use of limited natural resources. This is expected to trigger the growth of renewable energy resources over the forecast period. Concentrated photovoltaic accounts for over 93.0% of the installed capacity in North America. Augmenting CPV installations at public places such as educational institutions are expected to boost the market over the forecast period.
Low-cost and large-scale applications act as major drivers for CPV technology. Previously, high cost of CPV systems compared to PV systems was a major barrier for the CPV industry. In recent years, however, declining prices of silicon PV and continuous improvements in design and technology have had a positive impact on the market. However, falling prices of silicon PV drove a few players to exit the industry. The manufacturing capacity took a major hit in 2015 after France-based Soitec and China-based Suncore decided to stop manufacturing concentrated photovoltaic. Growing popularity of PV modules and rapid decrease in prices of CPV modules have resulted in manufacturers abandoning the production of CPV. The low popularity of CPV in the industry can also be attributed to its late introduction in an arena that was majorly dominated by PV.
Regional Insights
By volume, Asia Pacific was the largest regional market with a share of just over 50.0% in 2016. The demand in the region is especially driven by China, which is expected to increase its concentrated photovoltaic capacity at a CAGR of 12.2% from 2017 to 2025. The 13th Five Year Plan adopted by the government of China aims at reducing carbon footprint and this is driving CPV installations in the country. Furthermore, the direct normal irradiance over China is also high, which, in turn, is likely to boost the market.
Middle East and Africa is expected to be the second-fastest growing region, with demand majorly driven by rising installations in South Africa. Areas covered in sand dunes receive maximum sunlight in terms of surface area and this significantly boosts the installation of CPV. Upcoming solar projects in Morocco and Jordan are expected to further promote demand for concentrated photovoltaics over the forecast period.
The CPV market in North America is expected to register a CAGR of 10.9% from 2017 to 2025 in terms of volume. Favorable state and federal policies in U.S. and Canada are primarily driving demand for this technology. Legislative mandates and financial incentives are expected to drive CPV installations over the forecast period.