The continuous evolution of Solar panel technology to higher DC Voltages up to 1500V has helped to lower the Balance of system costs, higher output power capability leading to reduction in Energy production costs. Delta's commitment to be on par and adapt with this latest technology developments of other interactive systems has led to the deployment of DelCEN HV series which is 2.5MW/2.75MW; 1500Vdc Grid tied Solar Central Outdoor Inverter. With this product portfolio in Delta's family of inverters it is assured to have yet another Customer centric and bankability solutions leading to uncompromised customer benefits through high degree of reliability, efficiency and productivity which is very vital in today's High performance multi megawatt Solar power generation business.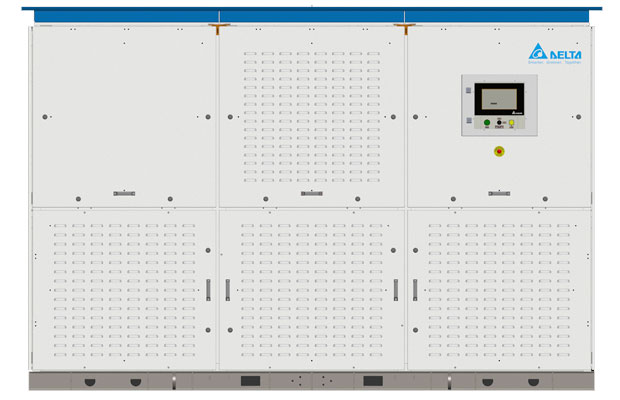 DelCEN HV series is a Delta's 3 Level NPC-1 technology augmented with state of the art high performance controller Electronics and protection features.
In order to ensure a long life to withstand harsh Indian Climatic conditions, DelCEN HV series is designed to have high structural stability, weather resistant, termite proof and water proof. With diligently following the preventive maintenance and scheduled parts replacement, DelCEN HV series is designed to have operating life of 25 years delivering maximum feed in revenues and Return of investment to the customer, thanks to its low maintenance costs and host of life cycle services offered by Delta's extensive regional service network.
DelCEN HV series is easy to transport and install and is an all in one for easy deployment and commissioning. There is no need of any external arrangement for Auxiliary power, UPS and any sort of cooling arrangements thus reducing installation over heads costs to the EPC Company. DelCEN HV series is plug and play design which requires just connecting DC and AC power cables enables quicker installation and commissioning which is a key in today's EPC practices.
DelCEN HV series is fully compatible with both Thin Film and Crystalline PV panels. The DC terminals could be floating or either polarity grounded. The built in passive Anti PID relay logic feature reduces the PID effects on the panels to some extent. The numbers of input strings are user configurable to address the complex PV array configurations with each string, fuse protected with monitoring apart from other standard protection features like insulation monitoring, DC Over voltage protection etc. The DC panels are completely isolated during night time reactive power processing through a motorized DC switch disconnector rated for DC21B networks.
DelCEN HV series is equipped with its proprietary 1.25MW IGBT based 4 quadrant stack modules to achieve maximum of 98.7% efficiency including the filter losses and Auxiliary power consumption at full power. DelCEN HV series has design reserves of 900Vdc and 0% FIT rate of Semiconductors due to cosmic radiations at higher altitudes. Thanks to its optimized maintenance free hybrid cooling technology, DelCEN HV series is able to achieve absolutely no power Derating up to 55°C.
DelCEN HV series is having modular architecture with 2 blocks of 1.25MW which ensures no loss of generation in case of 1 block under maintenance. The System Power Allocation Algorithm ensures that all modules have same operational duty at any point of time. The state of the art hardware and software protection features implemented ensures high reliability of the power core components.
DelCEN HV series is capable of reactive power processing during night time up to 1.25MVAR. The reactive power limitation can be preset remotely, hard programmed in HMI or by regulating the Grid voltage (Dynamic Reactive power control). During non-operation, DelCEN HV series features a relay logic to implement passive Anti PID to reduce the PID effects on the ungrounded PV Panels. DelCEN HV series facilitates easy integration of external SCADA systems using MODBUS TCP/IP communication protocols. DelCEN HV series has a built in additional Analog and digital input ports for weather station integrations and other sensors like wind, irradiance etc and relay status monitoring which does not call for additional data logging investments to the end user.
DelCEN HV series has built in energy data logger, error log with time stamp, remote and cloud access capability with 8GB storage. The user friendly HMI with touch screen gives full control for the user to access the data and control the inverter. DelCEN HV series includes all the advanced and latest grid support functions likePQ control, LVRT/HVRT and Grid frequency regulations which can be parametrically set based on the local utility requirements.
DelCEN HV series are available in 2 variants namely DelCEN 2500HV and DelCEN 2750HV of rating [email protected] 600Vac and 2.75MW @ 660Vac.
The Delta Advantage
No power derating until 55°C.
Night time reactive power up to 1.25MVAR.
Relay logic for passive anti PID for extended panel life.
No need of external Auxiliary and UPS power required.
No need of any additional external cooling arrangement.
HMI with remote access, Generation data logging and cloud compliant.
Web logging with user interactive data access.
Highest power density smallest foot print in this class and ease of handling.
Plug and play design.
Additional Analog and digital inputs for external modules interface like weather stations, sensors, VCB and Grid transformer monitoring relays.
Built in climate protection including humidity.
IP 65 (Electronics section)/IP54
Outdoor unit, no need of inverter room or expensive containers.