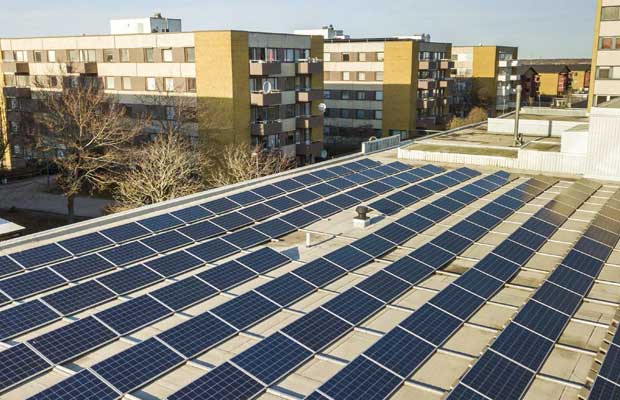 Zero. That's the number of fresh utility scale solar and wind projects commissioned in August 2019 through Solar Energy Corporation of India (SECI), India's premier agency for executing them.
While the corporation is not seeing a zero month for the first time, the fact remains that in 2016-17, when momentum was picking up sharply, not a single industry professional would have imagined that things would come to this in 2019.
For the record, utility scale installations in 2019 are projected to be close to 15 percent less than those in 2018 at 7.5 GW, when 2018 itself was a year that saw a drop of 15 percent over 2017's addition of 9.7 GW. All this after projections at the beginning of this year for solar capacity additions was pegged at 14 GW, a 50 percent higher figure than 2018, a prediction that looks laughably optimistic now.
This is a slowdown that, unlike the rest of the economy, has been entirely government created as policy flip flops and multiple other missteps that have been reported widely, led to this situation.
In all this gloom however, one segment has stood out — the rooftop solar segment.
The rooftop segment, which has a 40 percent share in India's solar target of 100 GW by 2022, has finally started showing a healthy growth clip thanks mainly to price drops that have made it viable even without government subsidies for many, besides a rising corporate and industrial market (C&I).
This is where the battle for numbers will be won or lost based on the performance of a group of 5 states plus the two states that made up the erstwhile united Andhra Pradesh. This group of 5+2 will decide both the sum and substance of rooftop solar achievement in the coming years even as other large states like Uttar Pradesh and Madhya Pradesh flounder, predictably with a bureaucracy that seems unprepared to do what it takes to enable and encourage solar installations.
Why is the success of rooftop solar so important?
For three really good reasons. First of course is its contribution to the national solar energy goals. Second is its ability to generate both employment and competition in a free market situation. For every megawatt of power installed, rooftop solar generates 3-4 times the employment that grid scale projects do. Finally, as subsidies die out or are simply ignored due to painful claims processes, a free market is creating thousands of entrepreneurs eager to find a way to differentiate their offerings and respond faster to market needs with innovation. That means a more aware and committed customer base; a user base which will be critical to 'sell' the essential steps needed for sustainability in so many more areas.
WHY ROOFTOP SOLAR MATTERS 
Higher employment generation
Critical contributor to overall solar targets with lower subsidy demands
Contribution to greater awareness and helping create a culture of participation in wider sustainability efforts
Which are these five critical states?
Maharashtra (618 MW), Rajasthan (393 MW), Tamil Nadu (365 MW), Gujarat (314 MW) and Karnataka (298 MW) are the top rooftop solar power generating states, according to a report from Bridge to India, a solar energy consultancy. Not surprisingly, these are among the most industrialised states in the country too, making them obvious candidates for faster solar additions. Especially by the industries and firms concentrated in these states. Between them, these 5 states account for almost 45% of the total solar rooftop target, a number that experts believe could be closer to 60% or more, if Andhra Pradesh and Telangana are counted too.
According to the Bridge to India report, at the end of FY19, the installed rooftop solar power generation capacity stood at 4,375 MW, soaring 72 percent over FY18. The additions are across commercial, industrial, public sector, and residential projects. The industrial segment is the leader here, with an installed capacity of 2,140 MW.
This assertion of rooftop solar numbers was long in coming. With greater corporate commitment to renewable energy transition, almost 29 percent of rooftop solar installations have been accounted for by the corporate and industrial segment. A number that shoots up by over 50 percent if we add public sector undertakings to the picture.
This number should easily grow further as more corporates buff up their green credentials at a possible profit now, thanks to the high cost of grid power for industries in most parts of the country. India's high cross-subsidisation from commercial and industrial (C&I) to residential and agricultural users acts as a key incentive, making self-generation for C&I immediately cost effective.
US-based think-tank Institute for Energy Economics & Financial Analysis (IEEFA), has flagged rooftop solar power generation as the fastest growing renewable energy sub-sector in India, albeit on a low base with a compound annual growth rate (CAGR) of 116 percent between 2012 and 2018. We believe this is a rate that can continue for the foreseeable future on the bank of corporate as well as residential interest.
While IEEFA estimates that for the next three years, rooftop solar installation will grow at a CAGR of 50 percent suggesting a cumulative 13 Gw of installed capacity by FY22, a small poll we conducted among 20 rooftop players across the country indicates that this target could be comfortably exceeded, with a total rooftop capacity closer to 17 GW or more by 2022.
Rooftop solar by states: The official version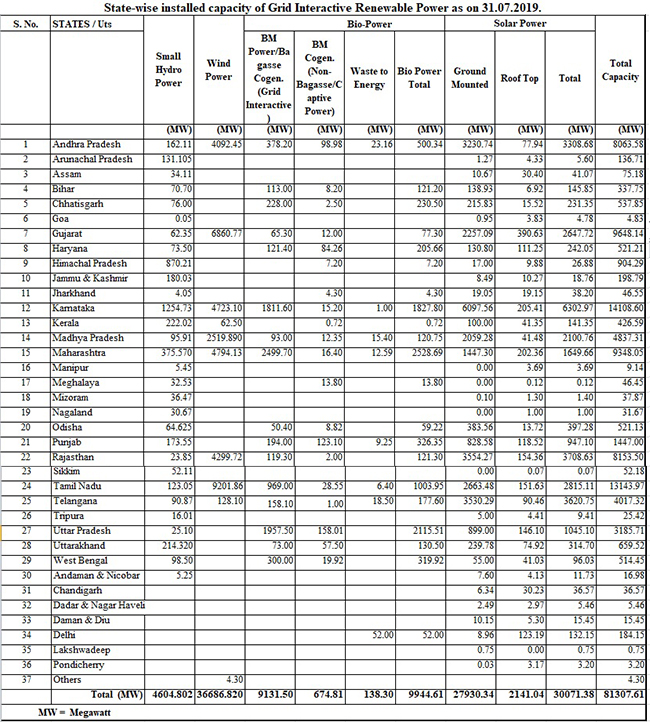 The Haze Around Numbers
Of course, with such a heavy government overhang, there is some haze around the numbers. There is an ambiguity in the Ministry of New and Renewable Energy (MNRE) figures on rooftop solar dated July 31, 2019, and a recent comment by India's Power, New and Renewable Energy Minister R.K. Singh in Rajya Sabha.
Singh, while replying to a question from independent lawmaker Parimal Nathwani representing Jharkhand, said that a total of only 1700 MW of rooftop solar have been installed in India till July 18, 2019 according to government records. The minister elaborated that 918.42 MW out of the 1700 MW was subsidized by the government. In other words, even the government admits that barely 55 percent of rooftop solar has obtained subsidies.
Phase two of the rooftop solar push
What gives hope to the future for rooftop solar is also fresh impetus. MNRE has issued operational guidelines to implement the second phase of its grid-connected rooftop solar photovoltaic (PV) program in July 2019. Overall, 38GW of rooftop solar PV projects is to be set up under the second phase of this program.
Of this, 4 GW will be in the residential sector and 34 GW under other sectors such as governments, commercial, industrial, and educational. The program also aims to promote domestic manufacturing of solar cells and modules.
There are two main components in the program. Under component A, up to 4,000 MW of grid-connected rooftop solar projects in the residential sector will be set up with Central Financial Assistance (CFA) for which the electricity distribution companies (DISCOMs)and its local offices will be the nodal point for the implementation of the program.
For group housing societies and residential welfare associations (RWA's) under component A, the CFA will be limited to 20 percent for the installation of the rooftop solar PV project to supply power to common facilities. The capacity eligible for the CFA will be limited to 10 kW per house with the total not more than 500 kW, inclusive of rooftop solar PV project already installed in individual houses.
MNRE will allocate the capacity for the installation of rooftop solar PV systems in the sector by DISCOMs in the ensuing year. The key parameter for allocating the capacity will be the demand raised by the DISCOM and the capacity required for the fulfilment of solar renewable purchase obligations (RPO) of the state. DISCOMs will be required to submit their yearly online proposal on the MNRE's SPIN portal by the month of March in each financial year.
Government owned DISCOMs will be eligible to avail an advance CFA of up to 30 percent of the total CFA amount for the project. For private DISCOMs, the CFA will be disbursed on a reimbursement basis. However, if required, private DISCOMS will be eligible to avail an advance CFA upon the submission of a bank guarantee of an equivalent amount. For cash strapped government discoms, these are all small but important moves to move faster, a complaint every rooftop installer has about them.
Under component B, incentives to DISCOMs based on their achievement towards the initial 18,000 MW of grid-connected rooftop solar PV projects will be provided. Incentives will be provided for each MW capacity of rooftop solar added by DISCOMs in their distribution area over and above 10 percent of base capacity installed at the end of the previous year. DISCOMs have to submit the cumulative capacity of grid connected rooftop solar PV projects (in MW) installed in their distribution area as on March 31, 2019. This will be taken as the installed base capacity for the first year of participating DISCOMs. For achievement above 10 percent and up to 15 percent over the installed base capacity, the DISCOM will get an incentive of 5 percent of the applicable cost for the capacity achieved above 10 percent of the installed base capacity. For an achievement beyond 15 percent over the installed base capacity, the DISCOM will get 5 percent of the applicable cost for the capacity achieved plus 10 percent of the applicable cost for capacity achieved beyond 15 percent of the installed base capacity.
The MNRE has also ensured clarity on subsidies applicable. For a capacity of 1 kW, the applicable subsidy is at the rate of 40 percent which amounts to Rs 20,000. For 2 kW solar installations, the applicable subsidy is Rs 40,000. For a 3 kW capacity, the subsidy is Rs 60,000. For installation capacity of 4 kW, the subsidy is calculated at 40 percent for 3 kW and 20 percent for the balance of 1 kW, which totals to Rs 70,000. For all systems with a capacity 10 kW, the subsidy provided is 60 percent (@40 percent for 3 kW and 20 percent for the balance of 7 kW), which adds upto Rs 130,000.There are no subsides for installations above 10 kW capacity.
So where do the key states stand?
Recently, in its budget, the government of Gujarat announced Rs 1,000 crore for new solar rooftop scheme aiming to cover 2 lakh families in a year. Earlier, the Gujarat Energy Development Agency (GEDA) had come out with a state government subsidy scheme of up to Rs 20,000 per consumer for individual rooftop solar segment, with an aim of reaching a figure of 100,000 individual rooftop solar consumers.On top of the central subsidy.
A look at the policies of the top five rooftop solar states show that Gujarat is the only one that allows only the self-ownership or CAPEX model across residential, commercial and industrial segments, whereas all other states allow the RESCO model or third party ownership of rooftop solar installations along with CAPEX . This is likely to crimp growth in the state, although the state benefits from a high wind energy base too, along with a significant pipeline of upcoming projects, which will ensure it meets is overall renewable targets.
Gujarat also stipulates that for residential consumers and for government buildings, the maximum capacity of rooftop solar should be 50 percent of the consumer's sanctioned load. However, Gujarat's CAPEX only condition remains a sore point, with developers even petitioning the state regulator against it. The Gujarat Electricity Regulatory Commission's 'Net Metering Rooftop Solar PV Grid Interactive Systems Regulations, 2016', had mandated that setting up of rooftop solar had to be in self owned rooftops.
Interestingly, all states mention the range of installed capacity (IC) of rooftop solar from a minimum 1 kWp to a maximum of 1 MWp but only Tamil Nadu mentions that the maximum capacity is subject to shadow free area and estimated annual consumption across the three segments. Tamil Nadu is also the only state that allows net metering for LT (Low Tension) customers only.
Across the commercial and industrial segments of rooftop solar, the top five states have more or less a similar policy which ensures exemption from electricity duty, wheeling charges, cross subsidy, banking charges, and transmission charges and losses.
Apart from these, tax holiday for ten years, accelerated depreciation and all applicable subsidies under the MNRE guidelines and SECI guidelines are applicable.
With the Reserve Bank of India having declared lending to solar projects as a priority sector lending, across commercial and industrial segments the loan quantum allowed is up to Rs 15 crores, whereas under the residential segment the maximum loan quantum is Rs 10 lakhs.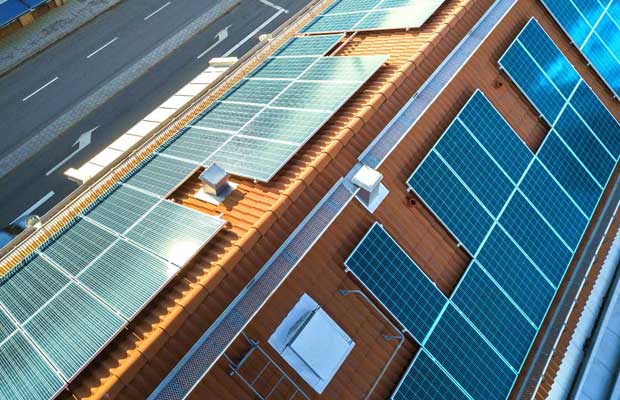 Karnataka, another key rooftop solar state, is guided by the solar policy 2014-21. The state had plans of achieving 400 MW grid connected rooftop solar installations by 2018.
Rajasthan is guided by its solar regulations given by the Rajasthan Electricity Regulatory Commission of 2015.
Tamil Nadu is guided by the solar policy of 2012 which also allows domestic generation based incentives to SRTs for six years from the date of commissioning
Maharashtra Industrial SRT Policy
In terms of fast approval process for setting up of rooftop solar across segments, the Maharashtra State Electricity Distribution Company Limited (MSEDCL) stands out with its claim to give approval for installation of rooftop solar systems within 7 working days from the completion of the feasibility study. The approval is valid for a period of 6 months, or such extended period as may be agreed to by the MSEDCL.
MSEDCL also claims to complete the testing and commissioning of the installations within 10 working days from receipt of testing and commissioning request, along with installation of the net metering equipment. Maharashtra allows a capacity of maximum 1MWp with variation of 5 percent. It offers both CAPEX and RESCO model options for rooftop solar ownership. The billing is on an annual basis (April-March).Any unadjusted electricity credits are paid as per the rates notified by Maharashtra Electricity Regulatory Commission (MERC). Rajasthan's solar policy states that the Clean Development Mechanism(CDM) benefits arising from solar energy generation from the rooftop PV facility shall be retained by the distribution licensee provided that the entire CDM benefits obtained by the distribution licensee shall be fully passed on to the consumers through ARR. The state's policy also states that check meters shall be mandatory for rooftop solar systems having capacity of more than 250 kW.
Maharashtra clearly seems to be more focussed on scale of operation and targets the commercial and institutional segments of rooftop solar. The state's policy also promises speedy delivery of the installation process.
Karnataka seems focussed on attaining its 400 MW grid connected rooftop solar target which it missed in 2018 through its existing policy which extends till 2021.
For industry observers and investors, there is now an index to better understand state policies. On Aug. 21, 2019 Power Minister RK Singh released the State Roof Top Solar Attractive Index (SARAL). Quite simply, the index is meant to goad state governments to streamline and improve their rooftop solar policies by competing against each other. It's a strategy that has been used extensively with mixed results by this government, especially in areas like cleanliness.
The SARAL index has been prepared by MNRE in collaboration with the Associated Chambers of Commerce & Industry of India (ASSOCHAM), Consultancy firm Ernst & Young and Shakti Sustainable Energy Foundation.
The idea of the index is to look into the robustness of policy, implementation levels, investment scenario, consumer experience and the business ecosystem across the states.
According to the index, Karnataka is first with score of 78.8, Telangana is second with 72.2 and Gujarat third with 67.9.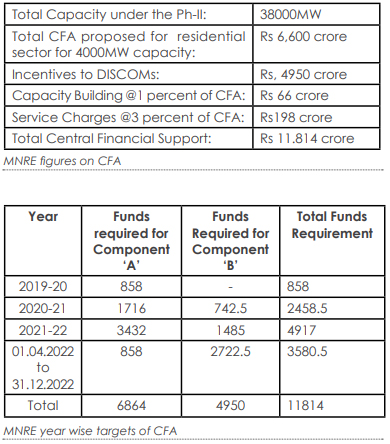 The road ahead
Residential rooftop solar, ignored thus far due to basic issues like costs, financing and an ecosystem to support sales and service, is ready for take-off. GOGLA, the global industry body for distributed solar already rates India as the largest market for distributed solar rooftop systems, which could reduce the load on mainstream transmission, if used smartly.
Rooftop solar systems with net metering offer many advantages. With loss making DISCOMs still locked into an escalating price spiral, rooftop solar will continue to become more attractive for some time to come. What is needed is a concerted effort to raise consumer awareness about the benefits of SRT, aligned with smoother processes for approvals. Net metering permissions remain a drag in most states, and need to be done faster.
Subsidy disbursal where applicable also needs to be speeded up. Efficient financing could be a far greater support than subsidies today, thanks to lower costs per Kw. With some states allowing rooftop solar only on owned premises, funding for rooftop systems could also be one of the safer bets going around. Institutional moves like the Environment Impact Assessment (EIA) Notification, 2006,which required buildings with an area over 5,000 square metre to have at least 1 percent of their connected load through rooftop solar, need to be enforced.Finally, even mini-grids, that neglected part of the sector that holds so much potential, need to be kept in the framework to meet overall energy access requirements, especially in remote areas.
The User's Perspective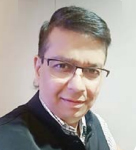 AVINASH NIMONKAR
Resident of Thane, Mumbai
Solar Plant Size: 10 KW
Major benefits: Savings in electricity bills and return on Investment
The entire 10 KW is consumed as the system generates 50 units daily and it helps me recharging my EV too. The solar panels have made my driving virtually capital free and I don't require money to refuel. My electricity bill for the last seven months is virtually zero. Earlier, it use to be around Rs 8000-10,000 every month but for the last seven months, we only get Rs 40 which is the statutory charges. So, consumption from the grid is zero. I spent approximately Rs 5 Lakhs for the entire setup, and I think in 2-2.5 years, my entire investment will come back as the life of the equipment is 25 years. This is why I recommend it to everybody who has an independent terrace. I have heard that in most of the states it has become compulsory now. You have to install solar and rainwater harvesting as well. We produce our own energy and we have reverse net metering so whatever we generate is accredited to our account and whatever we use is adjusted so the virtual outlay is zero."
DR NIMISH MESHRAM
Resident in Gurugram, Delhi
Solar Plant Size: 5 KW
Major Benefits: Savings Major Worry: Power Intensity//
"The experience has been Okay-ish. Living in a gated society, I was sold the concept of having solar panels for electricity. Given the likely high costs of electricity in the future, I was game to do it. I wish technology is developed and available at economical rates so that high requirement appliances can also run directly off solar panels. In my opinion, government has done a great job regarding awareness and marketing of solar power. But how it is implemented has to be a collective effort between people, market,bureaucracy and the government. I monthly bills have shrunk to Rs 900-1500 for my 3BHK in Gurgaon, from an earlier bill of Rs 4,000 plus each month.